At the Organization of Petroleum Exporting Countries (OPEC)'s bi-annual meeting in November 2016, the fourteen-member cartel joined forces with ten non-member oil producing countries, including Russia. Conceptually, the task at hand was straightforward: The average Brent spot price in 2014 clocked in at $99.02/barrel. That price had fallen to $52.35/barrel in 2015 and slid again to $43.55/barrel in 2016, or just over 56% in the course of two years. At the same time, OPEC output surged from 30.27 million b/d through the end of the 2nd quarter 2014 to an all-time high of 32.77 million barrels/day reached by the end of the 3rd quarter 2016, or 8.36% over the period.
World oil prices had dropped just over 56% in carrying out the Saudi-led campaign to flood world markets with oil in a concerted effort at shuttering high-cost producers. Reversing course, the assembled oil ministers agreed upon a production cut of roughly 1.8 million barrels per day (b/d), about 2% of world production. The figure was widely viewed to approximate the global supply overhang. The cuts were to hit markets beginning the 1st of January.
Five-months into the six-month agreement, the world supply of oil appears to have fallen less than members' output cuts might imply. The task of soaking up excess global supply has proved to be a good deal more difficult than the group originally anticipated. While OPEC production cuts have fallen by as much as 1.1 million b/d, shipping data collected by a variety of media, including satellite and on-the-ground data sources, suggests that the group's crude exports have declined by as little as 900,000 b/d over the period, with some member states replacing production cuts with exports from storage, according to IHS Markit data.
While international tracking of crude flows via tankers has improved dramatically with the use of satellite data, the tracking of crude flow via pipelines is much more problematic, which comprises the vast majority of Russian energy exports to world markets. Adding further ambiguity to the Russian contributions, the baseline for its 300,000 b/d cut was set at 11.2 million b/d, a post-Soviet era record. The question as to whether the Russian contribution was a net decrease from or net increase to existing world oil supplies remains moot.
Equally obscure is data on many members' existing inventory or the ability to differentiate between production cuts and the use of inventory to meet existing market demand. Outside the Energy Information Administration (EIA) in the US, there are precious few reliable depositories of data on inventory and production. Further complicating the issue, Libyan and Nigerian production were exempted from the November production cuts due to civil strife and war that ravaged both countries.
And then there is the resurgent US shale or tight oil industry which has literally remade the US into a major global energy player. The US re-emergence on the global energy stage has cobbled together an uneasy alliance between the erstwhile foes Saudi Arabia and Russia against two common threats: A global supply overhang and perhaps more importantly--a resurgent US shale industry. From oil to natural gas and employing both the latest production technology and the breadth of Wall Street's financial wizardry, the US renaissance has been so transformative that OPEC's efforts to regain its past dominance over prices in global energy markets are likely to do more to solidify the US pole position for the foreseeable future than vice-versa.
The first glimpse at this trend occurred in 2014 with the Saudi-led decision to inundate world oil markets. The result to date has been mixed. Low crude prices have indeed curtailed investment in large-scale projects with long production lead times, such as deep-water, above the Arctic Circle and even in high-cost extraction areas such as Canadian oil-sands. Upwards to $300 billion in capital investment by the industry was either delayed or canceled in the 2014-15 period due to plunging oil prices.
US shale production-a primary target of the Saudi-led exercise-nonetheless continues apace. The average US field production increased 7.43% from 2014 to 2015, contracted 3.47% in 2015-16 and has bounced back with an average 4-month increase of 4.85% through April 2017. Over the period, US production increased 3.49% with an ending monthly production total of 9.3 million b/d-the highest monthly level since November 2015. At current production growth rates, US production projects out at 9.97 million b/d by the end of December-its highest output level on record. The OPEC meeting brought together the same players who extended the production cuts through the end of the 1st quarter 2018 or nine months in duration. A further extension of the production will be assessed at the November 2018 meeting.
Market reaction thus far has been one of quiet indifference. After the announcement of production cuts at OPEC's November 2016 meeting, the price of Brent crude shot up almost 14%, while West Texas Intermediate Crude (WTI) soared just over 13%. This time, WTI crude finally broke through the psychologically important $50 threshold on Tuesday of this week (23 May) settling at $51.47/barrel only to reverse course with a fall to $48.90/barrel at Thursday's market close (25 May). In overnight trading, WTI stands at $49.19/barrel before Friday's opening bell-still below its 200-day moving average. Brent rose to a price of $54.15/barrel at Tuesday's market close (23 May) a mere nose above its 200-day trading average only to lose that support by the close of trading on the 25th, dropping to $51.46/barrel as OPEC members were finishing up their deliberations. Brent eked out a small gain in overnight trading to $51.75/barrel on the extension.
Thursday's OPEC agreement is more about forestalling a crude price collapse than about driving prices higher as the cartel and its affiliates struggle to keep up with the torrid technological pace set in place by US shale production, bolstered by the ever-evolving breadth and scope of Wall Street financial engineering funding the effort. On the technological side, the dark days of 2015 forced efficiencies and economies of scale on US producers as no other time period short of the Great Depression. As a consequence, wells were drilled, which comprises the bulk of production costs and were capped before being brought to full production-waiting for market prices to improve. Drilled but incomplete wells, or DUCs, allowed break-even production costs to fall in the Permian Basin to about $44/barrel by the end of 2016. In Midland County, break-even costs fell to about $29/barrel over the same period. An estimated 6,000 DUCs were drilled during the course of 2015 through the fall of 2016 that are now being brought into full production.
As we have seen, field production contracted just 3.47% YOY through the end of 2016 even as WTI prices fell from a high of $106.90 on the 16th of June 2014 down to low of $26.11 on the 11th of February 2016. In the four months of 2017, production increased on average 4.85%, just shy of the pace set through the end of 2015 YOY, demonstrating that US shale could still thrive in a world of $50/barrel oil. Corporate spending on structures soared through the end of the 1st quarter, advancing 28.4% on a quarter-over-quarter (QOQ) basis-the biggest jump in the category since the 2nd quarter of 2011.
The drilling of new oil wells during the period was a big part of the increase. By way of comparison, most oil producing countries outside the western world struggle mightily in a $50/barrel world. Wars, civil wars, civil strife, lack of economic diversification and the high cost of social safety-net spending place strong upward pressure on current account budgets. Venezuela miraculously continues to meet its national debt obligations amidst widespread outbreaks of food shortages, a savage recession and interminable political strife. The spillover from falling oil prices has also hit a host of Caribbean countries long dependent on Venezuelan energy largesse that has all but been cut off. Few western energy companies continue to work in Venezuela's oil fields as payments for services rendered have long been problematic. Maintenance continues to suffer as output continues to fall. The country continues to search for a buyer of state-owned Citgo, with upstream, midstream and downstream holdings throughout the US. Most recently, the country issued a $5 billion sovereign bond using its US subsidiary as collateral for a loan from Russia's state-owned oil conglomerate Rosneft. The highly controversial deal is currently being challenged in court by a host of US multi-national companies which already have claims on Citgo assets.
The combination of falling oil revenues and high social spending has sent several Gulf producers into the capital markets to plug ballooning deficits between spending and revenue. Saudi Aramco, the crown jewel of the House of Saud, is scheduled to spin off roughly 5% of its assets in an initial public holding scheduled for the latter part of 2018. The spinoff is projected to be one of the biggest offerings ever at close to $2 trillion in market value.
The inescapable fact however still holds fast: As break-even prices drop, more production companies resume drilling activity in the US oil patch. The Saudi plan back in 2014 of flooding the market with oil has not only failed to disengage US shale, but has created an even stronger competitor. Blindsided, OPEC and non-OPEC producers alike find themselves facing new technological, financial and market realities that will that will require broad adjustments to expectations beyond its nine-month production cut extension. The group faces the age-old question: What next? The answer is anything but straightforward.
That the US shale industry has largely weathered the onslaught intact constitutes the biggest, ongoing threat to OPEC pricing power moving forward. Oil futures continue to be in contango, where spot prices are less than forward prices, offering up strong incentives for traders to store rather than sell crude into the market. Accordingly, US crude inventory grew by an average of just over 23% through the end of 2014 to 374.938 million barrels. Through the end of 2015, the US average crude inventory had increased another 10% to 461.471 million barrels. Through the week ending 19 May, inventory levels had reached 516.340 million barrels. The current contango pricing of the WTI futures market is now the second longest period since 1987, according to S&P Dow Jones data. The only period that was longer came in the heat of the Great Recession of 2007 between November 2008 and October 2011, when demand plummeted worldwide and OPEC cut production three separate times to bring supply and demand into balance.
US producers' ability to tap the capital markets for funding has provided a critical financial lifeline that has allowed the US shale industry to survive. Contango pricing allows production companies to hedge current pricing against future returns, which kept funding flowing to many producers even when pricing dipped below break-even equations. Similarly, the high-yield bond market continued to provide funding for drilling activities in many ways abandoned by banks as capital requirements and bankruptcies made bank loans to small, fledging exploration and production companies problematic. The combination of technological change and financial sourcing in the capital markets helped replace the haphazard, boom-or-bust wildcatter model of old with a production model that mimicked the expectations of a standard manufacturing facility with predictable efficiencies, scale and funding requirements. OPEC, perhaps unwittingly, exacerbated the contango scenario by running up production levels throughout much of 2016 leading up to the November agreement that went on-line in January-further depressing spot pricing for crude in markets around the world. Only recently has OPEC awakened to the task of returning crude markets to the more typical pricing model of backwardization, where spot prices exceed those of future prices, thus offering market incentives to bring crude to market, rather than storing production in anticipation of higher future prices. Forcing backwardization onto current market will be a Herculean task for which OPEC member states are woefully ill-equipped.
Figure 1: Brent Futures less WTI Futures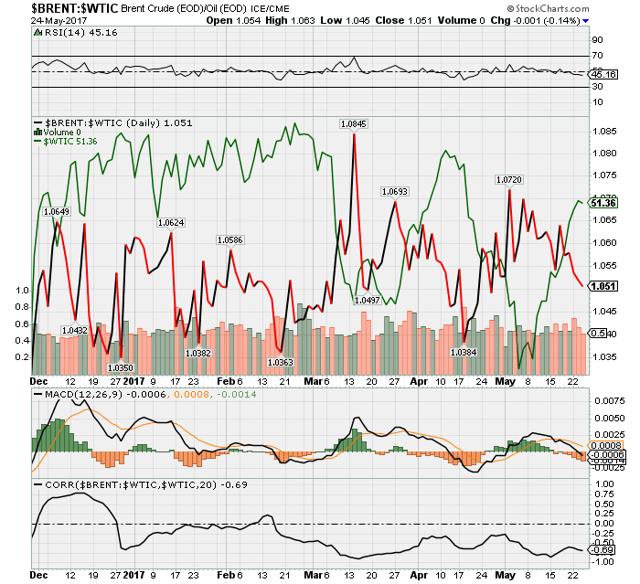 Brent future contracts volume typically runs at a quarter of that generated by US investors on the NYME. The volume of WTI future contracts through the 17th of December through Friday's market close (26 May) came to 1,625,894. The volume for Brent future contracts over the same period came to 4,000. When WTI is factored out of Brent, the latter moves at sharper angles both up and down. Adding Brent back into the ratio, the correlation between the two benchmarks is decidedly negative, which means Brent and WTI are consistently moving in opposite directions. Investor support level for Brent futures has been fairly weak for much of January, February and April as OPEC's production cuts have largely failed to restore pricing balance between supply and demand. The extension of production cuts at OPEC's May meeting was widely anticipated (see Figure 1, above.)
Figure 2: WTI less Brent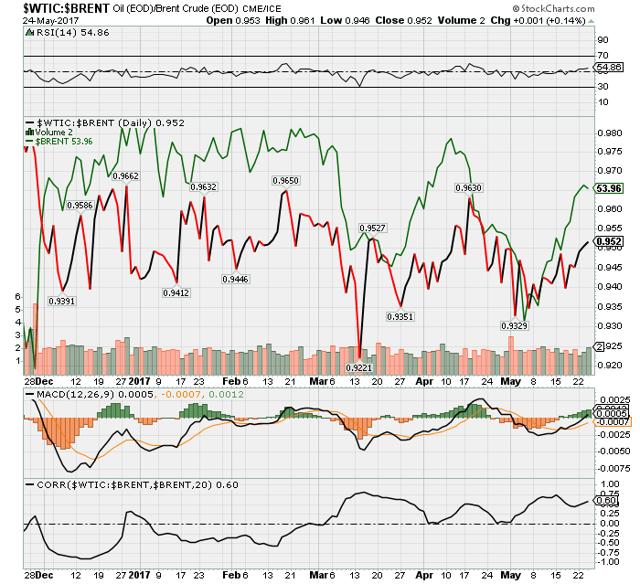 If we reverse the coefficients, we are presented with an entirely different relationship between the two benchmarks (see Figure 2, above). While the volume of contracts differential remains, the benchmarks now move in roughly similar directions. WTI commands greater market breadth with stronger upside movement through the course of the first five months of the year.
Interestingly, by factoring WTI back into the equation a second time, the correlation between the two benchmarks is as positive as the reverse ratio is negative in Figure 1, above. Brent futures have a high correlation with WTI futures-rather than vice-versa. US shale production, rather than OPEC is the swing-state determining the direction of world crude pricing. WTI futures commands proportionately more investor capital which directly benefits US shale production, a market scale that OPEC producers simply lack-a fact that will likely continue for the foreseeable future.
Signs suggest that the surplus of oil in world markets is easing, albeit slowly. Similarly, the contango market is less pronounced as the pricing spread for July and December contracts for both WTI and Brent settled at $0.88 and $0.96, respectively at Friday's market close (26 May). The current spread is a far cry from that of December 2005 and January 2016, where the contango spread hovered around $1.00 month-over-month (MOM) and the 12-month spread was more toward $6.00/barrel.
OPEC's pricing power still ties to the cartel's ability to manipulate supply, aptly demonstrated by the oil crises of 1973 and again in 1979. In the wake of US output increases on the back of its technological prowess and financial heft, OPEC's ability to manipulate the supply of crude to world markets has largely disappeared and production cuts alone become all the more effete. Will nine more months of production cuts restore OPEC's lost pricing power? Will the strategy apply upward pressure on crude prices in world markets? Will OPEC production cuts restore balance between world supply and demand?
The ready answer to these questions do not appear to support OPEC's assuming a role in world oil markets on anything close to the scale of the 1970s, when arguably the group's pricing power was at its peak. Quite the contrary: The slow, painful flameout of member state Venezuela stands as a poignant reminder of just how vulnerable some member states are from a variety of measures, which not only undermines OPEC's pricing power, but brings the relevance of OPEC as a whole into question moving forward.