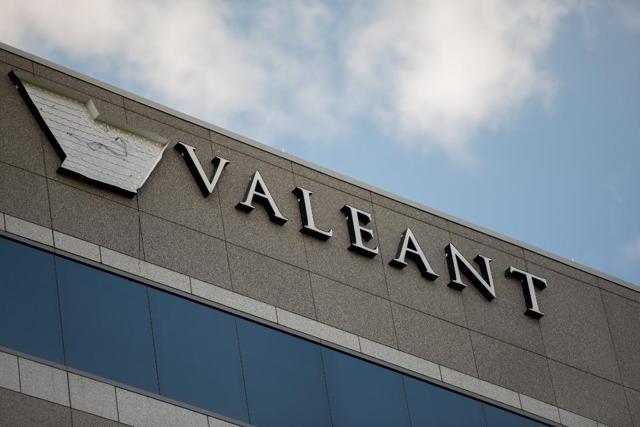 Valeant (NYSE:VRX) is up over 50% since hitting a 52-week low in late April. The stock began to bounce on a bevy of press releases related to a low price for psoriasis drug Siliq, debt repayments and a potential name change. Valeant reported Q1 cash flows of nearly $1 billion; short-covering and bullishness over the company's ability to service debt caused VRX to bounce again. Goldman Sachs even recommended that investors buy the company's 2020 unsecured notes:
Goldman's credit research desk issued new coverage on Valeant Pharma credit paper. Analyst Shubhomoy Mukherjee tells clients Wednesday morning that challenging situations at the company have created attractive opportunities.

The desk is positive on Valeant paper compared to HY Pharma Citi Yield Book index and gives four reason for the bullish outlook on the struggling company's paper:

A path to de-leveraging post-2018: We believe Valeant can grow into its capital structure post-2018, driven by Xifaxan, its BOL business, new product contributions and less drag from the Diversified business,
Divestiture-driven catalysts: We expect Valeant to refinance the 2020 maturities with secured debt using capacity created by asset sales,
Limited downside in a restructuring event: We believe current valuations price in a high likelihood of a restructuring event on further earnings underperformance,
Delivering on guidance: In this event, we believe VRX's bonds could re-price to yields of ~9%, comparable to where CCC-rated healthcare securities trade (high-teens total returns).
According to FINRA since Goldman's bullish call, Valeant's 7% bonds due October 2020 and 7.625% bonds due March 2020 have risen 5% and 8%, respectively. VRX bulls saw the recommendation as positive for both the bonds and the stock. However, I have a very different perspective.
Only 21% Of Debt Due By 2020
At Q1 2017 Valeant had total long-term debt of $28.5 billion; only 21% or $5.9 billion is due by 2020. In recommending the 2020 unsecured bonds, is Goldman in effect saying the debt after 2020 is not a good investment?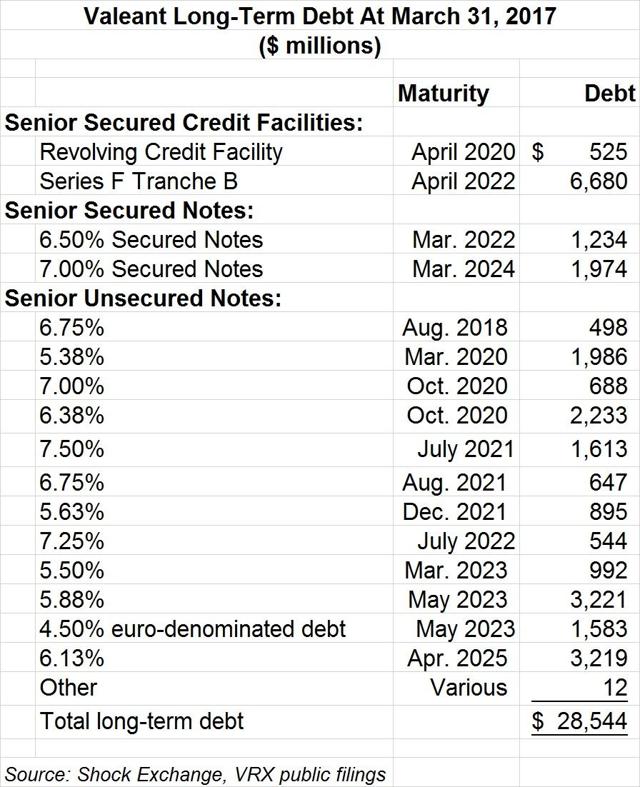 Valeant has $22.6 billion in debt due from 2021 to 2025. From year-end 2016 to Q1 2017 the company reduced its debt load by $1.3 billion or 5%; however, EBITDA fell by 23%. Valeant's debt/run-rate EBITDA is now over 9x - junk levels. With its current earnings profile Valeant might be about to service the $6 billion debt payable through 2020. Lost on VRX bulls is the company's ability to repay its entire $29 billion debt load appears to untenable.
Would A Restructuring Wipe Out Equity Holders?
Goldman says explicitly that a "restructuring event" is likely if future earnings disappoint. While VRX bulls heard, "Buy the bonds," I heard, "Avoid the equity." Restructuring could range from pushing out near term maturities to a debt-for-equity swap. Either scenario could help bondholders, yet could be highly dilutive to equity holders or cause Valeant's capital hole to expand. In late April Shocking The Street suggested Valeant was insolvent by $8 billion. Just two weeks later Goldman floated the likelihood the debt could be restructured down the road. What's the odds the two research notes were unrelated?
Valeant's current equity market capitalization is $4.6 billion. To fill its capital hole Valeant would have to perfect an $8 billion debt-for-equity swap. Such a large dilutive event would likely wipe out existing equity holders. I believe even a smaller equity raise or debt-for-equity could cause VRX bulls and day traders to throw in the towel. If future earnings disappoint, then we might soon find out.
Conclusion
Goldman intimated a potential debt restructuring limited the downside for Valeant's 2020 unsecured bonds. However, I believe the equity could be toast. Continue to avoid VRX.
Disclosure: I am/we are short VRX.
I wrote this article myself, and it expresses my own opinions. I am not receiving compensation for it. I have no business relationship with any company whose stock is mentioned in this article.