It has been several months since my last article on Medtronic plc (NYSE:MDT). This article will review its most recent quarter and fiscal year, look at how my investment has progressed, and make a recommendation about investing in Medtronic at current prices.
Medtronic had 4th quarter revenue of $7.9B, which represented a 5% increase from the 4th quarter a year ago. The revenues resulted in earnings per share of $0.84. For FY 2017, Medtronic recorded revenues of $29.710B which is a record. Net income was $4.028B. Diluted shares outstanding is now at 1.369B. This is about the same as the previous quarter. Only $16M was allocated to share repurchases for the quarter and represented about 200,000 shares being repurchased. Free cash flow for FY 2017 was $5.626B. Long term debt stands at $25.921B. Return on assets and return on equity is 4.03% and 7.98% respectively.
Medtronic has four business groups: Cardiac and Vascular Group; Minimally Invasive Therapies Group; Restorative Therapies Group; and Diabetes Group. All four business groups saw revenue gains for the quarter.
The three long term growth strategies for Medtronic are therapy innovation, globalization, and economic value and all three of them are progressing well. According to CEO Omar Ishrak, there were meaningful product launches and new groundbreaking technologies in therapy innovation. Globalization experienced double digit growth in FY 2017. China, Latin America, and Southeast Asia were particularly strong. Economic value is also progressing well. The Covidien integration is on track to deliver the $850M of total cost savings by the end of FY 2018. A total of $600M in synergy savings have been delivered so far. Medtronic has agreed to sell a portion of its PMR division to Cardinal Health (NYSE:CAH) for $6.1B in its continuing effort to manage its portfolio. In FY 2017 Medtronic met its goal of returning 50% of its free cash flow to its shareholders in the form of dividends and net share repurchases.
My investment in Medtronic has done well since my initial shares were purchased at $71.90 in December, 2016. Chart 1 shows the weekly chart of Medtronic showing my initial purchase. The share price is up $13.19, or over 18%. Additionally, I have received $0.86 per share in dividends.
Chart 1 - Medtronic Weekly Chart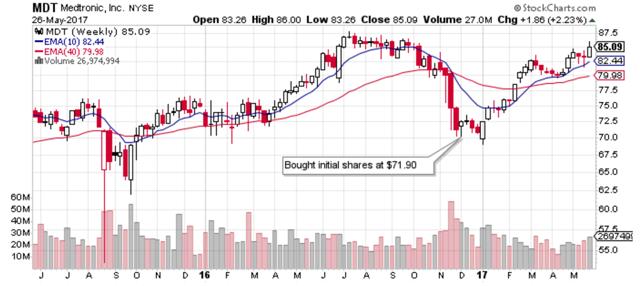 Medtronic has done well compared to the Healthcare Sector (NYSEARCA:XLV) of which it is a member. Chart 2 shows that Medtronic has been outperforming the Healthcare Sector since the beginning of 2017.
Chart 2 - Medtronic:XLV Relative Strength Weekly Chart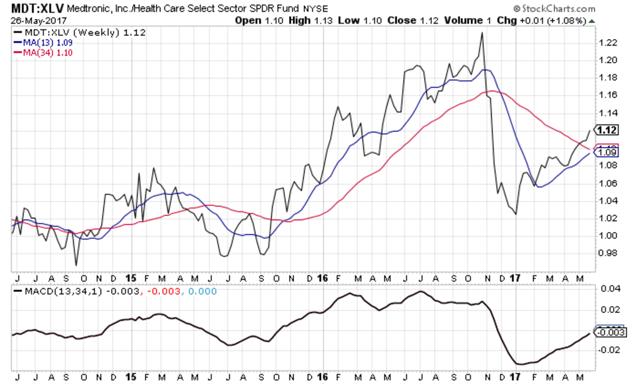 Medtronic had a solid but not a spectacular quarter and full fiscal year. To me the best part was that all four business groups saw revenue gains in the quarter and in the fiscal year. Medtronic is committed to returning 50% of its free cash flow to its shareholders through dividends and share repurchases. Medtronic expects its free cash flow to increase in the mid-single digits for the next several years. This means shareholders can expect more dividend increases along with share repurchases. Free cash flow will also be used to pay off long term debt as well as invest in its business groups. Medtronic's management sees long term revenue growth in the mid-single digits and double digit earnings per share growth.
It is not too late to invest in Medtronic. Medtronic's 4% return on assets is still below its 5 year average of 7.4%. Its 7.9% return on equity is still below its 5 year average of 14.3%. I believe that Medtronic will get back to its 5 year average in both of those metrics. It will take some time for these metrics to get back to their long term averages and by the time that happens Medtronic's dividend will have been raised some more, its share count reduced, and its debt paid down. Investors that buy now will capture those dividends and increase their ownership claims to future net income.
Disclosure: I am/we are long MDT.
I wrote this article myself, and it expresses my own opinions. I am not receiving compensation for it (other than from Seeking Alpha). I have no business relationship with any company whose stock is mentioned in this article.