Fifth Third Bancorp is down 10% YTD and 16% from the March 1 high. Here, it's trading at a shade over 12x 2018 EPS.
Banks were always going to pull back at some point after the strong post Trump election rally. The pullback has turned into a period of stasis. The drift is due to the muted tone of macro data and inflation data over the last month or two, and uncertainties surrounding the Trump administration. These relate to the economic policy mix, which remains unclear, and extraneous factors like the president's narcissistic personality and actions such as the firing of James Comey as FBI director.
Away from the top down issues, FITB is interesting at this level. The valuation is unassuming given that other US banks are trading more than 10% richer without offering superior EPS growth in the immediate timeframe. Further out, there's more juice in the targeted 1.1-1.13% ROA for 2019. For reference, 2015-2016 ROA was slightly under 1%, so when combined with a couple of years' organic growth the targets offer material upside for shareholders.
The management program designed to deliver this improvement is called "Project North Star". At Q1 this year, FITB management reported that they are ahead of their own expectations in core profitability gains. The key metric is the expectation of a sub 60% efficiency ratio by 2019. The way to think about this is in the context of something we can objectively establish, which is the "core" pre-provision operating profit for 2016. There was a large one off non interest income gain in 3Q last year. Excluding this item, the 2016 efficiency ratio stood at 64.5%, which gave FITB shareholders a pre-LLP margin of 35.5%. Should the efficiency ratio hit 59.5% by 2019, it will constitute a 14.5% pre-LLP operating profit if we assume no revenue growth over this period.
This would be a conservative assumption given the improvement to net interest margin in Q1'17. The following chart measured NIM over average total assets.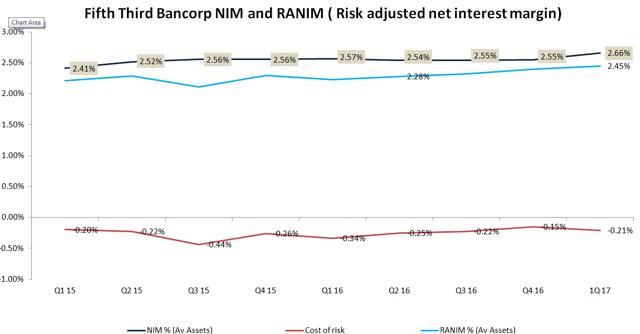 Company Data
With balance sheet growth a non event currently, the gradual NIM improvement described above accounts for the steady increase in net interest income over the last nine quarters, which we can see below: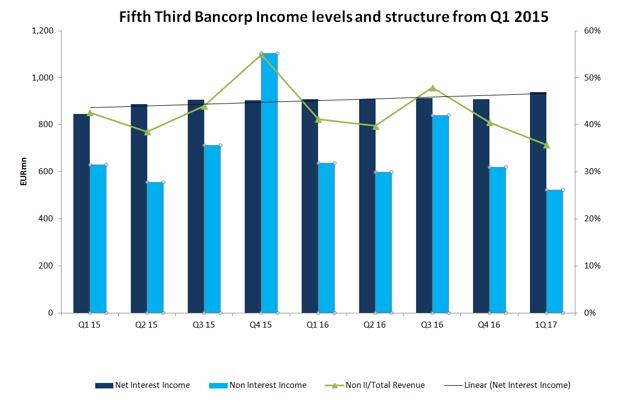 Company Data
FITB's lack of balance sheet growth can be seen two ways. On the negative side, it imposes a burden of delivery to the volume leg of the overall narrative for the stock, including quite how geared it is to whatever GDP boost Trump might be able to achieve (while it is early days, such a boost is non-existent so far). At the same time, it should be viewed as positive for credit quality as there is little new laid down asset risk to go bad if the economy takes a negative tilt. LLP costs should remain in the mid 20bps range as a percentage of total assets for now, and will increase only if there is a recession in FITB's footprint regional economies.
Capital return prospects are good, and the Vantiv position gives some hidden value
FITB is generating plenty of free cash given the low regulatory capital consumption implied by its low trajectory loan growth. Current prospects for capital return are for an overall 85% combined buyback and dividend distribution ratio. This gives us a 7% capital return rate for 2018 following 5.8% in 2017. Don't forget that FITB owns just shy of 18% of Vantiv, and carries the position on the books at $493m, leaving around $1.8bn of unrealized gains. This is material opposite FITB's current market capitalization of $18.2bn
Conclusion
Conservative investors looking for solid capital return, limited earnings risks and structural upside would do well to look at FITB here. The stock could easily increase to around $30 by YE 2018 if management deliver the operating leverage they are talking about.
Disclosure: I am/we are long FITB.
I wrote this article myself, and it expresses my own opinions. I am not receiving compensation for it (other than from Seeking Alpha). I have no business relationship with any company whose stock is mentioned in this article.