Welcome to the poof edition of Natural Gas Daily!
July contracts are taking a sizable hit today falling nearly 10 cents for the day and trading around $3.21/MMBtu.
The hit on prices came after the weekend weather reports showed much cooler weather forecasts than the previous week for the next 15 days.

In addition, CFTC position reporting showed another increase in overall net-long position last week.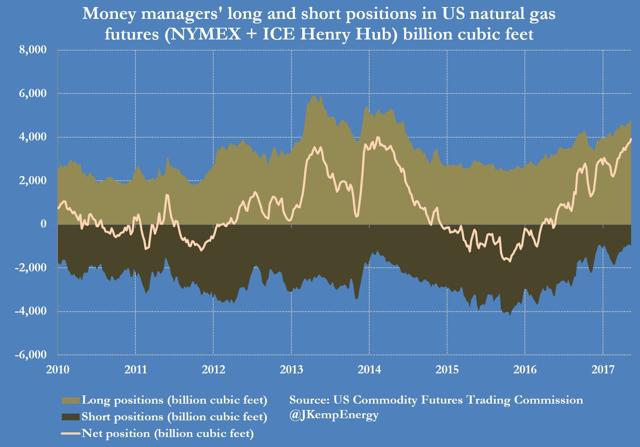 Source: John Kemp
Over the last 12 weeks, money managers have increased net long positioning by a total of 1,721 Bcf or a 78% increase. This level of strength in net-long position increasing scared many of the traders we talked to. Position liquidation, as we have warned repeatedly over the last month, can come at any time, and volatility begets volatility.
How bearish was this weather update? Not significant to the longer term picture, but speculators don't care about fundamentals in the short-term, and they have very little regard for where the fundamental supported gas price is if they are looking for an exit.
Until the dust settles (positioning reverts), it's unlikely we will see traders get excited to take long positions here.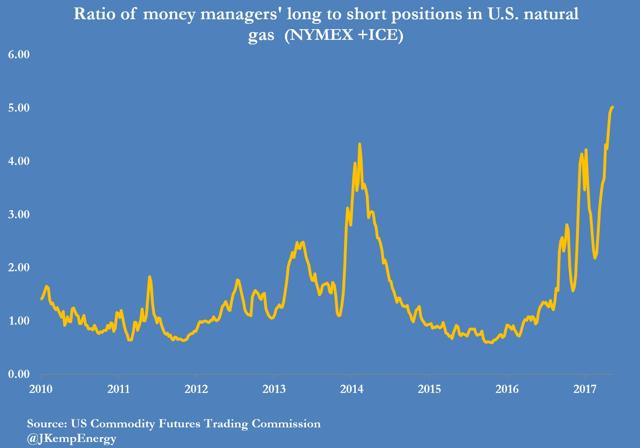 Source: John Kemp
For daily updates on where the traders are making their next move, you can sign up for HFI Research's natural gas fundamental updates.
Disclosure: I/we have no positions in any stocks mentioned, and no plans to initiate any positions within the next 72 hours.
I wrote this article myself, and it expresses my own opinions. I am not receiving compensation for it (other than from Seeking Alpha). I have no business relationship with any company whose stock is mentioned in this article.