I've discussed Shire's (NASDAQ:SHPG) valuation in January 2017, talking about an attractive risk/reward opportunity in this name, but the stock hasn't performed very well over the last three months, despite a solid management execution and strong SHP643 results.
Thus, in this article, I will go through three valuation approaches — DCF, sum-of-the-parts (SOTP), and multiple comparison — to demonstrate why I believe the stock is massively undervalued and poised for a re-rating.
DCF Valuation
I discussed here the methodology behind my DCF Valuation for Shire. In this article, I update my analysis on the basis of the announcements of FY 2016 and of Q1/2017 Results.
Here are my key assumptions for the estimates of Sales, EBITDA Margin and FCF:

Source: Bloomberg & My Own Valuation Model
As you can see, these estimates are below consensus. Specifically, I assume a lower sales growth compared to sell-side estimates for 2021-2022 to reflect my conservative view on their Haemophilia franchise, as discussed in my previous articles, which compensates my bullish expectation on the potential of SHP643 in HAE.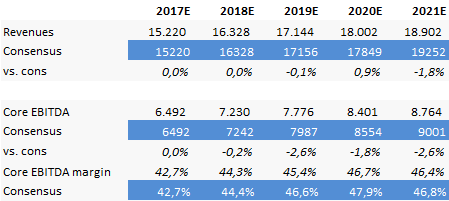 Source: Consensus Comparison vs. My Own Valuation Model
To generate a DCF Analysis, I used 2 different methodologies:
Perpetuity Growth Method: I used conservative assumptions about the perpetual growth rate and the WACC. In details, I used a perpetual growth rate of 1%, which is below the Bloomberg assumption (i.e. 2.3%) and I assumed a WACC of 8.5%, that is higher than the Bloomberg estimate (i.e. 8%).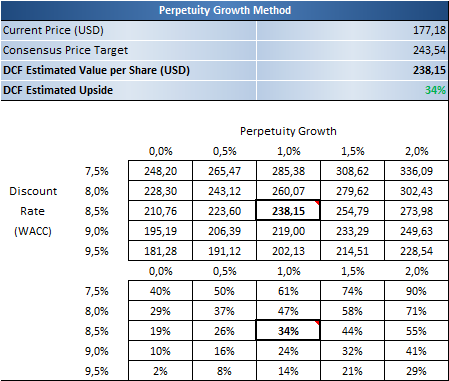 Source: Bloomberg
As can be seen in the table above, Shire is undervalued by 34% based on the Perpetuity Growth Model, while in my previous analysis it was undervalued by around 38% on similar assumptions. Thus, despite a positive Q1 reporting and excellent data for SHP643 in HAE, the stock hasn't performed very well year-to-date.
EBITDA multiple method: this analysis reveals a similar result for Shire's valuation, because the company looks undervalued by 33%, which looks more attractive compared to my previous analysis where it was undervalued by about 30%. I still assumed an EBITDA exit multiple of 11x, which is below Shire's historical EV/EBITDA valuation of 12x EV/EBITDA, as shown by the following tables: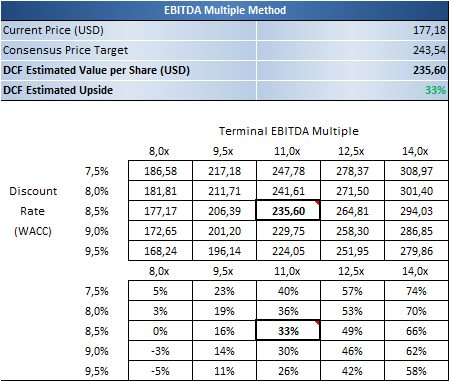 Source: Bloomberg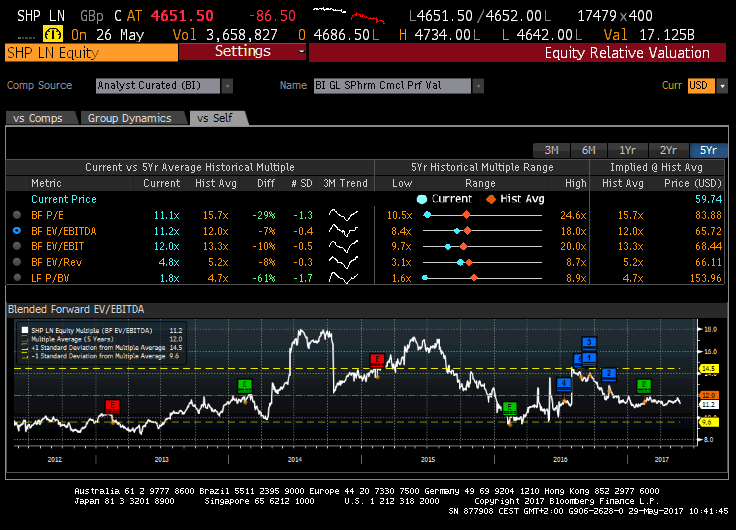 Source: Shire's Current vs. 5-year average EV/EBITDA (absolute analysis) – Bloomberg
SOTP Approach
On March 2017, I discussed here why I was convinced that the market was totally missing the quality of Rare Disease/Plasma Units of Shire and I used a SOTP (Sum of the Parts) Approach to support my thesis.
I have updated my analysis to show what multiple is now implied in the current 10x P/E 2018 valuation of Shire, using a SOTP in order to classify Shire's key drugs in 5 buckets: Rare Disease, Plasma, Haemophilia with inhibitors, Haemophilia without inhibitors and Legacy Specialty Brands.
Compared to my previous analysis, the most relevant newsflow which have impacted on the multiples assigned to the units are:
On May 18, 2017, Shire has announced strong Phase III results for SHP643 (lanadelumab) from the HELP study . This event was the key catalyst to watch in 2017 to assess the ability of Shire to preserve their leading position in the Rare Disease space. Thus, after this strong data I think it's fair to assign a valuation of at least 20x P/E at the Rare Disease Division.
On May 9, 2017, US Court rules in favor of Zydus vs. Shire related to the litigation of Lialda. This negative news increased the probability that Shire will face generics competition in 2018, two years before the patent expiration for the drug. Thus, I think it's reasonable to decrease the valuation of the Legacy Specialty Brands at 10x P/E to reflect the downside risks on Lialda in 2018 and beyond.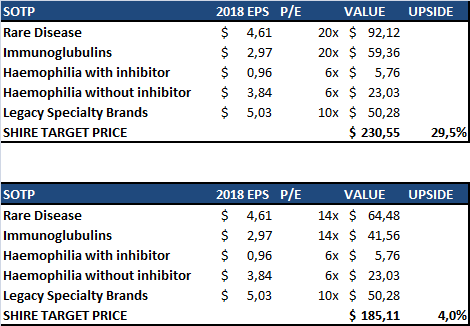 Source: My Own Valuation Model
There are two takeaways from this analysis:
Assuming that the market will fully recognize the value of Shire's Rare Disease and Plasma Units (i.e. 20x P/E 2018), the company is undervalued by 29.5%, while in my previous analysis (based on 2017 numbers) it was undervalued by 40%, given that I assigned a higher valuation to the Legacy Specially Brands Division.
The implicit multiple that the market is assigning to the Rare Disease and Plasma Units is now 14x on 2018 P/E, in line with Pharma sector, despite this segment will be insulated from competition and pricing pressure over the coming years. Thus, the market is still totally missing the quality of Rare Disease/Plasma franchises.
Multiples Comparison
Lastly, Shire has traded historically at only 15.5x 2017E EPS, which was at least in line with the diversified biopharma group. Today, Shire is trading at a massive discount to 5 years average historical P/E on an absolute and relative basis, as shown by the following analysis.
In particular, the stock is trading at 11.1 NTM (next twelve months) P/E, which is at 30% discount to its historical P/E valuation, and it's trading at 45% of discount vs. peers. This analysis reinforces my view that the stock is near a trough valuation.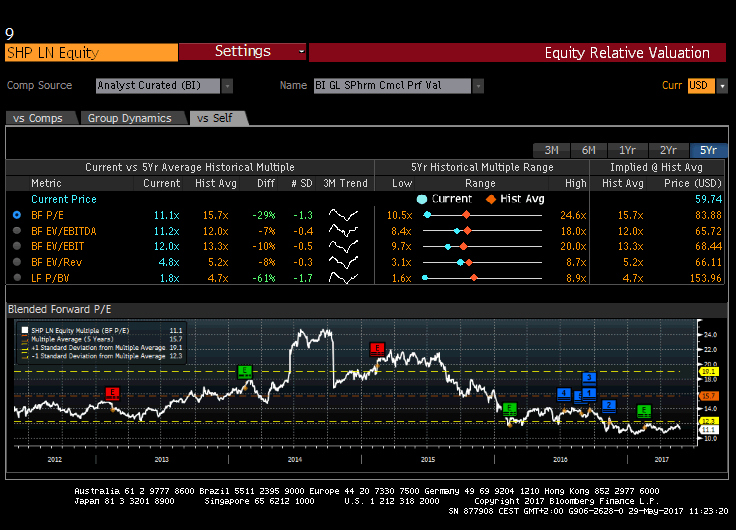 Source: Shire's Current vs. 5-year average P/E (absolute analysis) - Bloomberg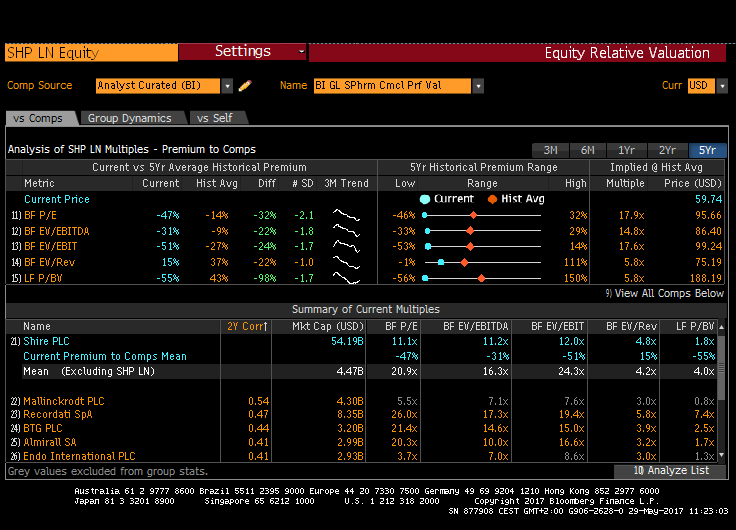 Source: Shire's Current vs. 5-year average P/E & EV/EBITDA (relative analysis vs. Spec Pharma peers) – Bloomberg
Conclusion
If you've read my previous article, it's clear that I like the company's exposure to Plasma and Rare Disease and their business model.
In addition to that, as shown by this quantitative analysis, the risk/reward on the name is still attractive and the stock looks undervalued according to different valuation metrics.
Thus, I would expect a re-rating of Shire over the coming months.
Disclosure: I am/we are long SHPG.
I wrote this article myself, and it expresses my own opinions. I am not receiving compensation for it (other than from Seeking Alpha). I have no business relationship with any company whose stock is mentioned in this article.
Additional disclosure: Not investment advice