One of the key characteristics of market action in 2017 has been the persistently subdued volatility, both realized and implied. This is a phenomenon with important implications for investors and traders. Volatility is one of the main criteria that determine asset allocation and market positioning. Typically, low market volatility strengthens risk appetite and encourages aggressive investment strategies due to the perception of relative safety as a result of consistently mild and predictable price movements across the entire spectrum of asset classes.

Source: CBOE
Paradoxically, the six month realized volatility for the S&P 500 (NYSEARCA: VXX) has crashed to levels not seen in decades, despite the combination of heightened policy uncertainty, both fiscal and monetary, and the emergence of acute geopolitical risks. This is arguably an unprecedented occurrence, because in the past periods of unusually low volatility were accompanied by genuine financial stability and a far greater degree of clarity regarding the economic outlook.
The increasingly popular volatility-driven asset allocation models, which place emphasis on recent price oscillations and increase positioning on assets that exhibit lower volatility, produce a widespread tendency to pursue market outperformance through low-vol strategies. This, in turn, results in further declines in actual and implied volatility, generating a vicious circle.
The abnormally low level of market volatility creates a perception among market participants that the underlying financial risks are limited and controlled. Yet, this is not the case, and the confluence of artificial liquidity and deceptively repressed financial volatility, could actually pose a major market risk over the medium-term. In fact, many argue that this protracted period of ultra low volatility represents one of the most significant threats to financial stability.
Apart from feeding a false sense of safety among market participants, excessively calm markets entice investors to adopt alpha-seeking strategies whose success hinges on asset price movements bereft of notable spikes. These strategies have already become surprisingly popular, and their sudden unwinding --once market sentiment deteriorates-- could amplify the scale, strength and collateral damage of the subsequent price declines in assets previously characterized by remarkable tranquility.
Over the past six months the mainstream market narrative has undergone major changes. The initial investor enthusiasm due to the promise of ambitious pro-growth policies has given way to disappointment with respect to the erratic first steps of the Trump administration and the lack of progress in implementing its growth agenda. Nonetheless, major indexes continue to hit new milestones as the White House drama has been offset by the ongoing central bank liquidity injections --especially from ECB and BOJ-- combined with promising economic and political developments in Europe, as well as increased stability in emerging markets.
I suspect that the most important factor that presently underpins investor confidence and helps perpetuate this historically unusual environment of ultra-low market volatility is the notion that central banks will remain willing and able to prevent market accidents. This reflects a deeply ingrained market confidence in the ability of central banks to control the duration and strength of any market sell-offs that may occur. The previous week offered us an illustrative example of how drastically verbal intervention by policy makers can influence markets and stem intensifying volatility forces.
The sharp market decline on May 17, which represented the strongest sell-off of the year, albeit relatively tame from a historical perspective, was swiftly reversed in the days that followed. This was largely attributed to the implicit promise of the president of the St. Louis Fed, James Bullard, that more stimulative policies will be adopted by the Federal Reserve, should market turbulence persist. Since then, risk taking has increased considerably, with equities reversing previous losses and surging to new all-time highs.
Unfortunately, aggressive central bank intervention, apart from the significant moral hazard that it entails, is not a sustainable solution to achieve sufficiently high economic growth, which is necessary to validate current asset prices and drive future market gains. Irrespective of Bullard's recent comments, the Federal Reserve remains intent on normalizing rates and reducing its balance sheet. The latest positive economic developments in Europe and Japan, also pressure these systemically important institutions to reduce and eventually stop their ongoing quantitative easing programs, which continue to serve as a key pillar of support in the effort to contain financial volatility and support asset prices.
Undoubtedly, the initiatives launched by ECB and BOJ in recent years have generated ripple effects of upward momentum in global markets and solidified the market belief that the period of economic uncertainty and volatile markets is behind us. Yet, economic growth remains anemic, while inflation is steadily increasing, which will force major central banks to tighten their policy in a faster and more determined fashion. Meanwhile, central banks' assets continue to balloon, and the market impact of this trend's reversal, which is bound to materialize sooner or later, is largely unknown; it may even be impossible to accurately quantify, because simply there is no historical precedent of monetary experiments with such scale and scope.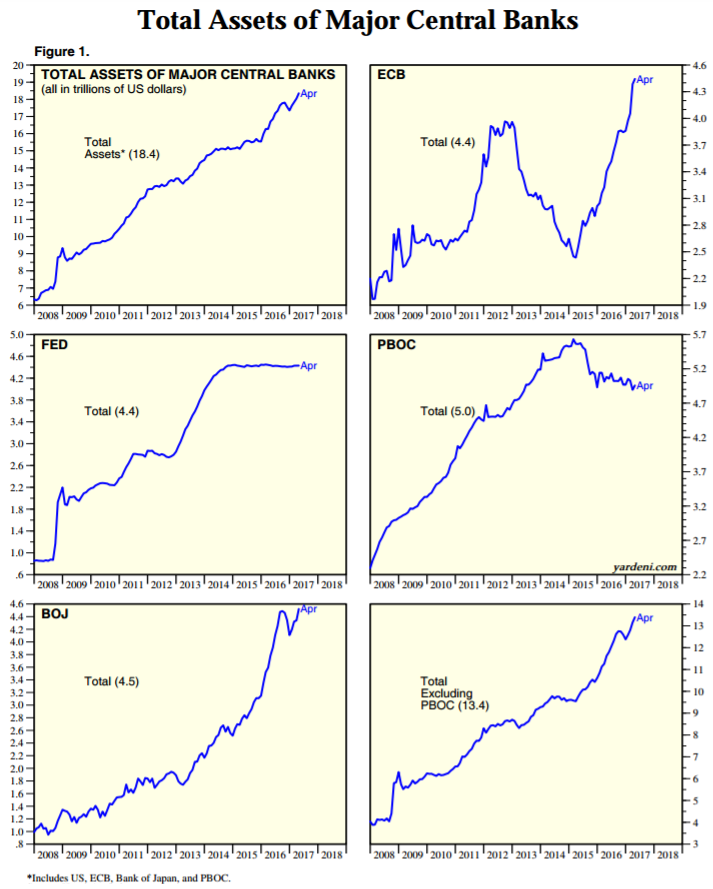 Source: Haver Analytics
Once the excess market liquidity evaporates, markets will become more susceptible to sudden volatility spikes; significantly more severe than market participants have grown accustomed to expect. The potential for a massive unwinding of the positions built to capitalize on low volatility --one of the most crowded trades in recent months-- could spark vertiginous market declines and lead to substantial financial instability.
Only a successful transition from the current over-reliance on accommodative monetary policies toward sufficiently comprehensive, well-designed and properly implemented pro-growth fiscal policies can provide a durable solution and help prolong this era of impressive market stability. Until then, investor vigilance is warranted to avoid the temptation of misinterpreting the existing market calm as a signal of true economic robustness. In fact, a more detached and objective observer would note that underlying market risks continue to grow, instead of having dissipated, as current volatility levels would normally suggest.
Disclosure: I/we have no positions in any stocks mentioned, and no plans to initiate any positions within the next 72 hours.
I wrote this article myself, and it expresses my own opinions. I am not receiving compensation for it (other than from Seeking Alpha). I have no business relationship with any company whose stock is mentioned in this article.