I have long lamented the position Sears Canada (NASDAQ:SRSC) finds itself in. It can't hold down its executive leadership team much longer than a year. Now it's made an interesting transition, it's attempting to transition from a lower mid range chain into a discount clothing retailer. 'The Cut' as they call their new offering. To be honest, the picture painted looked really good. Quarterly results weren't horrendous on paper either.
Before I talk about the plan to reposition Sears Canada. Let's look at the balance sheet and liquidity position. Same store sales increased 1.3%. Heck that's fantastic. My retail favorite Hudson's Bay experienced YOY sales losses. What is important to note is about these gains is twofold. Firstly this comes from a horrendous base. Fiscal 2014 for examples had an 8.3% decline, with many years of declines before and after. Secondly, management essentially admitted these sales increases came from slashing margins on appliances. To quote the company's press release " Same store sales increased by 1.3% in the fourth quarter compared to the same quarter last year and core retail same store sales increased by 0.9%. The Company has been focused on a more customer-centric, out-the-door selling price model, including everyday price adjustments for major appliances and mattresses based on competitors' online pricing, which has resulted in an increase of unit sales across all store channels for the fourth quarter this year compared to the fourth quarter last year." I can sell appliances with no margin and post some pretty good same store sales numbers too. So is this sales growth contributing to shrinking losses. Nope, let's quote that press release again "Adjusted EBITDA for the fourth quarter was a loss of $63.7 million compared to a loss of $51.2 million in the same quarter last year."
How does Sears manage to continue posting these losses year after year? Much like the US company. Sears Canada keeps selling real estate. I'll quote the press release once again " During the fourth quarter of this year, Sears Canada closed transactions with proceeds of $62.9 million and $30.9 million (previously announced as $31.3 million). On March 1, 2017, the Company announced the closing of a previously-announced transaction for proceeds of $50.0 million for its logistics centre located in Ville St. Laurent, Quebec. In addition, a transaction for proceeds of $7.0 million (originally announced as $8.0 million) closed during the first quarter of 2017. None of these transactions is resulting in store closures." Unfortunately for Sears, real estate Sears don't secure the long term to
While it may appear lazy for me to quote the press releases like this, I view it as being critically important. I want to see where management thinks they need to go to create a viable company. In the US Sears has no such plan. At least Canada does. What excited me initially was seeing Sears position itself as an off price retailer. The off priced clothing online actually looks really good. Prices are *very* competitive. I actually bought a couple of shirts in store, and they are phenomenal for the price. Here are the issues. The stores are not being rebranded in a way that is appealing to new customers. I am a very frugal person, and I can tolerate stores that looks like this. But this is not what will grow sales...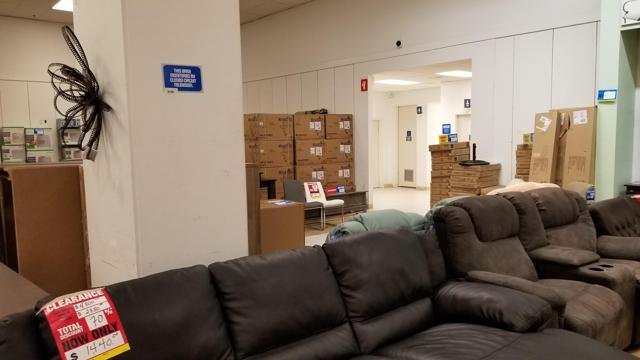 So Sears is attempting to reposition itself as a hip off price retailer. Let's take a look at how the plan is materializing… Not particularly well from my visit. This begs the question, does Sears have the time and money required to stage a reinvention? Asset sales are what the company lives off. Much stronger chains like Hudson's Bay (OTC:HBAYF), Target (NYSE:TGT) and Wal-Mart (NYSE:WMT) have been curtailing capex, and they aren't attempting a reinvention like Sears.
If Sears Canada can pull off this reinvention, and that is a very big question, there will be plenty of good opportunities to buy them on the upswing. The company currently trades with a market cap of under $100 million. I have more faith in the Canadian operations turning around for a few simple reasons. Firstly, 'The Cut' is the right place to be going. Their merchandise is affordable and of good quality. The management believes stores need to be redesigned for the 21st century and is being very innovative with its aging store base. With that said, margins continue to suffer and I wonder if Sears Canada has the capital to pull it off. There is essentially no cash on the balance sheet, and real estate sales are required to keep the ship afloat. Management is not forthcoming with how many assets remain sellable, and giving the number of C Suite turnovers, I'd expect time is running out...
Disclosure: I am/we are long HBAYF, WMT.
I wrote this article myself, and it expresses my own opinions. I am not receiving compensation for it (other than from Seeking Alpha). I have no business relationship with any company whose stock is mentioned in this article.
Editor's Note: This article covers one or more stocks trading at less than $1 per share and/or with less than a $100 million market cap. Please be aware of the risks associated with these stocks.