Bitcoin now has yet another country that is legalizing the crypto-currency: Australia is paving the way for the coin to be used as money without any kind of taxation. This protects businesses that are involved in Bitcoin. This means there is even more potential demand for the currency as this follows Japan's moves to do the same a little over a month ago. Bitcoin surged even further on the news, up another 15% in one day. This is the trend that will continue.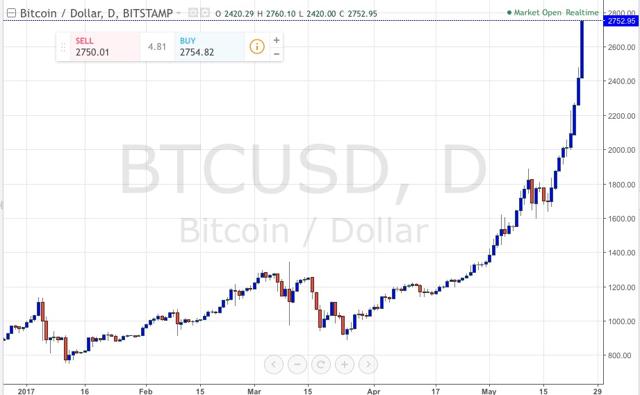 I have written a great deal on Bitcoin. I see the benefits despite any potential shortcomings in the structure of the currency. The most basic element of all of this is this: There are only 20 million Bitcoins in existence. There will never be any more. Ever. However, look at the paper in your pocket. If you live in a major country, that currency is getting diluted every day.
Take a good hard look at the balance sheets of all of the major central banks in the world: Bank of Japan (BoJ), United States Federal Reserve (Fed), Bank of England (BoE), European Central Bank (ECB). What do they all have in common? These central banks have all taken extremist Keynesian measures to shore up their respective economies. This was done by purchasing assets from banks on a massive scale. This freed up reserves for banks which are now in the process of lending out those excess reserves. That increases the money supply. That means more inflation. That means the paper in your pocket is worth less today than it was yesterday, and that process is going to continue ad infinitum.
Bitcoin is the complete opposite of the paper in your wallet. The central banks are printing more and more of it every day. They did so in a massive way just after the financial crisis. Now that the world economies are beginning to expand, the money supply is about to do the same due to the massive infusion of liquidity into the financial markets. The end result? Inflation. The paper in your pocket will be worth less today than it was yesterday because of inflation.
Bitcoin will only ever have the same exact amount of coins in the system. But the potential demand is every single person on the planet. There are 20 million coins. There are 7 billion people. Do the math. Whereas purchasing power declines with inflation and your fiat currency, purchasing power increases with Bitcoin heading higher and higher.
But what about price volatility? Ahhh... Valid point. After all, this article is about exactly that, price volatility and what has happened in the past 30 days, the fact that Bitcoin just soared upward some 200%.
I am an options trader. I watch options prices on just about everything looking for clues as to what is moving and then try and see what that is happening. You don't need to look far to see that Bitcoin has seen price movements. However, from a volatility perspective, given the past three months, Bitcoin is about half as volatile. Huh?
Valid point. As an options trader, I live and breathe volatility. Here is the volatility chart for Bitcoin for the past three months since February, which shows that volatility is not nearly as high as you would think despite the chart above's imposing view: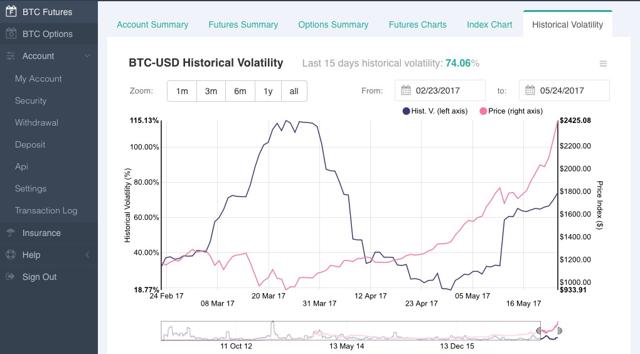 The blue line is volatility, and the red line is price. Volatility is a measure of standard deviation, meaning how much price movement is there up or down from a given point in time over the course of period of time - mathematically averaged and squared. The chart above is the three-month volatility measure. Price action has moved but not the most it could, given the performance of the past three months.
As for price movement, you should be cautioned that Bitcoin is not a one-way road. In fact, just as that chart above shows, price moves. This chart shows that Bitcoin does come downward: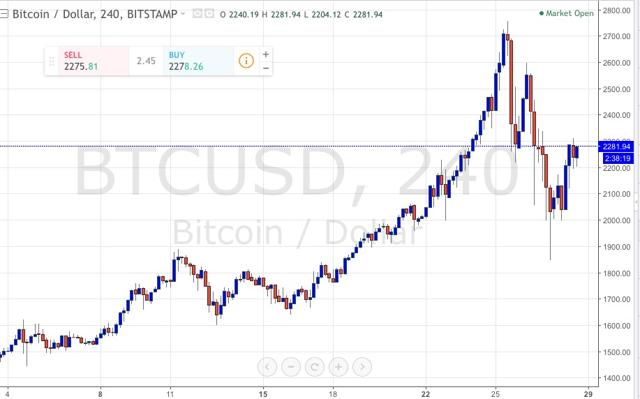 Long term, I believe Bitcoin will continue higher and higher. I do not see that being a "safe" bet that you leverage yourself to the hilt, buy, and expect wild success. There have been surges of purchases. Then, the market settles back downward. Over a multi-month and multi-year period of time, Bitcoin will continue to advance in price simply because of the basics of Bitcoin versus fiat currencies.
On the one hand, I see no reason for anyone to desire holding their money in whatever currency they are currently holding. That money is going to be worth less and less every single day. However, given demand and supply for Bitcoin, I see no reason why you would not hold Bitcoins. It is going to be worth more and more based on demand from everyone.
All money is a medium of exchange: The United States Dollar, the British Pound Sterling, The Japanese Yen, etc., these are all base currencies for a country. But the purchasing potential of a currency is at the whim of a country's government, whereas Bitcoin is decentralized. Bitcoin is nothing more than an autonomous medium of exchange. The crypto-currency's purchasing ability is based upon the market rate. Unlike the currency in your pocket, you have the ability to hedge your purchasing ability with Bitcoin.
Given more and more countries are removing barriers to Bitcoin, the acceptance of the coin is going to grow. With inflation, more and more individuals are going to start shunning their currencies in favor of Bitcoin. All of the mechanisms are in place. Bitcoin will continue to see demand and, given the limited quantity, will continue to rise in price. However, it will do so with price movement going up and down.
Disclosure: I am/we are long BTCUSD, COIN.
I wrote this article myself, and it expresses my own opinions. I am not receiving compensation for it (other than from Seeking Alpha). I have no business relationship with any company whose stock is mentioned in this article.