I have a special place in my heart for Investor's Group (OTCPK:IGIFF). I've worked beside their head office for years. I gotten to know a few of the people that make the company what it is. They're a fantastic group. Now with all that said I've decided to pass on an investment. Here's why.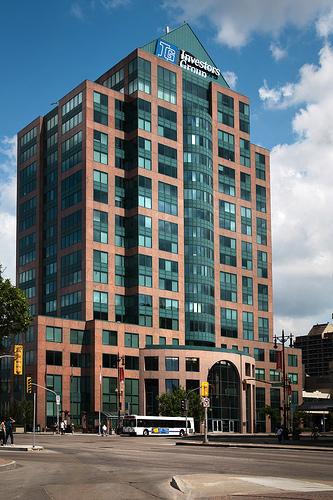 A reader asked me about why Investor's Group is considered a somewhat risky investment. It seemed like a bizarre question to ask. In Canada it is common knowledge that mutual funds and fund managers are under attack. New rules have recently been introduced to combat exorbitant MERs (management expense ratio). Any fund that doesn't guarantee the principle of an investment must follow these new rules. This is an example of what would be proposed. I have $100 000 to invest. I go down to an Investor's Group office and choose a mutual fund. Instead of being quoted a 2.5% MER, I'm told $2500 in fees are being deducted from my account every year. Compound that over the next 20 years it will make of half of return. That's not good. I firmly believe in self directing once investments, but otherwise the onslaught of ETFs is likely here to stay. IGM's smaller Canadian competitor, AGF (OTC:AGFMF) has jumped from being solely a mutual fund provider to offering ETFs as well. Tides are certainly turning
To quote IGM's 2016 annual report "Research continues to show that Canadians who work with a financial advisor to guide their financial decisions are wealthier, more confident and better prepared for the financial implications of marriage, a new child, post-secondary education, retirement, and other life events. In April, the Canadian Securities Administrators released a consultation paper seeking comments on proposed targeted reforms relating to the obligations of advisors, dealers and their representatives toward their clients. This step is part of the CSA's continuing review of the dealer-client relationship, with the goal of achieving the best outcomes for investors. The Company will continue to participate in these dialogues to enhance the overall client experience." Management is clearly concerned about the implications that better disclosure will mean to the company. Typically I don't like to invest in companies where their business model is predicated on secrecy and lack of information.
Looking at financial results, they're alright, but nothing at all exceptional... Investor's Group funds under management grew 8.5%, that's not bad at all. With that said its Mackenzie banner only grew at 3.9%. To quote CEO Jeffry Carney, "Mutual fund sales were $7.8 billion, a decrease of $1.6% from 2015 sales of $7.9 billion. The redemption rate on long-term mutual funds was 8.8% for the year ending December 31, 2016, compared to 8.7% in 2015. Net sales of mutual funds in 2016 were $366 million." Earnings have not grown significantly in the past few years either, in 2016 operating earnings are down 5%. IGM trades at about 12x 2017 projected earnings. That's pretty darn cheap. What's cheaper? About half the Canadian banks. Not only have they posted much better growth over the past couple of years, they also don't face significant industry headwinds that IGM does... CIBC (NYSE:CM) trades at 9x, my favorite, TD (NYSE:TD) trades at 12x.
What I do like to see is the investments IGM is making in Wealth Simple. Wealth Simple is a (and I mean this a nicely as I can saw it) dumbed down ETF provider. You don't need to 'trade anything' in a broker. You just invest in a Wealth Simple fund that meets your investing needs. While it is not something that'd likely target SA readers, for the clientele that may be leaving mutual funds in the coming years, Wealth Simple is keenly positioned to capture some serious market share. With that said Wealth Simple is a direct competitor to IGM's higher margin products, such as mutual funds... When the most exciting product in a company's line up is hoping to cannibalize of the company's higher margin products... that's an issue.
I like the company. I think it is flush with brilliant investment minds. I'd kill to manage a fund for them (maybe then a mutual fund could beat the market haha). With that said owning the best company in a struggling industry means nothing. I see no reason to own IGM when many Canadian banks trade cheaper...
Disclosure: I am/we are long CM, TD.
I wrote this article myself, and it expresses my own opinions. I am not receiving compensation for it (other than from Seeking Alpha). I have no business relationship with any company whose stock is mentioned in this article.
Editor's Note: This article discusses one or more securities that do not trade on a major U.S. exchange. Please be aware of the risks associated with these stocks.