The U.S. Bureau of Economic Analysis (BEA) reported the country's quarterly saving data on Friday. The data set receives little attention in financial news despite its importance, both for economic growth and financial stability.
Net saving (gross saving minus consumption of fixed capital) is an important precursor for economic growth since capital can only be accumulated on a sustainable basis whenever gross saving exceeds consumption of fixed capital. Furthermore, the faster gross saving grows relative to capital consumption, the faster additional capital can be formed and the more productive an economy can become. And with increased productivity comes increased economic growth.
Net saving's share of gross saving averaged almost 47% from 1947 to 1970 and dropped below 40% only on a handful of occasions. But something then changed toward the end of the 1960s as the ratio started sliding from more than 50% during the middle of that decade toward 40%. In the fourth quarter in 1970, not long before Nixon closed the gold window in 1971, net saving plummeted to 37% of gross saving and, despite making a timid comeback in 1972 and 1973, continued on a downward spiral until the ratio finally turned negative in Q2 2008. Though it has since improved somewhat, net saving's share of gross saving today hovers around a dismal 16%, about one-third of the 1947 to 1970 average.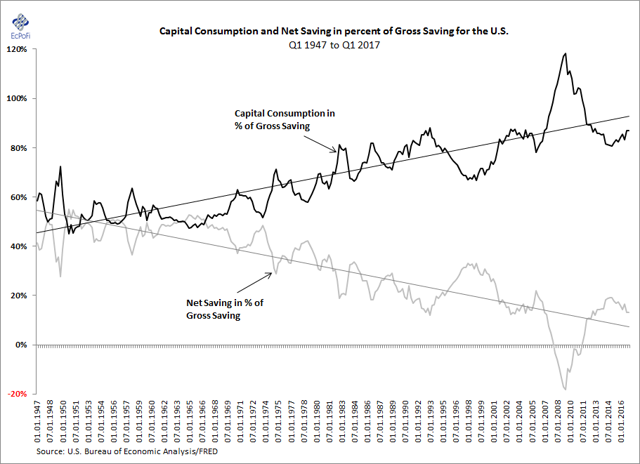 This helps shed light on why capital formation growth in the U.S. has declined quite dramatically for decades and particularly since the 2008 banking crisis. This is apparent in the chart below which shows net investments (the difference between gross investments and capital consumption) in percent of GDP for the U.S. economy. The quarterly data applied are smoothed over rolling ten-year periods and scaled by GDP to reveal longer term trends.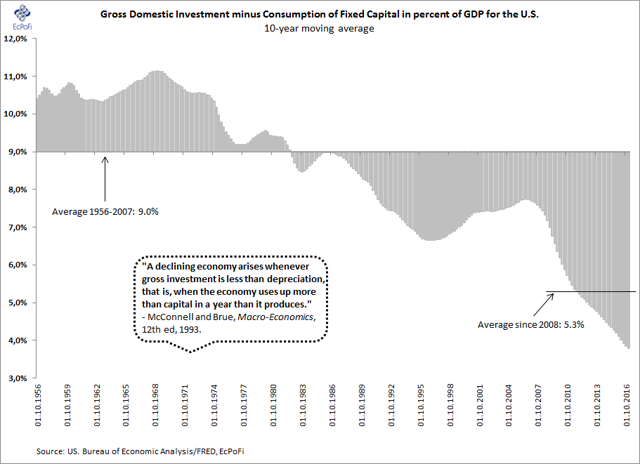 As of Q1 2017
For additional capital to be formed, gross investment needs to exceed the consumption of already existing capital. Since monetary inflation also inflates the costs of replacing and maintaining already existing capital in the future, the gap between gross investment and capital consumption ought to widen to ensure capital formation in real terms does not decline. With the exception of the investment booms during the late 1990s and in the mid-2000s, the gap between the two has instead narrowed considerably since mid-1980s.
Even more alarming, the trend in capital formation has been consistently negative since early 2006 and is today (Q1 2017) the lowest ever reported based on ten year rolling data starting in 1956. In fact, capital consumption has increasingly dominated gross investments for more than three decades, a trend that has worsened considerably during the last ten years and one that has been detrimental to productivity and economic growth.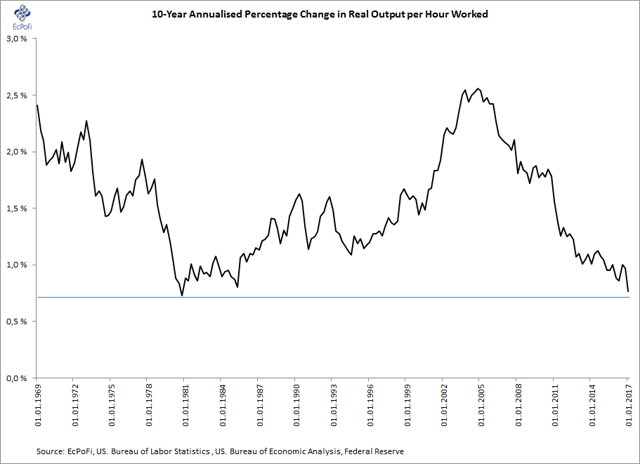 As of Q1 2017
Of course, GDP can still grow despite a lack of productivity growth - after all, GDP these days is more of a measure of debt-financed consumer spending than anything else. But for output and economic growth to pick up, a significant increase in saving which brings about more investment is needed. Without it, the longer term trend will only get worse from here. As long as loose monetary policies in particular and economic policies in general favor financial speculation and other unproductive ventures over sound capital formation and growth in production, there are few reasons to expect the negative trends above to reverse any time soon.
Disclosure: I/we have no positions in any stocks mentioned, and no plans to initiate any positions within the next 72 hours. I wrote this article myself, and it expresses my own opinions. I am not receiving compensation for it (other than from Seeking Alpha). I have no business relationship with any company whose stock is mentioned in this article.