In previous articles "Australian banks: on thin ice" and "Australian banks revisited: a good moment to increase the short" we have analyzed in detail the negative dynamics in which the Australian economy is immersed and their impact on major commercial banks operating in Australia and South East Asia - Commonwealth Bank of Australia (OTCPK:CBAUF), Westpac (NYSE:WBK), National Australia Bank (OTCPK:NABZY) and ANZ (OTCPK:ANZBY).
Our position was (and is still) that real estate and financial bubbles generated in Australia by the commodities boom and more than 20 years of uninterrupted growth are popping; this dynamic should have a seriously negative impact on Australian bank stock prices.
In the article "Australian Banks revisited: a good moment to increase the short" we said:
Overall key components of the Australian economy - business investment - area are already in a recession, caused by the worsening of Australia's Terms of Trade due to the fall in commodities demand from China. Private consumption sustained by a huge real estate bubble is keeping the economy stable, but this state of affairs will not last for long.

The impact of dynamics described above on banks and banks stock prices in Australia over the next three years should be strongly negative.
After the publication of this piece in July 2016, in the context of a better than expected set of macro data from China and the temporary recovery of commodities prices, Australian GDP increased 1.1% during the fourth quarter, compared with a decline of 0.5% the quarter before.
Australian banks prices have had a weak reaction to this positive news though: major Australian banks have increased stock prices 9% on average over the period November 2016 - May 2017, compared with a 21% increase of the KBW Nasdaq Banks index and a 31% increase of the Euro Stoxx Banks Index.
We believe the market perceives the unexpected increase in Australian GDP and the more positive macro data from the Chinese economy as temporary.
Taking a closer look at the Chinese economy macro data, it looks likely the stabilization of the economy is being implemented through increasing credit to the private sector and public investment. This strategy seems to have engineered a recovery - temporary - of commodities prices.
Nevertheless, the internal imbalances of the Chinese economy will have to be corrected at some point; inflating the economy with debt will buy time, but will generate key problems - overinvestment in labor intensive sectors, suboptimal credit allocation, negative ratios of return in several economic segments.
Whatever happens with the Chinese economy, our thesis is that the slowdown of the Australian economy has become endogenous and subject only to internal dynamics. In this case, given the leverage of the economy, banks should be heavily impacted. As a consequence, it looks reasonable to keep a short position in major Australian banks CBA, Westpac, ANZ and National Bank of Australia.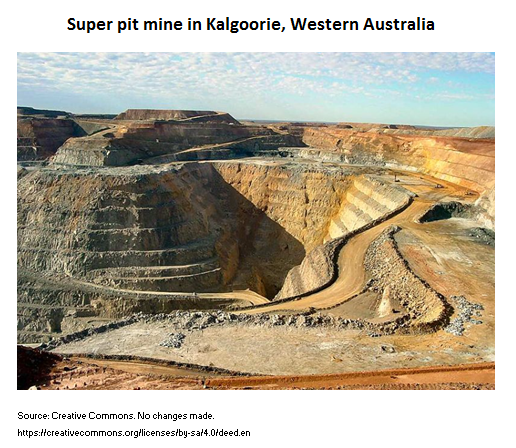 Has Australia's slowdown become endogenous?
Australian economy's main sectors - manufacturing, construction and energy - were in a recession at the end of Q1 2017, defined as three consecutive quarters with negative growth (data from Bloomberg, Datastream, Trading Economics).
During the last quarter of 2017 the Australian economy surprisingly grew 1.1%, helped by a sudden increase of mining output (+3.4% QoQ) and a major increase in the Public Administration component of GDP (+1.1%).
Despite this temporary increase of GDP, the macro situation of the Australian economy is very fragile in terms of private sector debt - around 223% of GDP - at historically low interest rates.
Significantly, loans to the private sector have stagnated - from AU$87.64in February 2017 to AU$877.67 in March - in a clear signal that Australian banks are already cutting credit to the economy.
In order to compensate private credit stagnation, which could depress consumption and private investment and generate a classical Minskyan downward spiral, the Reserve Bank of Australia has been pumping money into the economy. M3 monetary mass has been expanding consistently over 2016, matched by a parallel increase of the Reserve's balance sheet. In terms of public accounts the increase of public investment has been translated in a budget deficit of around -2.4% of GDP in 2016.
Given these recently released data, it looks obvious the Australian economy has initiated a "shadow slowdown" after more than 20 years of uninterrupted growth, probably triggered by the fall in commodities prices in 2015 and 2016. It looks likely this slowdown has become now endogenous and subject to the internal dynamics of the Australian economy only.
This "shadow slowdown" should become obvious when the construction sector corrects its imbalances in a more transparent fashion. Latest data available on the construction sector - the main component of Australia's GDP - are negative: in the three months to March construction work finalized fell 0.7% from AU$46.4 billion and residential construction fell 4.7%, a reading consistent with the thesis that the real estate prices are already in a slowdown.
These dynamics - high private debt, ultra low interest rates, real estate bubble burst - should have a major negative impact on Australian banks earnings and balance sheets when they develop further on the midterm future.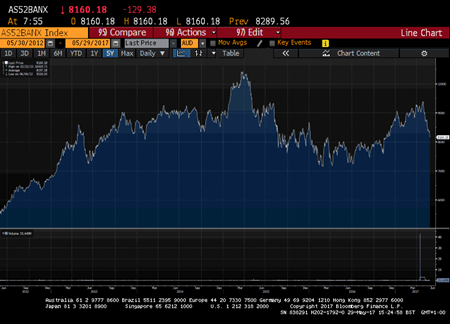 Banks prices
The behavior of Australian banks over the last 8 months is consistent with the analysis described above.
CBA, Westpac and ANZ experienced important increases in their stock prices following the global banks bull market started somewhere around mid 2016.
CBA increased its stock price from a minimum of AU$70.99 in November 2017 to a maximum of AU$87.4 in early May 2017; after that, CBA's stock price fell quickly to the AU$80.14 area. Westpac experienced an important price increase during the same period, from AU$29.71 to AU$35.3; following the same pattern, WES' stock price fell to AU$30.42 at the end of May. Similar behavior can be seen at National Australia Bank and, in a minor measure, ANZ.
The evolution of international banking indexes is very different, and in our view says a lot about the market perception of the future of Australian banking sector.
From trough to peak, the KBW Nasdaq Banks increased 33% and the Euro Stoxx Banks increased 35%. This compares with increases of 23% from CBA, 19% from Westpac and 24% for ANZ.
Studying the downside movement, KBW Nasdaq decreased from peak to through 9% and the Euro Stoxx Banks index decreased 3.5%; falls for Australian banks have been more dramatic, with CBA's stock price decreasing from peak to through 8.3%, Westpac 13.8% and ANZ 14.3%.
Summarizing, between the period November 2016 - May 2017 Australian banks stock price performance compared with American and European indexes has been weak, underperforming on the movement upside and accentuating the movement downside on a relative basis.
Therefore, it seems reasonable to assume that the market weights the dangers to which the Australian economy - and its major banks - are exposed and assigns weak valuations to major retail banks in the country.
Given the macro dynamics described above - the initial stages of an endogenous bust process accelerated by a real estate slowdown - and the reading the market is doing of this state of affairs in terms of Australian bank stock prices it makes sense to keep a short position on major banks, maybe reducing slightly its allocation in the general long / short portfolio.
Disclosure: I/we have no positions in any stocks mentioned, and no plans to initiate any positions within the next 72 hours.
I wrote this article myself, and it expresses my own opinions. I am not receiving compensation for it (other than from Seeking Alpha). I have no business relationship with any company whose stock is mentioned in this article.
Editor's Note: This article discusses one or more securities that do not trade on a major U.S. exchange. Please be aware of the risks associated with these stocks.