By Parke Shall
More than one thing is wrong with the Federal Reserve supposedly getting ready to trim down its balance sheet and continuing to raise interest rates. In this article today we wanted to review why we think the coming Fed taper is mostly going to be a fake out and will eventually lead to the next round of quantitative easing that will take markets higher.
Let's start off with some of the facts. We have had, in stock market terms, one of the largest bull markets in history over the last nine years, where we have seen the price of equities almost double in some cases and many asset classes appreciate in value significantly.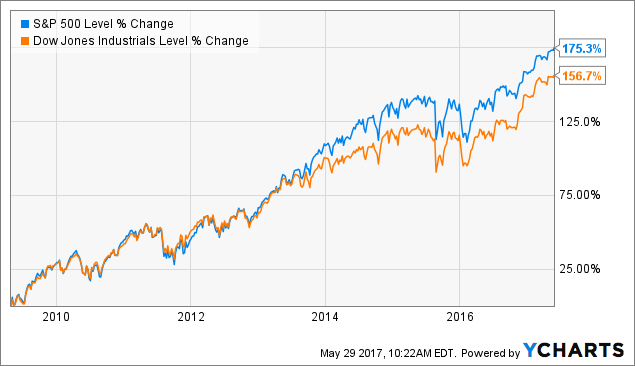 This asset appreciation comes despite a real recovery, some would argue. Employment numbers have been influenced by service sector jobs and part time jobs. We have essentially created a fake recovery out of simply spending and while productivity may have increased slightly over the last few years, a good majority of our recovery has come from American consumers and American families burdening themselves with more debt than they had prior to 2008 and increased spending associated with these burdens. The media seems to want to couch this, and pretend that it's all OK this time around. CNBC stated,
The New York Federal Reserve reports that household debt across the nation has hit a dubious milestone in the first quarter: It surpassed the peak debt level of 2008 at $12.7 trillion.

Household debt - including mortgages, auto and student loans, and credit cards - rose $149 billion compared with the last quarter of 2016, with nearly all the gain coming from mortgages.

Reaching the peak raises questions about whether the backdrop exists again for another financial meltdown. But the data show the current structure of debt is substantially different from 2008.
This puts the Federal Reserve in a precarious position. First, they have already screwed up by waiting this long to address rate hikes and trimming their balance sheet. This is something the Federal Reserve should have been doing the entire time the market was roaring higher over the last nine years. However, they have mostly been cowards throughout that time, nervous that a rate hike could negatively influence equities for a day or two and using this as an excuse to continue to stay dovish. Now, we are at a point of no return. The market has exploded and its valuations have been called too high by everybody from CEOs, to hedge fund managers, to Janet Yellen herself. Yet, when we look at interest rates they still aren't above the 1% level that Alan Greenspan once cut to during another "emergency".
With the amount of debt that the United States has now accumulated, raising interest rates would probably have the most profound effect on our government. While corporations and consumers would certainly feel the screws tightened a little bit as the cost of servicing debt across the board would inch higher, the United States would likely feel the biggest blow as the cost of servicing our national debt would move significantly higher.
The Fed would also not be able to allow the market to move lower. Don't let these last couple of months fool you. Yes, the market is moving higher because supposedly things are good enough for us to be raising rates again. However, that is simply not how economics work. You can't have a boom while bringing rates lower and then have another boom while moving to tighten rates. At some point, bubbles will form as a result of this that are much larger than they would have been had the government not intervened in the first place.
In a real rate hike scenario, where rates were possibly hiked another 200 to 400 basis points, the effects would be profound. The stock market would definitely sell off and consumers would begin defaulting on debt obligations even quicker. This is the scenario that would definitely bring some volatility and unease to the market and although it will have been much needed, we just don't see the Federal Reserve allowing that to happen.
As a result, the Fed will probably hold short on its taper and again start another cycle of quantitative easing. We think this next cycle of quantitative easing will again put a boost underneath equities and asset prices, but only for so long. In fact, many have asked us when we thought the market will take a turn for the worse over the course of the long term and we have often thought this would come after the next round of quantitative easing. Interest rates don't have much lower to go and the Fed's balance sheet will have simply ballooned out of control. At the same time, our national debt will not be dealt with and the credit worthiness of the country could eventually be called into question.
While today this all seems a bit shocking and possibly very unlikely, it is only because many investors and analysts choose to view the economy on a day by day basis. We think over the course of the longer-term, a situation like the one we have described is not exactly impossible. The saving grace of the country is that the dollar continues to be held in reserve worldwide. Should this ever be
called into question, the country could face a catastrophe like we have never seen before. But for now, we think the Fed's coming taper is just a smoke show. It is all just doing the bare minimum to give the impression that a real taper could be on its way. While we don't even think the Fed will really begin to taper much further from here, if they do, we don't think it'll be long before the engine is thrown into reverse and quantitative easing starts once again.
We have several funds and portfolios that we run, one of which is a long only portfolio that has a multiple year outlook. As we start heading into the next year or two we have been increasing our allocations in bonds, emerging markets, precious metals and other asset classes like real estate. Slowly, we are moving out of U.S. equities. We have no interest in being 100% long US stocks over the next couple of years as we believe that a marked correction will eventually come, even if it has to be after QE 4.
Disclosure: I/we have no positions in any stocks mentioned, and no plans to initiate any positions within the next 72 hours.
I wrote this article myself, and it expresses my own opinions. I am not receiving compensation for it (other than from Seeking Alpha). I have no business relationship with any company whose stock is mentioned in this article.