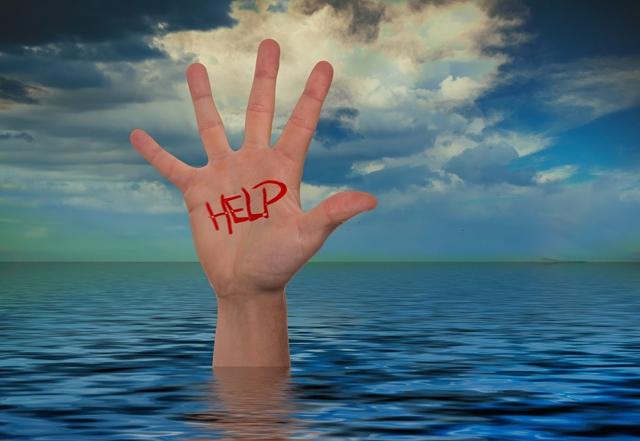 I hope that my articles provide insights to some investors who feel they need it!
Back to New Position in RCL
Strategy Overview
If you are new to this series you will likely find it useful to refer back to the original articles, all of which are listed with links in this Instablog. It may be more difficult to follow the logic without reading Parts I, II, IV and X. In Part I of this series I provided an overview of a strategy to protect an equity portfolio from heavy losses in a market crash. In Part II, I provided more explanation of how the strategy works and gave the first two candidate companies to choose from as part of a diversified basket using put option contracts. Also provided in that article is an example of how it can help grow both capital and income over the long term. Part III provided a basic tutorial on options. Part IV explained my process for selecting options and Part V explained why I do not use ETFs for hedging. Parts VI through IX primarily provide additional candidates for use in the strategy. Part X explains my rules that guide my exit strategy. Many of the series articles include varying views that I consider to be worthy of contemplation regarding possible triggers that could lead to another sizable market correction.
I have stressed in previous articles of this series that I generally do not predict recessions or bear markets. Recessions and market corrections are just part of the investing experience. They occur when we least expect them. This is why I hedge. But I do not hedge all the time. That would be counterproductive. I began in 2014 by using about 1 ½ percent of the value of my portfolio to hedge against a potential portfolio loss of 30 percent or more. Then, as I was able to capture some sizable gains from a few positions, my cost for that first year was reduced to less than one percent of my portfolio. It amounts to an inexpensive form of insurance and provides me with peace of mind. During 2015 and early 2016 my gains were much more significant and I was able to offset all of my hedging cost for 2015, the remaining costs from 2014 and had plenty left over to extend my hedge well into 2016. So, my cost of hedging had fallen close to zero and my portfolio remained fully hedged against loss. Now, as I prepare for 2017, I am dipping into my cash again to cover the cost of my new hedge positions. For a full accounting of the results from last year click on the link at the top of this article and to find a summary of results for 2014 and 2015 please refer to this article.
As the market moves to new highs I continue to hold my core stock positions for dividend income along with a large position in cash. I may miss a portion of the current move higher but I will not be distressed. As long as I miss the majority of the next big leg down, be it 20 percent, 30 percent, 50 percent or more, I rest well knowing that I will kept my portfolio intact and will have plenty of cash available to pick up the best companies at huge discounts. I prefer to buy stocks at prices that I consider to be bargains relative to the value of the company. There is very little that meets my criteria in that regard in the markets today. Thus, I remain cautiously fully hedged, and delay adding new long positions for the present. If we get a new tax reform bill I could be inclined to change my reasoning as earnings could be significantly affected in a very positive manner.
For a more detailed account of my concerns please consider reading my three-part series, " Convincing Traits of a Market Bubble."
Something to consider when selecting a strike price when hedging with put options
My first candidate is one I have taken gains from more than once since I began this series and I expect to take some more before I am through. Sotheby's (NYSE:BID) stock tends to be extremely volatile and that works to my advantage. I want to start out with a historical chart going all the way back to 1988. I go back so far so readers can see with their own eyes how many times this stock has risen to highs only to fall precipitously each time, even when there is no recession in some cases.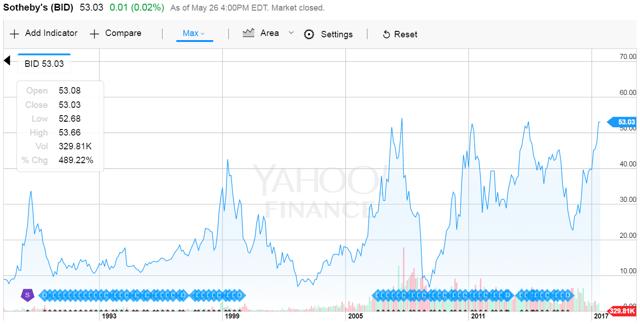 We have eight months and three weeks until the January 2018 options contracts will expire. How much can happen to BID stock in that short period of time when things go sour? From the end of September 1989 to low of May 1990 the stock dropped by 52 percent. Add the month of June 1990 and the stock dropped almost 56 percent. From April 1999 to September of the same year BID stock fell 47 percent (in only five months). From November 1999 to February 2000 (three months) it dropped by 60 percent. It again fell by 60 percent between February 2001 and September 2001. Then in 2002, from March to October, it plummeted by 61 percent. We are not even at 2008-09 yet!
When we look at the drop from October 2007 to July 2008 (eight months) the fall totaled 63.5 percent and from August 2008 through February 2009 it fell another 79.1 percent in just six months! Now, when we look at periods without recessions (perhaps when there was some fear of one, though) since that 2009 bottom we find some more big moves. From April 2011 to September 2011 if fell by 50.5 percent. In 2013 it fell only 34.9 percent from January to September. From June 2015 to January 2016 the stock fell 54.5 percent and I was able to capture some nice gains (from 1,200 percent to 2,400 percent) even though the stock never touched my ultimate target price.
The point of all this is that the stock can (based upon examples above) drop by more than 50 percent in a short period of time and that is exactly the potential for which I look. Now I want to propose three different scenario outcomes for multiple put options expiring in January 2018 with different strike prices. The purpose of the differing scenarios is to determine approximately what may happen if the price does not fall all the way down to my target price before expiration. The potential gains can vary significantly depending upon how much time is left before expiration due to the extrinsic value (time + perceived volatility) that still remains before expiration.
Scenario one assumes that we hit a severe recession and the price of BID stock drops all the way down to $10, or 81 percent. That may not be likely to happen all in one fell swoop but there may be opportunities for me to capture a good portion of the drop and then get back in after an initial bounce. That is very hard to time so I am not adding in a two-stage scenario, but I will most likely try if the economy hits a significant speed bump (recession).
So, the Target Price listed is $10 and the Current Price is $53.03 with the options contracts expiring in January 2018. The three columns to focus on in comparing the scenarios are the ones labeled: Possible % Gain (which is about what I make if the price drops all the way down to $10), $ Gain per Cont. (potential dollar amount gain per contract purchased), and Tot. $ Gain (total dollar amount of potential gain for all contracts purchased). The other columns do not change. I keep the strike prices, number of contracts, percentage cost for each position relative to a portfolio, and the target premiums the same in all scenarios.
Scenario two has a target price listed of $20 and scenario three lists $25 as the target price. Take a look at the payout percentages (Possible % Gain) for each strike price in the different scenarios. I will verbalize how I interpret the results and what drives my selections below the last table.
Scenario One

Ticker

Target Price

Curr. Price

Expiration Mo./Yr.

BID

$ 10

$ 53.03

Jan-18

Strike Price

Possible % Gain

$ Gain per Cont.

# of Cont.

Tot. $ Gain

% Cost

Target Premiums

$ 25.00

7400%

$ 1,480

3

$ 4,440

0.06%

$ 0.20

$ 28.00

2300%

$ 1,725

2

$ 3,450

0.15%

$ 0.75

$ 30.00

3900%

$ 1,950

2

$ 3,900

0.10%

$ 0.50

$ 32.00

4300%

$ 2,150

2

$ 4,300

0.10%

$ 0.50

$ 35.00

3471%

$ 2,430

2

$ 4,860

0.17%

$ 0.70

$ 37.00

3275%

$ 2,620

2

$ 5,240

0.16%

$ 0.80

$ 40.00

2400%

$ 2,880

2

$ 5,760

0.24%

$ 1.20

Scenario Two

Ticker

Target Price

Curr. Price

Expiration Mo./Yr.

BID

$ 20

$ 53.03

Jan-18

Strike Price

Possible % Gain

Curr. Price

# of Cont.

Tot. $ Gain

% Cost

Target Premiums

$ 25.00

2400%

$ 480

3

$ 1,440

0.06%

$ 0.20

$ 28.00

967%

$ 725

2

$ 1,450

0.15%

$ 0.75

$ 30.00

1900%

$ 950

2

$ 1,900

0.10%

$ 0.50

$ 32.00

2300%

$ 1,150

2

$ 2,300

0.10%

$ 0.50

$ 35.00

2043%

$ 1,430

2

$ 2,860

0.17%

$ 0.70

$ 37.00

2025%

$ 1,620

2

$ 3,240

0.16%

$ 0.80

$ 40.00

1567%

$ 1,880

2

$ 3,760

0.24%

$ 1.20

Scenario Three

Ticker

Target Price

Curr. Price

Expiration Mo./Yr.

BID

$ 25

$ 53.03

Jan-18

Strike Price

Possible % Gain

Curr. Price

# of Cont.

Tot. $ Gain

% Cost

Target Premiums

$ 25.00

-100%

$ (20)

3

$ (60)

0.06%

$ 0.20

$ 28.00

300%

$ 225

2

$ 450

0.15%

$ 0.75

$ 30.00

900%

$ 450

2

$ 900

0.10%

$ 0.50

$ 32.00

1300%

$ 650

2

$ 1,300

0.10%

$ 0.50

$ 35.00

1329%

$ 930

2

$ 1,860

0.17%

$ 0.70

$ 37.00

1400%

$ 1,120

2

$ 2,240

0.16%

$ 0.80

$ 40.00

1150%

$ 1,380

2

$ 2,760

0.24%

$ 1.20
When you look at the possible gain for the $25 strike price options in the first and second scenarios it looks like the best bet. But when you drop down to the third scenario it suddenly becomes the big loser. Remember that the stock price has fallen to about $18 just over a year ago and that if things start to unravel it could get to that level fast. So, it is safer to assume the higher target price of $20 used in scenario two. My original target price was $16, so I was not far off. But now I think it could fall even further in a full blown recession. Still, the higher strike offer much more protection if the stock falls by "only" half or so.
So, now it should be clear that paying a little more for your protection to kick in earlier (at a higher price) can pay off better. When I am trying to find what I consider to be the sweet spot in the options chain I look for the strike where the percent gain jumps the most from the previously lower strike starting from the highest strike and working up (down in strike price) the table. Looking at the tables above, the biggest jump consistently occurs between $40 and $37 strikes. Of course, the jump is largest at the lowest end of the strike prices, as is common, but that does not explicitly mean it is a bargain. It more likely means that the probability of the price falling that low during the remaining time of the contract is very low. In addition to that, the $28 strike price contracts appear to be priced way too high and I would expect that to be corrected this week. The other strike price that looks enticing is $32. The bid premium as of the close on Friday, May 26, was identical to that of the $30 strike contract. I may consider buying some of both.
I will attempt to get another article or two up this week to list the other candidates I am planning to add at this time. Volatility is low and prices are sky high on many of my picks so I should be able to keep it cheap for the remainder of the year.
Discussion of Risk
I want to discuss risk for a moment now. Obviously, if the market were to rally higher beyond January 2018 all of my option contracts that I have open could expire worthless. I have never found insurance offered for free. We could lose all of our initial premiums paid plus commissions, except for those gains we have already collected. But it is one of the potential outcomes and readers should be aware of it. The longer it is before the next recession the more expensive the insurance may become. But I will not be worrying about the next crash. Peace of mind has a cost. I just like to keep it as low as possible.
Because of the uncertainty in terms of whether the market will turn into a full blown bear or regain the high ground and the risk versus reward potential of hedging versus not hedging, it is my preference to risk a small percentage of my principal (perhaps as much as two percent per year) to insure against losing a much larger portion of my capital (30 to 50 percent). But this is a decision that each investor needs to make for themselves. I do not commit more than three percent of my portfolio value to an initial hedge strategy position and have never committed more than ten percent to such a strategy in total before a major market downturn has occurred. When the bull continues for longer than is supported by the fundamentals (which is where we are today in my opinion), the bear that follows is usually deeper than it otherwise would have been. In other words, at this point I would expect the next bear market to be more like the last two, since the market has, in my opinion, defied gravity until now. Anything is possible but if I am right, protecting a portfolio becomes ever more important.
As always, I welcome comments and will try to address any concerns or questions either in the comments section or in a future article as soon as I can. The great thing about Seeking Alpha is that we can agree to disagree and, through respectful discussion, learn from each other's experience and knowledge. Don't forget to hit the "FOLLOW" button at the top of the article next to my name to keep up to date on my next moves and full accounting of results for the strategy.
For those who would like to learn more about my investment philosophy please consider reading "How I Created My Own Portfolio Over a Lifetime".
Disclosure: I am/we are short BID.
I wrote this article myself, and it expresses my own opinions. I am not receiving compensation for it (other than from Seeking Alpha). I have no business relationship with any company whose stock is mentioned in this article.
Additional disclosure: I intend to initiate a hedge position by purchasing put options as described in the article. DISCLAIMER: This analysis is not advice to buy or sell this or any stock; it is just pointing out an objective observation of unique patterns that developed from our research. Factual material is obtained from sources believed to be reliable, but the poster is not responsible for any errors or omissions, or for the results of actions taken based on information contained herein. Nothing herein should be construed as an offer to buy or sell securities or to give individual investment advice.