The sky is falling! Kinder Morgan (NYSE:KMI) might not be able to expand the Trans Mountain Pipeline (TMPL) after all! Sell sell sell!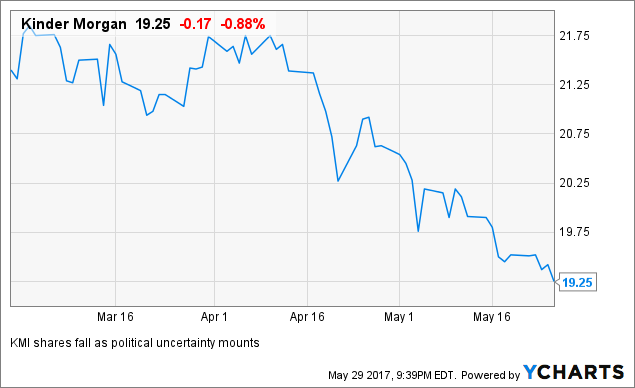 To which I respond: Who cares? Sure, the TPML expansion would be a great growth project for the company. However, even if political opposition in Canada is able to scrap the project (which I doubt, given the Prime Minister's strong support), Kinder Morgan is going to chug along just fine.
Since the beginning of the oil bear market in 2014, I've been quite surprised by the inability of the market to adequately appreciate the safety and durability of Kinder Morgan's business. Indeed, even in the depths of the price collapse, the worst legitimate estimates I came across were for a fall of ~15-20% of DCF. And, that was assuming oil stayed around $30/bbl, which is obviously unsustainable. Take a look below at Kinder Morgan's DCF during the great cyclical oil bust of this generation: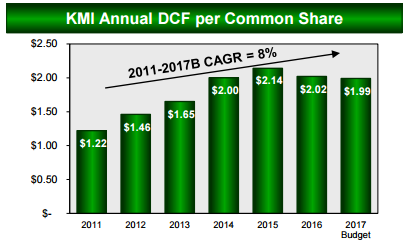 Every time I start to question whether the KMI thesis still holds, I simply pull up this chart, smack myself in the face, and remind myself that this is an extremely durable business, as demonstrated by a paltry decline in the DCF of ~7%. I think this bears repeating, for effect: Kinder Morgan made it through the worst sustained oil price collapse in decades with hardly a scratch to its DCF. That should demonstrate the hardiness of the underlying business.
All of this is to say that, TMPL expansion or not, Kinder Morgan is going to be just fine. If the TMPL expansion is blocked by political opposition in Canada, the DCF per share won't be impacted at all. In fact, due to the large capex expense that the TMPL represents, scrapping the TMPL would actually quicken the pace of dividend increases, since less DCF is going to be sucked up by the investment. Of course, the TMPL expansion would be a nice boon to future DCF increases as the pipeline comes into service years down the road, but without it Kinder Morgan's DCF of ~$2/share remains stable.
And that's the reason to own Kinder Morgan today. With shares trading at ~$19, DCF has been shown to be steady at around $2/share. That means that, today, investors can buy a rock-solid business trading at <10x cash flow. That's a pretty sweet value proposition right there.
Finally, I've been advocating that investors sell volatility on Kinder Morgan for about a year and a half. With high expected volatility and a share price which I predicted would languish over the next 18 months (which it did), investors could make handsome gains selling covered calls or puts in the stock. However, I think that time is beginning to come to an end. With the TMPL decision yet to play out and the company yet to update on its dividend/buyback program in the fall, we're beginning to see the end of the "stuck stock price" thesis. From here, I can see the stock price moving in a couple of ways over the next year or so:
A sharp drop and recovery. This will probably take place if the TMPL is indeed scrapped. Although a knee-jerk reaction, it will certainly spook investors to see Kinder Morgan's premier project destroyed after so much effort (and cost) has been invested. I expect to see a drawdown of at least 20% in the stock in that case, followed by a slow, gradual, painful recovery.
A grind higher. If the TPML expansion is instead successful, I predict a small positive move, followed by a long grind higher as Kinder Morgan updates the dividend/buyback policy. If Kinder Morgan lays out a plan for substantial dividend increases, the stock will benefit tremendously as shareholders add to their positions and income/dividend investors return to the name.
In any case, I'm not prepared to give up the upside of investors finally coming back to KMI after a year and a half away, which will undoubtedly push the share price up. I'm also holding a little dry powder to add to my position if the share price falls $1-2 from here with a TPML abandonment. Thus, I think the time to sell puts and covered calls is ending, as the catalysts for KMI are finally coming into play. Either way, KMI remains a favorite pick of mine.
Disclosure: I am/we are long KMI.
I wrote this article myself, and it expresses my own opinions. I am not receiving compensation for it (other than from Seeking Alpha). I have no business relationship with any company whose stock is mentioned in this article.