Regardless of your political beliefs you have to take your hat off to President Trump this week as the deal he made with Saudi Arabia did wonders for our model portfolios. Our Aggressive Chicago Bulls Portfolio, is beating our benchmark, the NYSE Index, by a healthy margin this. How is it possible to beat a 100% invested benchmark, when you are only 49% invested?
Well, because our Friedrich Algorithm is picking amazing stocks for us and because it is doing so consistently (20 of our 22 stock picks are profitable). We practice capital appreciation through capital preservation. In this and previous articles, we carefully leak some of our holdings but must hold back something for our paid subscribers. Lockheed Martin (NYSE:LMT) (+22.1%) and Rockwell Collins (NYSE:COL) (+9.56%) have done very well for obvious reasons. Accenture (NYSE:ACN) (+17.16%) continues to grind higher for us as well. Visa (NYSE:V) (+23.12%) continues to make us happy as well. But we have a couple of stinkers, too. But 20 out of 22 is still something we can live very comfortably with as we believe that, in the long run, we will be batting 100 percent.
This means that Friedrich is 91 percent accurate in his stock picking. Our only real problem child is Gilead Sciences (NASDAQ:GILD) but its various profit margins are still more powerful than all the other companies in our model portfolio. It is hated by Wall Street because it cures it patients resulting in no recurring revenues from existing patients. But the market for its products is still many times the number of people cured thus far and it will come out with more blockbuster drugs in the future. If you are not yet invested in Gilead, now may be a good time to add a position since it has already been beaten down by the short-sighted Wall Street analyst crowd. We, like Gilead management, take a much longer term view of investing than what might be coming in the next quarterly earnings reports.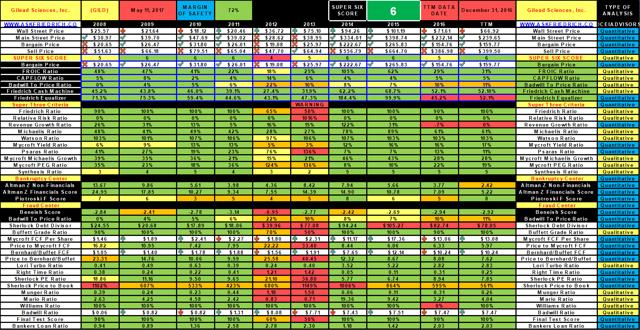 On Main Street the company is generating a Bernhard Buffett Free Cash Flow of $10.24 per share and at a price of $65.24 a share on Wall Street that means it is trading at 6 times it free cash flow. On Main Street the company is returning 31 cents in free cash flow for every $1 that the company invests in total capital employed. It generates 52 cents in free cash flow for every $1 of revenue it generates. Apple (NASDAQ:AAPL) by comparison returns 20 cents in free cash flow for every $1 of invested capital and makes 21 cents in free cash flow for every $1 of revenue. So Gilead Sciences is crushing Apple in a side by side comparison as to free cash flow generation on Main Street. Unfortunately, Wall Street is only interested in one thing and that is short-term revenue growth.
To show this let's compare Gilead to Amazon (NASDAQ:AMZN). Amazon generates 3 cents in free cash flow for every $1 it generates in revenue while Gilead generates 52 cents. If you do the math Gilead generates 17 times more free cash flow for each $1 of revenue than Amazon does. Amazon generates total free cash flow of $3.79 billion a year while Gilead generates $13.41 billion, but Amazon trades on the stock market for $471 billion while Gilead trades for $84 billion. So Amazon trades at 124 times its free cash flow while Gilead trades at 6 times. Wall Street may be pricing both stocks dramatically wrong but it is all about emotion and zero about common sense fundamentals.
How crazy is Wall Street? Well, yesterday Sears Holdings reported their earnings and this is what happened.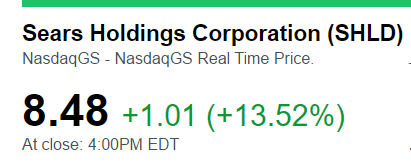 Now you would think that from such a result Sears must be doing great and has amazing free cash flow generation!!!
Well this is what the company actually reported:
Sears (SHLD) reported a net loss attributable to shareholders of $230 million ($2.15 loss per diluted share) for the first quarter of 2017 compared to a net loss attributable to shareholders of $199 million ($1.86 loss per diluted share) in the prior year first quarter. Adjusted EBITDA was $(222) million in the first quarter of 2017, as compared to $(181) million in the prior year first quarter.
The share price rose because management adjusted profits up to include the one time profit from the sale of their Craftsman division. The company is dying a slow death because it competes with Amazon. How bad are things at Sears?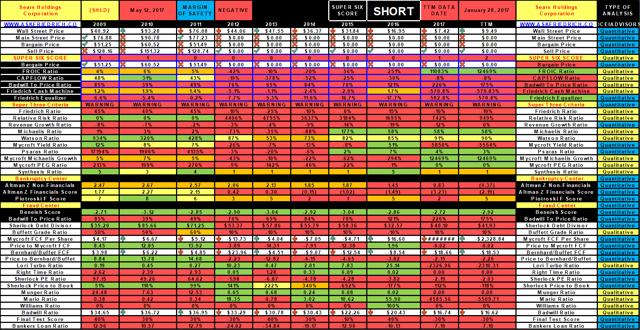 Friedrich has rated the stock as "short" (meaning it has no free cash flow) since 2012 when it was $44, so at yesterday's close of $8.48 you would have done well shorting it. The company is just losing so much free cash flow; more than two times its stock price per share, or $-18.53. So those who bought the stock yesterday never bothered to check that the company is trading at $8.48 a share in the stock market but lost $-18.53 a share on Main Street in free cash flow. This basically tells us that we are trading at similar valuation perceptions as how things were just before the dot com boom and bust of 2000. At that time the NASDAQ went down 75% after it blew up. Online greeting card companies were selling for $1 billion market capitalizations and stocks like Yahoo were $185 a share (only to plummet to $11 the next year).
Recently this 2600 square foot house went up for sale in a neighborhood close by Mycroft's home. The woman who owned it died and the relative who inherited it wants to dump it just to get what money they can.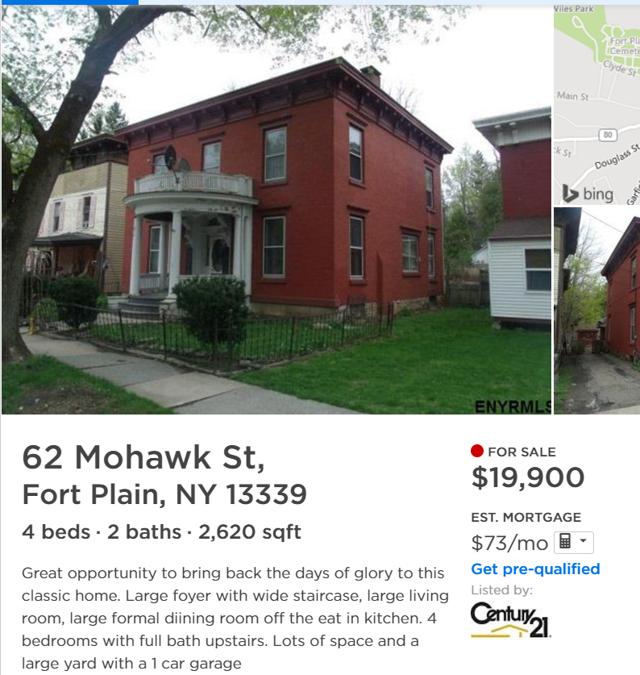 Now consider trying to buy something in Seattle instead. Here is what a comparable sized condo would go for: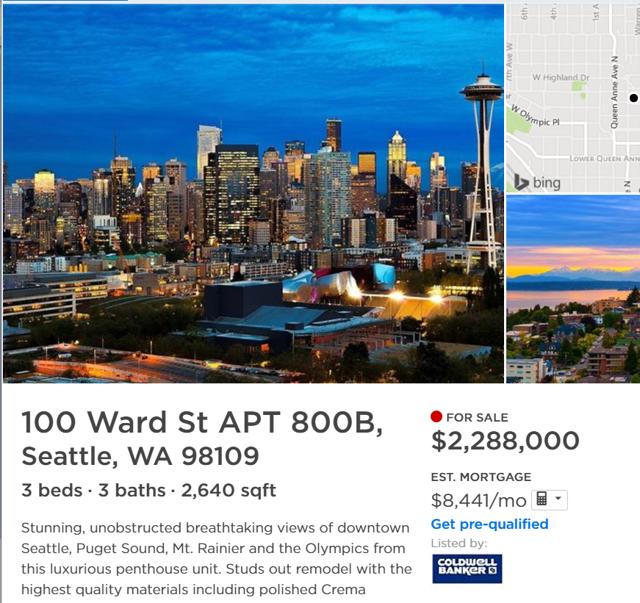 As you can see, real estate is not much different than the stock market. Of course, to buy in a small upstate New York town you are giving up the city life. But the person who buys the house in Fort Plain can get on a train every weekend and for $50 round trip either go to New York City, Washington D.C., Boston or Montreal, then spend $200 for hotel accommodations and have a great weekend. The difference in the mortgage payment is about $8,370 a month cheaper. That is a significant differential to pay for the convenience of city living, in our humble opinion. As Forrest Gump's momma used to say, "Stupid is as stupid does."
Truth be told it all depends on the person and how they want to live. Seattle gets 250 days of rain while Fort Plain gets 50 inches of snow. The house in Fort Plain would cost $150,000 to build something similar that you can pick up for $19,900 today, but you may not be able to get the materials and quality of labor to match for $300,000. While the penthouse on Ward Street, on the other hand, may have cost $300,000 in building costs but is priced to meet market demand. It is difficult to find the rationale in either real estate or equity investing these days.
So how one lives one's life results in how one chooses to struggle or live an easier life. How one invests in the stock market can either open one up to massive losses or to preparing to take advantage of any correction. Markets go up 50.4% of the time and down 49.6% of the time (over the last 100 years), so the vapors the stock market is operating in, just as the Seattle real estate market is doing, will very likely eventually end very badly. Investors sometimes forget that the market can fall at moments like this. After all, the indices have been hitting record highs lately. The sky is clear, the path higher looks unimpeded and we feel a nice breeze at our backs. How could anything possibly go wrong? It seems that a majority of investors have always felt euphoria at times like these. They could be right for a while longer. Who knows?
At Friedrich Global Research, we are conservative and invest in elite companies with elite management at the helm and that is why we were able to outperform this quarter even though we are only 49% invested. The 51% in cash that we have ready will allow us to take full advantage of when the markets correct, so we are winning now and should win then as we use logic and common sense everyday when we wake up and do our best to ignore the madness that is going on all around us. We sleep very well at night because we are prepared to take advantage of whatever shows up.
There is a time to fish and a time to mend the nets. Friedrich is there to help us and is 1000 times smarter than we are as he sees 17,000 stocks from 36 countries all at one time, which is impossible for us mere humans to do, our many decades of experience notwithstanding.
We will continue to be patient and buy only those companies that we know can produce consistently superior results because of elite management. And we only do so when those companies go on sale!
As always, we welcome comments and will try to address any concerns or questions either in the comments section or in a future article as soon as I can. The great thing about Seeking Alpha is that we can agree to disagree and, through respectful discussion, learn from each other's experience and knowledge. Don't forget to hit the "Follow" button at the top of the article next to my name to keep up to date on my next moves and full accounting of results for the strategy.
Disclosure: I am/we are long AAPL, GILD, V, LMT, COL, ACN.
I wrote this article myself, and it expresses my own opinions. I am not receiving compensation for it (other than from Seeking Alpha). I have no business relationship with any company whose stock is mentioned in this article.
Additional disclosure: DISCLAIMER: This analysis is not advice to buy or sell this or any stock; it is just pointing out an objective observation of unique patterns that developed from our research. Factual material is obtained from sources believed to be reliable, but the poster is not responsible for any errors or omissions, or for the results of actions taken based on information contained herein. Nothing herein should be construed as an offer to buy or sell securities or to give individual investment advice.