This article is to discuss Coca-Cola (NYSE:KO), its proficient supply-chain management (SCM) and how that ultimately affects the company. This will therefore lead into a more intermediate (and three-dimensional) method of analyzing the company and its behaviors to make more informed investment choices in the future.
How is this depicted by Coke?
Most companies that work worldwide within a product-based industry will need to have a proficient basis in supply-chain management. Coke is an interesting case particularly, as it is such a widely popular drink, and so readily available to all (with the small matter of Pepsi (NYSE:PEP), which is Coke's main competitor, but we won't talk about that!). Coke has branded itself to the extent that it is a part of the American culture, while still being hugely popular all over the world, and most certainly one of the main drink choices.
Coke is not the only product, and the company actually owns over 500 brands, resulting in almost a monopoly over the drinks market. This includes Fanta, Powerade, Minute Maid, and Smart Water (Glaceau).
This oligopolistic market, in turn, requires careful planning and structuring to determine how it will transport its goods across the world, which is known as supply-chain management, but this is also carefully intertwined into concepts such as risk-management and dollar strength fluctuations (or valuation). Because of the sheer size of Coke as a corporation, not every country is happily going to allow it to come in and squeeze out all the local drinks providers. This results in this being a political discussion, as well as a straight forward transport one.
To analyze this therefore, Porter's theory can be used to provide a clearer overview of the company and its operations: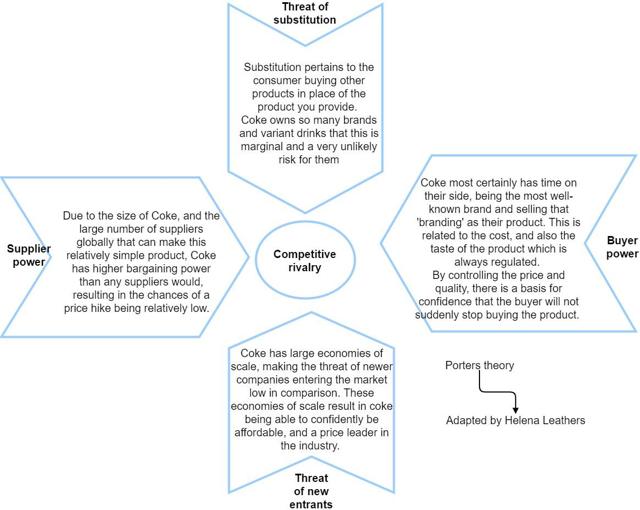 What this diagram indicates is an almost perfect situation where Coke is able to provide a high quality product for lower prices in order to ensure that the competition is low in the industry.
A main method that Coke uses in its SCM is buying out its providers (known as backward vertical integration). This means that not only does Coke then have power to control its providers (and their prices!) but that it also has sufficient ownership of assets to be flexible about what it can create and how much. If it can control the amount that it can make and how fast, this gives it huge strength in today's markets, which need to be highly agile and flexible for the modern consumer.
This links into logistics, which requires efficient human power, understanding and technology. The HR policies of Coke are rigorous in order to find and employ only the most experienced and international people for its projects. In the US, it has been shown that in fact there is a clear 'lack of logic' in logistical planning, resulting in damaged revenues. More information about this is found here.
This again links into customer service, which Coke is also renowned for, providing those who use its products with support and management. A very basic principle that is always supported in business school is that the customer must come first, which is a concept that many companies understand but lose sight of (see my article on the digital mistakes of Lockheed Martin).
The company is multi-lingual, personalized and has a minimal carrying rate regarding inventory, resulting in a 'lean' SCM approach that is more cost-effective in the long run. This would be compared to 'Agile' techniques, which are seen within the fashion industry and result in this industry having more financial risk associated with it: create what you will sell to improve profits (although this requires substantial infrastructure).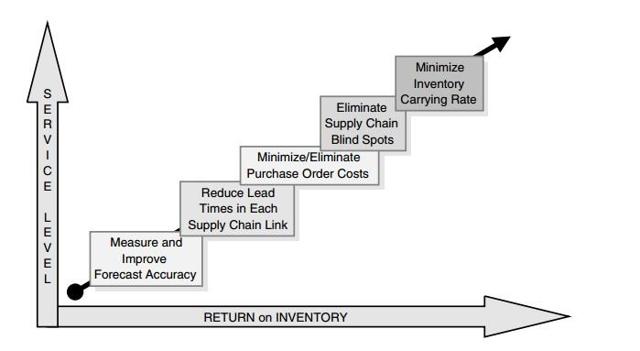 (Image from McGraw Hill)
These methods significantly increase shareholder and consumer value and provide a clear view of how this company can function so efficiently over 100 years.
How does this affect investment decisions?
Between 2009 and 2017, Coke has had an impressive steady increase in stock valuation, for those already stated reasons. The acquisition of assets is hugely important for this strategy that the company has taken on, therefore it is a positive sign when it reinvests into itself and its people.
Coke is not designed, however, to be a quarterly-boom company. This design means that Coke understands how vital gradual growth is, resulting in it being a very safe investment. Coke has made it through the Second World War, and the financial crash, and been profitable throughout through careful marketing and media, and, more importantly, reliability.
How does this help us estimate the future for Coke?
To estimate the future for Coke would be to say that it probably isn't going anywhere any time soon (except gradually upwards). The way that Coke has built itself up to produce efficiently is not dissimilar to that player in Monopoly that buys out all the smaller lots and ends up winning. This method of acquiring assets, but working with the people that it bought them from, means that the quality of production will remain high as the employees remain positive. This stock is a dividend stock, or a long-term hold to be effective, and for the long-term investor, it is probably a safer bet at this point than most.
Conclusion
In conclusion, Coke can be analyzed from a number of different facets, and SCM should definitely be one of them. SCM methods are not generally looked at as often as they should be as it is a relatively new perspective to view a company from, but this perspective is becoming more and more important as corporate differentiation becomes more difficult for the average company.
Disclosure: I/we have no positions in any stocks mentioned, and no plans to initiate any positions within the next 72 hours.
I wrote this article myself, and it expresses my own opinions. I am not receiving compensation for it (other than from Seeking Alpha). I have no business relationship with any company whose stock is mentioned in this article.