If you tried to convince most investors to buy municipal bonds, they'd probably give you a goofy look and politely say "no thanks."
Municipal bonds aren't sexy. They're not interesting. If you're an income investor, though, that's probably a good thing.
As an income investor, you're looking for a great yield with guaranteed, safe payments. Municipal bonds provide just that.
You can buy a fund on the cheap, collect tax free dividends, and wait for the price to snap back to its average discount before selling.
The Strategy
Because CEFs have a net asset value (NAV), it becomes easy to find funds that are currently priced on the cheap. If the price of the CEF is below the NAV, it's at a discount. A deep discount won't signal a good fund to pick up, though.
You want to find a CEF that is trading at a deep discount compared to its relative discount. CEFs can constantly trade at a discount for years. If a CEF has been trading around a 5% discount for years and it is still trading at a 5% discount, that's not much of a deal. If that CEF has been trading around 5% for years and is currently trading at a 10% discount then we've found ourselves a great deal!
This is where the Z-score comes in. The Z-score calculates the current discount versus the relative discount. The lower the Z-score, the better. This will be a good indicator that the CEF we're looking at is trading at a desirable discount.
Once you buy a stock that is trading at a deep discount compared to its relative discount, you wait. You wait for the CEF to snap back to a price that is closer to the relative discount or, even better, a premium of the NAV.
Your prize for waiting is tax free monthly income and the snap back in added value is just a cherry on top.
Here are five closed-end funds for May that are ripe for buying.
BlackRock NY Municipal Bond (BQH)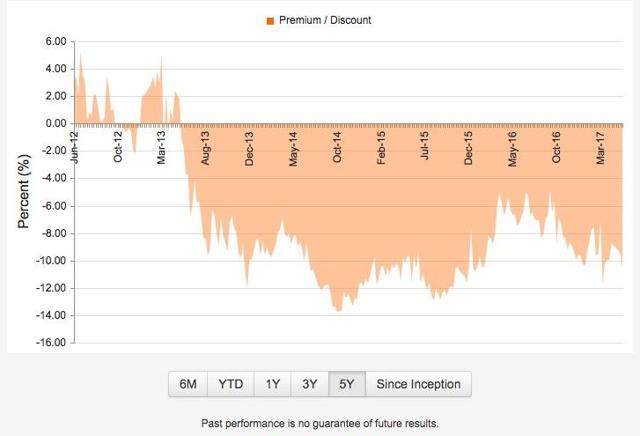 BQH is currently trading at a discount near it's 5 year low. The 1 year Z-score sits at -1.70.
Currently the discount of -10.84% is below the average discount over the last five years of -7.25%.
BQH has a Tax Equivalent Yield up to 9.65% depending on an individuals federal and state tax rate.
Buy now, collect the near 10% yield, and wait for the discount to climb back towards the five year average.
BlackRock MuniYield NY Quality (MYN)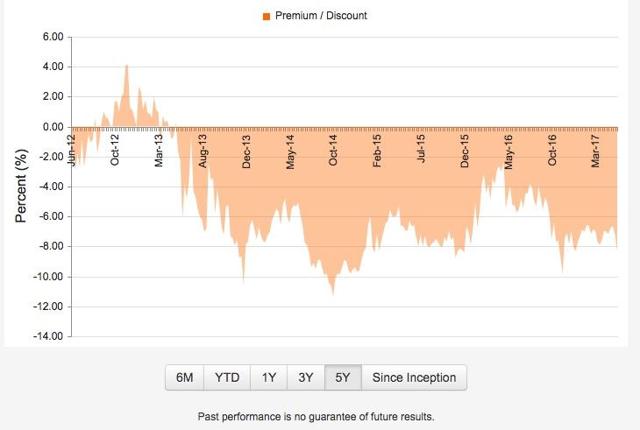 MNY has a 1-year Z-score of -1.60.
The current discount sits at -8.53% with a 1-year average of -6.34% and a 5-year average of -5.36%.
MNY also has a tax equivalent yield near 9.5%.
Buy now and hold until the 5-year average discount and potentially get a 3% bump on top of your 9.5% dividend.
Nuveen VA Quality Muni Income (NPV)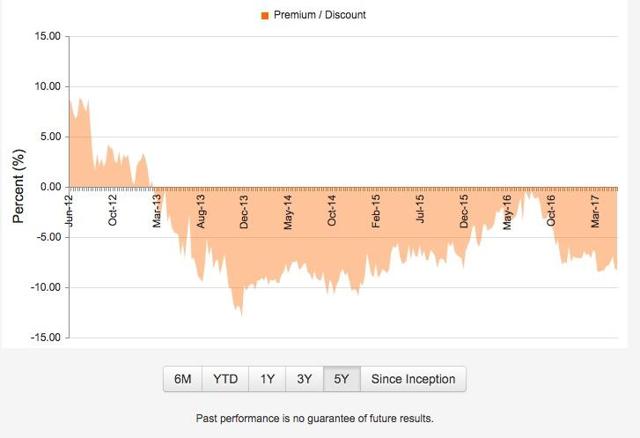 NPV has a 1-year Z-score of -1.50.
The current discount is -9.02% with a 1-year LOW of -9.03%. This one is looking very attractive.
The one year low, 1-year average discount, and 5-year discount all sit around -5.0%.
With a tax equivalent annual dividend as high as 7.9%, buy now to start earning monthly income. Then hold and sell when the discount gets back up near 5%. This will tack on another possible 4% to your returns.
Nuveen CT Quality Muni Income (NTC)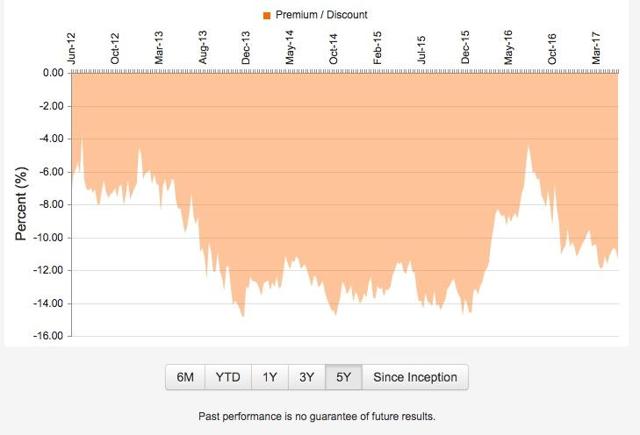 NTC has a discount that has only been getting better since June of 2016. It's 1-year Z-score is -1.40.
The 5-year average discount is -10.69% which is higher than the current discount of -11.80%. It has a 52 week high of -4.37%.
Buy now and collect a tax equivalent dividend yield as high as 8.91% and wait for the discount to snap back.
I'd be looking to sell this one closer to a 6% discount. The fund has shown to cycle back up near that level every couple years. That is evident by the near 4% discount it achieved in the last 52 weeks.
EV MA Municipal Income (MMV)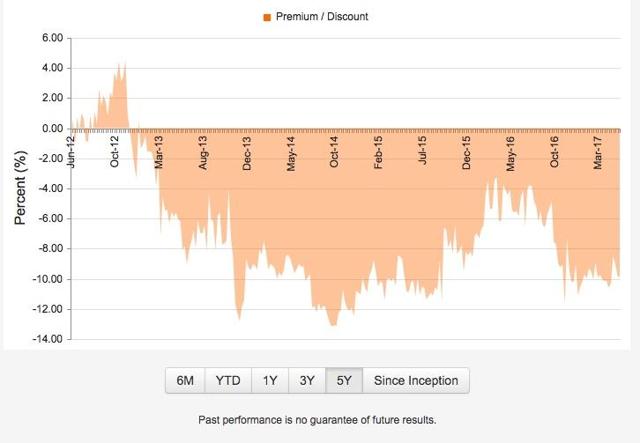 MMV has a Z-score of -1.30. Not quite as low as the others, but the discount is still looking good.
It currently sits at -10.66% with a 1-year average of -7.74%. The 5-year discount is even higher at -7.18%
With a tax equivalent yield up to 7.26%, you're still beating any bond or savings account out there. and
Buy now and wait for the discount to creep up another 3% or more.
Conclusion
And there you have it: five closed-end funds that are ripe for the picking. All of them with a tax equivalent yield upwards of 7%, 8%, even 9%.
Happy picking!
Source for charts and numbers: CEFConnect.com
Disclosure: I/we have no positions in any stocks mentioned, and no plans to initiate any positions within the next 72 hours.
I wrote this article myself, and it expresses my own opinions. I am not receiving compensation for it. I have no business relationship with any company whose stock is mentioned in this article.