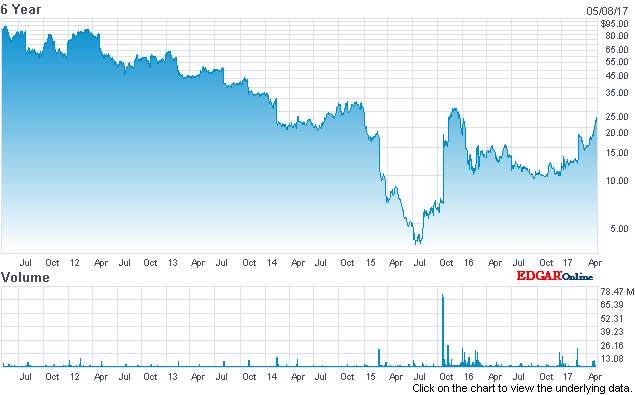 source: YCharts
For perspective, the above 6 year chart shows WTW's all time high of 80.24 on 5.1.11 and all time low of $4 on 7.1.15
Some History:
In November of 2014, the company launched a comprehensive multi-year transformation plan. As a result, Q1.17 YOY revenue gains were up 9% on a constant currency basis and 3.6 MM members were added for a YOY 16% growth rate.
In October of 2015, Ms. Winfrey purchased 10% of WTW's outstanding stock, which she later increased to 15% ownership interest.
As of September 2016, CEO James Chambers resigned and WTW's stock price plummeted to $9.81. Ms. Winfrey embarked on a search for a new CEO.
An Interim Office of the CEO was formed and led by Nicholas P. Hotchkin, CFO, along with directors Thilo Semmelbauer and Christopher Sobecki.
In April 2017, WTW announced its new CEO, Mindy Grossman, an acclaimed growth and turnaround superstar.
WTW is Poised For a Strong Turnaround
As a result of CFO Nicholas P. Hotchkin's fiscal controls (loping off $250MM of expenses), membership gains attributed to Ms. Winfrey and aggressive expansion of digital and on-line offerings, WTW is poised for a strong profit turn around.
Here's why:
The following is a review of the recent Q1 conference call.
* Q1.17 was the sixth consecutive quarter of YOY (year over year) membership recruitment gains.
* Q1.17 meeting subscribers were up 11% to 1.5 million, and on-line subscribers were up 20% to 2.1 million generating a 16% leap in subscribers. Total paid weeks were up 13% in Q1 with meetings up 8% and Online up 17%.
It is important to note because WTW is a seasonal business, and January kicks off the post holiday "diet season", Q1 bears the lion's share of costs of attracting new members but captures only a portion of the follow on revenues. So WTW's Q1 increase in operating income (up $17 million) to $30MM and GAAP EPS of $.16 share is particularly impressive.
The EPS reflected a tax benefit of $.17 related to the previously announced cessation of operations in Spain, which was offset by $.01 per share of related expense.
For the sake of comparison, prior year Q1.16 showed a GAAP EPS loss of $.17/share.
While the company grew the membership base from approximately 3 million to 3.6 million (a 16% gain) in just one quarter, the growth of the more profitable on-line subscriber base grew 20% compared to "meeting" membership growth of 11%. In a world that is becoming increasingly mobile and digitized, this is a good sign; especially with regard to attracting the very large millennial demographic.
International Obesity Epidemic
Additionally, when considering that 2/3 of all Americans (Approx. 220 million people) are overweight or clinically obese in the U.S. alone, it is clear that the American market is in the midst of an obesity epidemic.
With regard to the EU, according to the World Health Organization (WHO), WTW's Continental European markets (mainly France, Germany and the U.K.) are experiencing accelerated population weight gains. For example, 50% of the EU population is overweight and approximately 22% of the EU population is clinically obese. Well over 100 million people in France, Germany and the U.K. are potential WTW members who are either overweight or clinically obese.
Therefore, WTW's total addressable market in both North America and the EU amounts to about 312 million people. However, according to a Journal of the American Medical Association (JAMA), approximately 49% of overweight Americans are trying to lose weight.
So applying the JAMA/U.S. study percentages, the addressable U.S./EU potential market appears to be about 152 million people. Consequently, WTW's present 3.6 million subscriber base represents just 2.3% of the addressable market. From this perspective, WTW appears to have considerable upside potential.
New CEO Mindy Grossman
The next chapter in the WTW growth story will be written by it's just announced new CEO, Mindy Grossman (Former CEO of Home Shopping Network (HSN). She was personally hired by Ms. Winfrey after a six month exhaustive search. Ms. Grossman has been ranked by Forbes Magazine as one of the 100 Most Powerful Women in the World for the years 2009, 2011, 2012 and 2013. In 2014, Fortune ranked Ms. Grossman as #22 Top People in Business. The Financial Times listed Ms. Grossman as one of "The Top 50 Women in Business" in 2010 and 2011.
Ms. Grossman was instrumental in the "green field" launch and growth of Ralph Lauren's (NYSE:RL) jeans business to $450MM/Yr (Y2000). She headed Nike's (NYSE:NKE) global apparel business, growing it from $2.7B Y2000 to $4.1B Y2005, representing 32% of Nike's revenues.
In 2007, Ms. Grossman became CEO of Home Shopping Network (HSN). She successfully re-launched HSN, navigating the company through the 2008 financial crisis, while transforming the company into a multi-platform, interactive network with ecommerce accounting for nearly half of sales. Ms. Grossman brought in celebrities such as Jennifer Lopez, Queen Latifah, Mariah Carey, Martha Stewart, Mary J Blige, P. Diddy, Serena Williams etc., and created corporate tie-in's with Disney and other Hollywood studios.
In 2008, Ms. Grossman took HSN public. By 2009, HSN had become a Fortune 1000 company. It's returns since going public are said to be amongst the top two IPO's. Ms. Winfrey's 6 month search appears to have attracted a very strong CEO who has a strong media and digital background as well as a long and varied history of launching, revamping and growing businesses.
Mindy Grossman's Compensation Package: A Road Map
I am assuming that Ms. Grossman's compensation package described in the recently filed 8K, sets forth achievable performance targets. Consequently, her compensation package may provide a valuable mid to long term road map for investors.
Besides generous salary and bonus compensation, Ms. Grossman was awarded options for 1.5 MM shares of WTW; 500,000 shares which are exercisable at $40 and 500,000 shares which are exercisable at $60. The entire stock option package, with WTW stock at $60/share, appears to be worth $900 MM. Since Ms. Grossman is 59 years old, her leadership of WTW could be the "crowning achievement" of her illustrious business career.
The compensation package set forth in the recent WTW 8K discloses Ms. Grossman's and WTW's mutually agreed upon bet that she can drive earnings and the stock price first to $40 and then $60 per share.
For perspective, it's important to note once again that CFO Nicholas P. Hotchkin's "tightened" financial controls (loping off $250MM of annualized expenses). Combine that with Ms. Winfrey's marketing "halo effect" and Ms. Grossman's track record of growing and reviving brands. And so it seems realistic that over the next 12-24 months, Ms. Grossman and her executive team have the opportunity to drive WTW results and share price triggering part or perhaps all of her formidable stock options.
Based on near term metrics and a consensus estimated earnings for FY17 of $1.40 - $1.50, a WTW stock target of $31-$33/share by year end 2017, or a gain of 25% seems realistic if not overly conservative. Analyst's upward earnings revisions are expected.
The "wild card" for WTW shareholders is the new CEO Mindy Grossman who comes on board in July. Wall Street will be sure to watch for her ability to accelerate memberships, which are already gathering steam thanks to Ms. Winfrey and especially Ms. Grossman's ability to continue to accelerate the higher margin digital memberships vs. meetings.
For example, WTW's growing ability to integrate with most leading exercise apps and devices suggests the company is poised to take advantage of the "holistic" exercise/diet/lifestyle trend, while offering more personalized, multi-platform and on line digital/video services. As a result, WTW seems likely to attract greater numbers of the considerable millennial demographic.
Highly Leveraged Earnings
WTW's earnings are highly leveraged. By that I mean the company has three major expense, investment lines: 1.) General & Administrative (G&A), 2.) Technology and 3.) Marketing/Advertising.
The G&A costs are largely "fixed" and should remain relatively stable. The tech investments have considerable ROI potential. And as marketing/advertising algorithm are fine tuned, the rate of tech/marketing expense as a percentage of sales is likely to decrease due to the "network effect".
One might say WTW essentially has a very low "cost of goods" because the company is selling a "lifestyle/coaching" service. The food and various other products are licensed to third parties. With 50%+ gross profit margins, the more subscribers join, the more WTW net profit margins seem poised for expansion.
Over the next 12-24 months, it is not beyond reason to expect WTW shares to trade at $55/share.
Here's why:
* As mentioned, WTW has reported 6 consecutive quarters of YOY (year over year) subscriber growth. The subscriber recruitment momentum appears to be picking up steam as algorhthmic marketing efforts are continually fine-tuned.
* In particular, Q1 17 saw WTW dramatically increase its subscriber base by 600,000 subscribers or 16%, jumping from 3.0 million subscribers to 3.6 million members. The highest rate of recruiting in many years.
* According to management, based on historical trends, Q1 has typically represented 40% of recruiting totals.
However, because of Q 1 17's strong subscription rates (+600K new members or +16%), I am projecting that Q1 17 recruitment of 600K new subscribers will represent 35% of Y17 recruiting totals.
In that case, the balance of 2017 (Q2,Q3,Q4) recruiting could add approximately 1.1MM new members, for a total FY 17 subscriber growth of 1.7 MM new members and a year end total of approximately 4.7 MM. That would result in a FY 17 growth rate of as much as 38% compared to 2016's 20% subscriber growth rate.
Year Over Year Subscriber Growth Comparison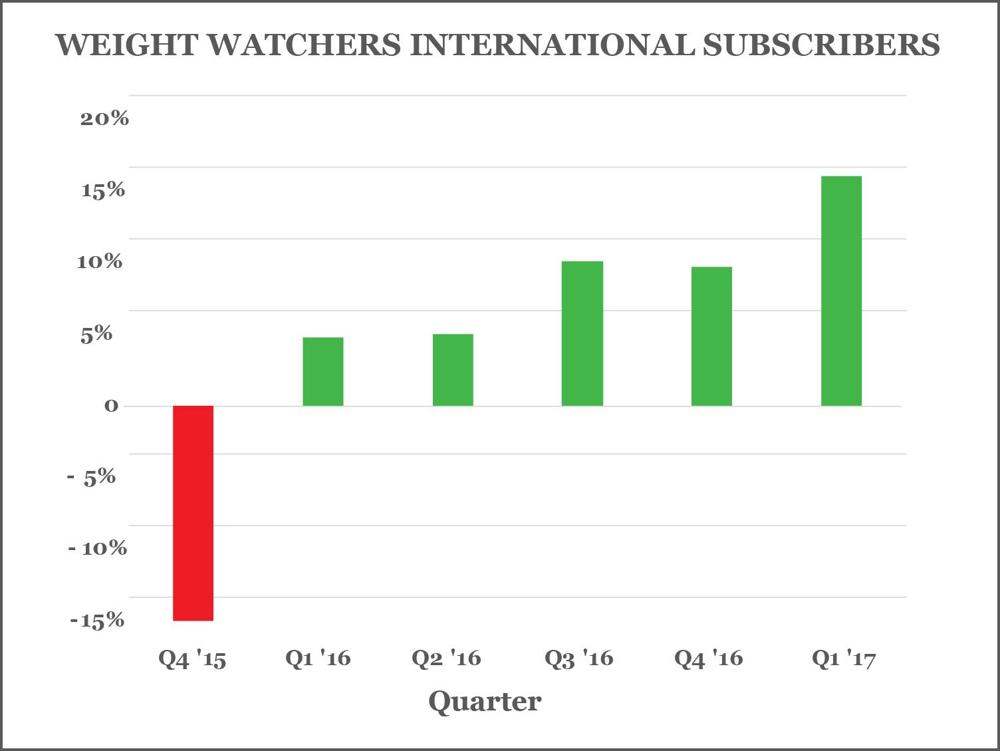 * The average value of the on line and meeting subscriber calculates at approximately $275 per subscriber.
* And so a little math:
2017's projected 1.7 MM new subscribers are worth an average of approximately $275 each or $468 MM FY 17 revenue growth, resulting in projected total FY17 revenues of $1.66B (+28% YOY).
Present WTW Operating Income rate FY 16 = approx. 21.1% X FY 17 projected $1.66B revenues or $350MM Operating Income
Average EV/EBITDA PE for peers = 7.3X PE
However, the most recent 2017 average EV/EBITDA multiple for the Consumer Discretionary sector is 12.92X.
Other opportunities for revenue/profit growth are expected to be driven in part by WTW's rolling out a more "holistic" body/mind approach, which broadens WTW's appeal while behavior modification programs are likely to boost weight loss results .
And, taking a cue from burgeoning social media platforms, WTW seems poised to "go big" on-line. Strong digital subscriber growth is expected to gain momentum from increasing digital and mobile offerings, for example replicating the social (and more profitable) meeting experiences on line, providing one-on-one customized services such as virtual fitness, nutritional coaching and motivational support.
Considering all of the above, to arrive at a reasonable WTW price target, I averaged the aforementioned EV/EBITDA multiples for Peers and Consumer Discretionary, and arrived at 10.11 EV/EBITDA X $350 MM Operating Income = $3,538,500,000 EV divided by 64.17MM shares outstanding = $55 share target at some point during FY 17/18.
Risk Factors: The weight management industry is highly competitive with numerous competitive on line services. WTW competes against a wide range of providers of weight management services and products including other commercial weight management programs and hardware and software-based mobile apps, which have led to increased trial of free mobile and other weight management apps and activity monitors.
WTW also competes with the pharmaceutical industry, weight management services administered by doctors, nutritionists and dieticians. Other technological and scientific advancements in weight management methods, also may be developed. This competition may reduce demand for WTW services and products.
The purchasing decisions of weight management consumers are highly subjective and can be influenced by many factors, such as brand image, marketing programs, cost, consumer trends and perception of the efficacy of the service and product offerings. Consumers can and frequently do change weight management approaches easily and at little cost. Any decrease in demand for WTW services and products may adversely affect business, financial conditions or results of operations.
I wrote this article myself and it expresses my own opinions. I am not receiving compensation for it other than from Seeking Alpha. Investors should not rely upon any information contained herein nor forward looking statements. I am long WTW.
Disclosure: I am/we are long WTW.
I wrote this article myself, and it expresses my own opinions. I am not receiving compensation for it (other than from Seeking Alpha). I have no business relationship with any company whose stock is mentioned in this article.