In most situations where money is gained now for future payments or money is paid now for future repayments, the probabilistic expectations are stacked against you; otherwise these businesses would not make money. I almost entered the actuary profession after university; a profession in which I would be finding the optimal price to charge you for life or auto insurance. In my studies, I quickly realized that all the "sane" choices of these types - buying insurance, taking out loans - are mathematically stupid.
Yet sometimes it is the business offering the opportunities that is playing stupid. The 2008 real estate crisis was banks playing stupid. The current state of affairs is providers of auto loans playing stupid: defaults are up, and the effect is being felt by many in the auto industry.
In my private newsletter (not Exposing Earnings), I recommended shorting CarMax (NYSE:KMX) as a play against this type of stupidity. Much of it is based on the rising inventories, which I will show below but not expand upon for the sake of keeping the thesis exclusive to my subscribers: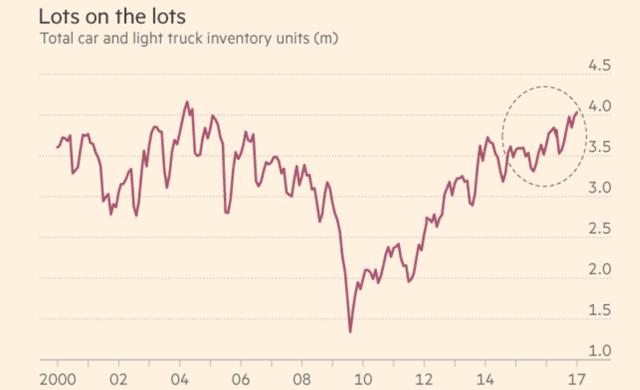 While I still believe in this play, which is fundamentally based on an increasing rate of used car inventories and thus decreasing sales prices for used cars, I am looking to diversify my short position by diversifying away from second-hand dealers and straight to the providers, which will be seeing reduced demand. As far as I'm concerned, Ford (NYSE:F) is not in a good position should the subprime auto loan risk be realized.
In any market, new products cannot uphold their value when the second-hand market sinks. Thus, for a large car manufacturer such as Ford to uphold its profit margins - as after all, it cannot easily reduce costs - we would literally need to not see any of the subprime auto loan defaults affecting the sales price of used cars. Unfortunately, this is the bull case, as stated by Morgan Stanley, and implies that the bull case is actually an expectation for a flat market (should we really call this a bull case?):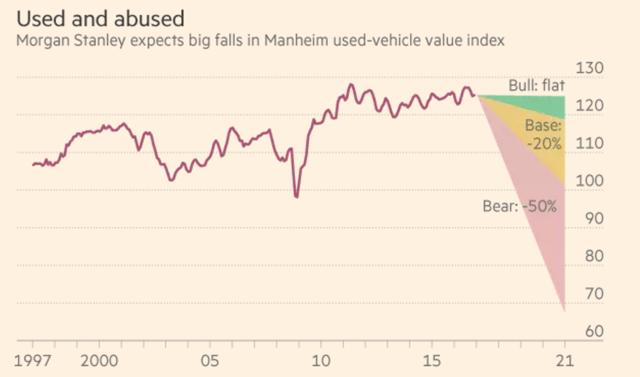 It should be no surprise that Ford, the second biggest manufacturer in the US, has seen its stock fall. The biggest is General Motors (NYSE:GM), which is also on thin ice but a bit of a different story that can be discussed in another article if enough readers are interested. Ford has fallen to a completely new trading region and lies under a strong resistance level:

I believe that Ford can be a good addition to a short portfolio on the auto loan exposure trade because of the speed at which the company moves: Like its cars, slowly. New cars undergo roughly 5 years' worth of planning and investing and do not consider black swans. Unlike KMX, which I might be overestimating the downside because of its ability to shift business practices and inventory management on the fly, Ford's business model expects the 5 years of investment to give way to 20 years of sustainable income through sales and customer support.
This is not a company that can scrap its recent model and produce something more suitable to the current market on the fly. Then what could save Ford in the event of a crisis? The answer is certainly not investment for self-driving cars; a concept that seems reliable but is yet untested and with an imaginary market.
Add to these long-term macro factors the investor dissatisfaction toward the management of the company in an action akin to overthrowing a monarchy by stripping the Ford family of its inherited voting power and you get enough downside catalysts to see why this play makes sense even at this new trading "range" (for it to really be a range, we would need a support level in addition to the resistance level).
It seems logical to me that now is the time for Ford to be overtaken by Tesla (NASDAQ:TSLA) in market value. Tesla, by the way, should fare relatively well during the crisis. (For the record, I do not think Tesla and Ford make an easy or even particularly informative comparison).
I spoke of mathematical logic earlier, and my psychology background tells me I'm not going to be wrong here: If the second-hand market truly tanks, many with loans will do the logical thing and default on the loans, buying used cars instead, thereby saving money overall even though it's the "irresponsible" thing to do. But more importantly for this Ford play is that those who already own Ford cars will also have reason to "downgrade." Ford cars are some of the most expensive non-luxury cars to maintain.
Ford Mustangs and Ford Focuses, for instance, cost nearly $1,000 annually for maintenance. Fords have the most common issue with PCV values, and the F-250 Super Duty and Taurus are known for having starting issues.
Frustrated owners will have more impetus to simply drop their vehicles for heavily discounted alternatives. A fall in sales and loyalty certainly does not help the company's bottom line. And the debt issue will only worsen: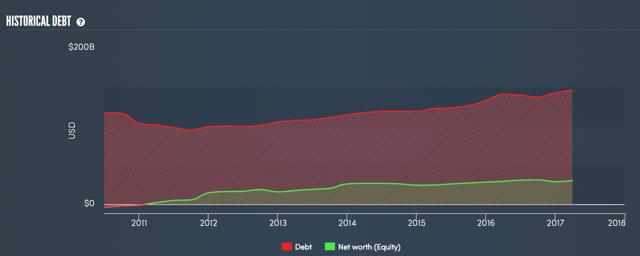 I will not be the first to say that Ford is still overvalued, despite the recent fall. Consider the current discounted cash flow valuation versus the invisible upside. If this valuation holds true, Ford could fall another 40% before bottoming out - The mathematical logic seems to be on the side of the shorts:

My recommended options play here:
Buy Dec15 $11 puts
Get alerts for high ROI earnings trades: Exposing Earnings
In this newsletter, you get:
Top 5 earnings plays (usually bi-weekly).
In-depth reports on earnings plays.
Answers to your requested stock tickers (e.g., Will NVDA rally on earnings?).
Image Sources: Financial Times, Stock TA, Simply Wall St.
Note: If you are not following me, please do so now by clicking the big orange "Follow" button next to my name at the top of this page.
Disclosure: I am/we are short KMX.
I wrote this article myself, and it expresses my own opinions. I am not receiving compensation for it (other than from Seeking Alpha). I have no business relationship with any company whose stock is mentioned in this article.