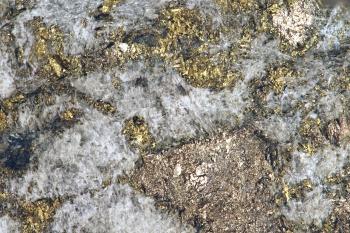 Platinum analysts have expected reducing supply in 2017, but counterbalanced by reducing demand.
One of the main drivers for an expected fall in demand has been jewelry purchasing. The market has expected strong demand from India and Japan, but a fall in demand from China. However, the WPIC has reported that for Q1 2017, the market balance expanded into a deficit of 300k oz in Q1'17. Is bad news already baked into the price of platinum?
WPIC Quarterly Review
The World Platinum Investment Councils quarterly review highlights the following points:
A decline in total platinum supply during the first quarter of 2017. Overall, global demand declined marginally by 1% to total 2,05k oz. The 75k oz decline in investment demand, more than offset gains in other sectors.
Total platinum supply was 1,750k oz in the first quarter, a decline of 4% year-on-year, as a drop in primary supply (-90k oz) more than offset an increase in secondary supply (+25k oz).
Global demand was 1% lower compared to Q1'16 at 2,050k oz as weaker investment demand (-75k oz) outweighed gains in the automotive (+20k oz), jewelry (+20k oz) and industrial sectors (+10k oz).
With global supply contracting more than demand year-on-year, the market balance expanded to a deficit of 300k oz in Q1'17, and with weaker investment demand, which was down 75k oz.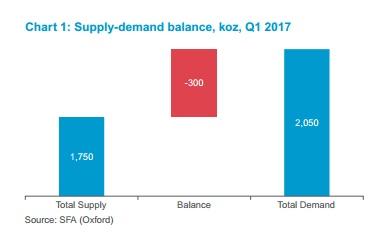 Source: WPIC report
Platinum Quarterly also highlights that mining supply is predicted to fall further in 2017.
Palladium is in a persistent large deficit and the market is tightening, a development we think will be increasingly felt in the coming years, with more bouts of higher lease rates. This has also been translating into a strong price recovery, and while the market is susceptible to a short term correction we would expect prices to recover from that to be back in excess of $800 well before year-end.
As Reported by (miningweekly.com)
The palladium price is poised to exceed the platinum price for the first time since 2001:
"In our view, it's more a case of when, not if",Thomson Reuters precious metals demand manager Ross Strachan said of the prospect of palladium overtaking platinum. Describing platinum as the worst performing precious metal in the year to date, Strachan said palladium's persistent large deficit would see it above $850/oz well before year ­end. Last week saw platinum plunge precipitously to $893/oz, its lowest price ratio to gold since 1987, and at the time of going to press, its price was still in the doldrums at $910/oz. However, platinum's plunge is seen as being "too far and too fast" with GFMS expecting it to rally to above $1000/oz this year on the back of weak mine output.
Platinum Miners - Smart Estimates
In their GFMS Platinum Group Survey (2017) Thomson Reuters refers to industry-wide supply and demand in fiscal 2017. Of note is the country by country comparison which compares North American with Zimbabwe mining production, which in North America is much more weighted towards palladium, (palladium is in market deficit), so could infer a possibility of higher mining profit, and higher miner market caps, although lower operating costs are the norm in Zimbabwe.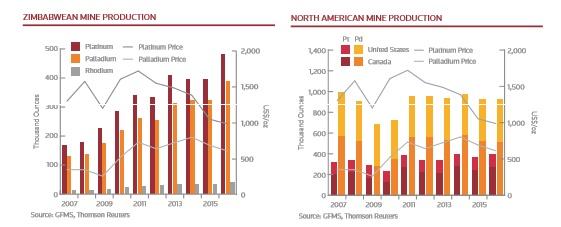 Thomson also refer to Starmine Smart Estimates 'for more accurate forecasts of upcoming results,' with predictions that with a couple of exceptions hold mean EPS increases:
'StarMine Smart Estimates' is a proprietary blend of analyst estimates on Eikon that more accurately forecasts upcoming financial results than consensus estimates and functions as a leading indicator of future revisions. Over time, Smart Estimates are proven to predict the direction of the actual earnings surprise with a success rate of about 70% when our estimates diverge from the consensus by 2% or more.
Of those results analyzed, ARM Platinum led with a 20.11 mean EPS forecasted increase, followed by OJSC MMC Norlisk with a 12.16 increase, and Anglo American Platinum (OTCPK:AGPPF), with a 10.36 increase.
According to their 2016 investor presentation, Anglo American:
Generated R3.5 billion free cash flow from operations, and
Reduced net debt by R5.5 billion to R7.3 billion
2016 targets included:
$1.9 billion of cost and productivity improvements, expected to continue into 2017 and beyond as the organisation is aligned with streamlined portfolio
Step-change 50% ($250 million) central and global support cost reduction in medium term
Headline earnings increased to R1.9 billion in 2016 from the restated loss of R126 million in 2015. This reflected favourable foreign exchange movements, operating and overhead cost reduction, lower restructuring costs and impairments in the comparative period. As a result, headline earnings per share rose to 713 cents in 2016 from a loss of 48 cents in 2015.

Source: Thomson Reuters
For GFMS team info at Thomson Reuters: financial.tr.com/eikon-metals.
Seasonal Platinum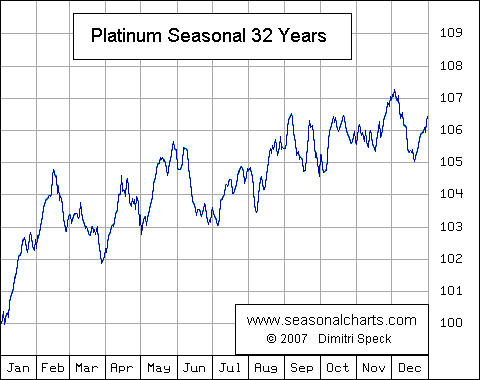 Seasonally platinum, has a tendency of trading into an end of May high, followed by a weaker June, (seasonal charts are tendencies, not absolute). However, the COT chart shows traders in positions which are more in keeping with a low rather than a high. Large speculators who've been increasingly short, have (probably on the basis of fundamental news released in May), started to go long, while commercials/producers increasingly long since March, have just started to ease off with the seasonal trend.
COT Chart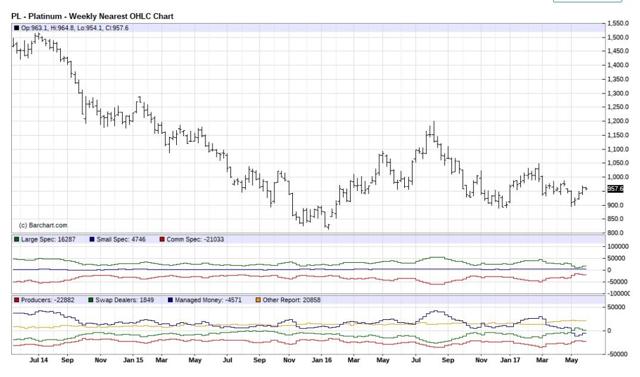 Source: Barchart.com
Stock Charts
Platinum Daily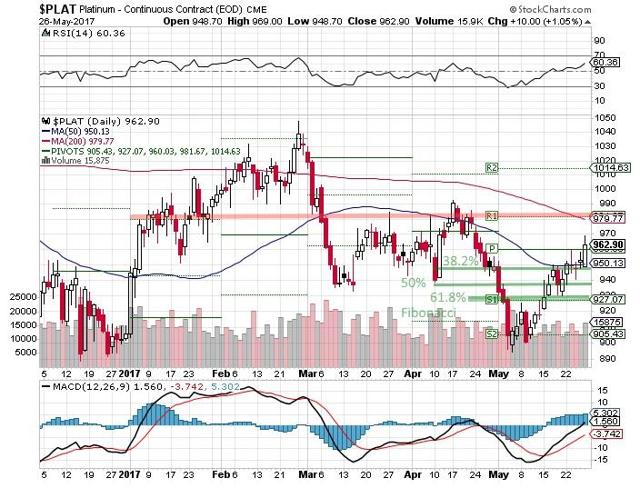 Investing In Platinum
ETF which track the price of platinum including the more liquid PPLT ETFS Physical Platinum Shares etf.
A direct investment in miners carries more risk, but potential for higher returns. These include Platinum Group Metals (article) (NYSEMKT:PLG), in the early production stage of a new platinum mine, while developing a substantial palladium enterprise under JV, and Anglo American, driving down costs, and with a potential earnings increase.
Anglo American Platinum
Anglo American Platinum trades in London under the ticker AAL, and on the pink sheets in the US under the ticker OTCQX:NGLOY.
L:AAL is very oversold on the five-year daily chart, comparable to previous annual lows, but that didn't stop shorts in 2015, who allowed an RSI bounce before a further selloff with lower prices. Investors should pay attention to the imminent consolidation which needs to hold the S1 level ideally, or worse case a double or slightly higher low than that found in early May. A failure at the low would suggest that a longer-term correction is incomplete, which is currently a correction of about 38.2% of the last rise. A correction of 50% or 61.8% is quite common in stocks.
Any news of increased 2017 earnings may positively influence that scenario though, (UK companies generally release annually, with a mid-year update). If AAL holds the lows described, breaking over the red diagonal trend line, there's a realistic chance of a continued bull leg. Bullish progression to the red horizontal above offers the potential for another correction. Failure of current support then raises the prospect of the second green support band, which is a 50% Fibonacci correction overall.
The RSI has already started to turn down, raising the prospect of an imminent test of the May low.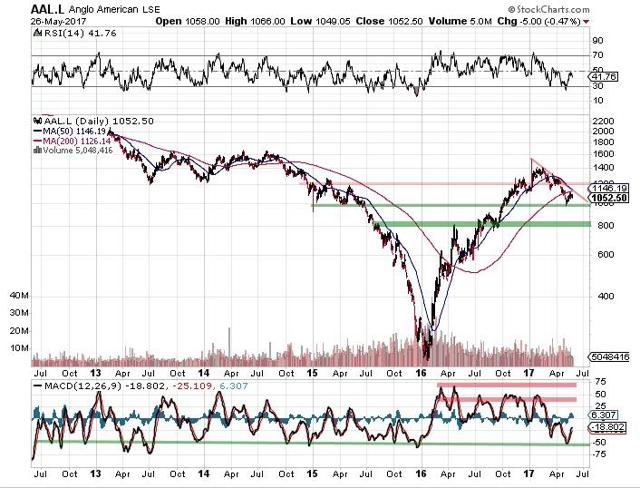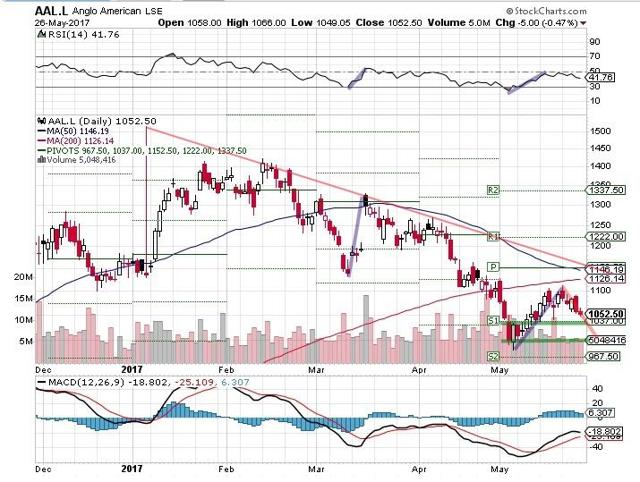 NGLOY has a similar chart, but one which suggests low liquidity.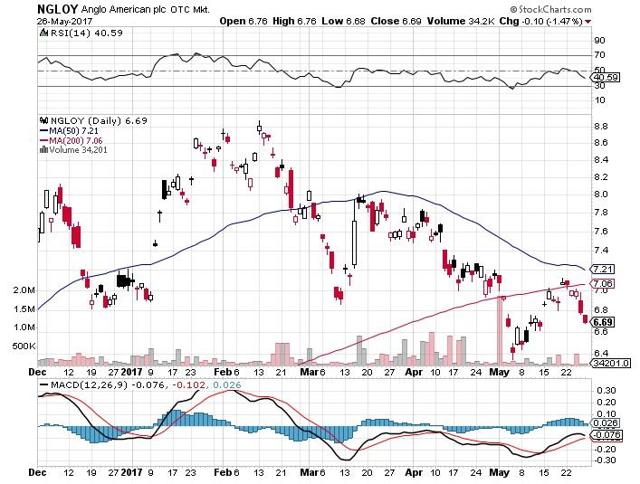 Platinum investment has supported ETF this year, and in terms of supply demand, jewelry demand seems slightly stronger than expected, mining supply is down, and the overall demand forecast for the year is expected to be only slightly above supply. Most bad news seems to be out, and the market has corrected overly strongly already.
L:AAL/NGLOY releases annually, but is also due a 6-month mid-year news update, which could support improved earnings (as is their target). L:AAL/NGLOY is rising from an extremely oversold position despite the higher share price. It needs to hold the May low, which might be tested again in a correction from about 1200, (this assumes loss of higher support in the March lows before), or on the red diagonal trend line if it fails there. All positions from which to manage risk.
Platinum itself has yet to reach a May high, but then looks likely to put in a regular bullish consolidation. The market has already tested the lows of 2017 and seems to be building up from them, suggesting either S1 or S2, (possibly higher than S2), could be confirmed on the downside, before a bullish leg resumption.
Disclosure: I/we have no positions in any stocks mentioned, and no plans to initiate any positions within the next 72 hours.
I wrote this article myself, and it expresses my own opinions. I am not receiving compensation for it (other than from Seeking Alpha). I have no business relationship with any company whose stock is mentioned in this article.