The Chinese cruise travel industry presents an attractive investment opportunity. Statistics show between 2013 to 2016, the cruise travel industry in Asia has increased across the following metrics:
First, number of ships deployed in Asia grew at a 12% CAGR. Second, the number of cruises and voyages within and through Asia increased at a 22% CAGR. Third, operating days expanded 13.6% annually. Fourth, passenger capacity in Asia increased 29.3% annually.
China is the main driver of passenger growth in Asia, with cruise travelers growing at a 66% CAGR since 2012. China also accounted for almost half of the 2.1 million cruise passengers in the region. Put this together with the fact that just 1 million people in China have cruised before, compared to 12 million in the US, there is tremendous room for this sector to grow.
A large part of this growth is due to the emerging middle-class of affluent consumers in China. An analysis by Bank of America Merrill Lynch stated that 174 million Chinese tourists would spend $264 billion by 2019, up from 109 million travelers who spent $164 billion in 2014.
The Chinese government's push to expand cruising is also expected to play a crucial part, with authorities having "ambitious plans for coastal port development", according to William Blair analyst Sharon Zackfia. These plans would stretch across the next 15 years at least.
The global cruise market is somewhat like an duopoly, with Carnival (NYSE:CCL) and Royal Caribbean (RCL) dominating market share - the former has 48% while the latter has 22%. Norwegian Cruise Lines (NCLH) comes in third at a mere 9%, while the remaining 21% is shared across multiple smaller players.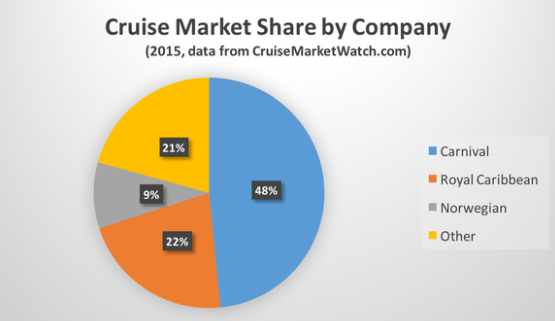 Carnival's market leadership globally also extends to China. It aims to have 9 ships operating in China in 2017, up from 6 in 2016. The company has first-mover advantage over its competitors by setting up its Costa brand as early as in 2006, and Costa is currently the first and largest brand in China. Carnival will also introduce its Princess brand in 2017, which will be catered specifically for Chinese guests.
Carnival has also made use of joint ventures to set itself apart from its competitors. It announced a joint venture together with China State Shipbuilding Corporation (CSSC) and China Investment Capital Corporation, which aims to create a multi-ship domestic brand which will be able to build and operate its own ships.
In its FY2016 annual report, Carnival expects its global net capacity growth through 2020 to be 3-4% compounded annually, consisting of double digit growth in Asia, and 3% or less in other regions, including North America, Europe and Australia. As can be seen, Carnival is doubling down on the potential growth in the China cruise sector.
On the financials, Carnival's top line continues to be strong, with revenues steadily increasing YoY from 2012-2016 (with the exception of 2015). Operating margins have also remained relatively solid through the 5 years. 2016 was the most profitable year in Carnival's history, with net income of $2.8 billion.

The company also made record amounts of cash with cash from operations topping $5 billion - more than half of it was returned to shareholders through a 17% increase in annual dividend, coupled with over $2 billion used in stock repurchase program.

Revenues and margins are supported by increasing numbers of passengers carried, as well as expanding passenger capacity, as Carnival prepares itself to meet the demands of the expanding cruise sector.

Valuations-wise, Carnival currently trades on 19x P/E with global market share almost double that of its nearest rival Royal Caribbean, which trades on 17x. Despite its slightly more expensive valuation, I prefer Carnival over Royal Caribbean due to its dominant position in the cruise sector.
Judging from how Carnival has enjoyed first-mover advantage in the Chinese cruise sector, which is slated to be the next growth engine in the global cruise industry, I believe Carnival is well-placed to take advantage of the emerging affluent class in China, and further cement its market leadership over its peers.
Taking into account Carnival's past record of increasing dividend and buying back shares, shareholders may be rewarded if the company continues to do well.
Carnival is currently trading at $63.50, with analysts offering a median target price of $66. Despite the analyst price target offering a relatively small 4% upside from current levels, indicating the stock may be fairly valued, I would like to add that from a technical analysis point of view, the stock has convincingly broken its previous all-time high in 2005, and made new highs. The lack of resistance from past levels above current levels might allow the price action to continue to enjoy its bullish momentum to higher levels. The highest estimate from one of the analysts is $71, which I do not feel is unachievable.