Snap (NYSE: SNAP) CEO Evan Spiegel believes his company has an education problem: Advertisers don't understand the value of advertising with Snap. To this end, during Q1 the company continued to increase sales and marketing expense. The investment topped $56 million, up from $47 million in the previous quarter. For comparison, the Q1'16 spend was $13 million. During the first quarter conference call Spiegel positioned the issue as follows:
I think the big issue with advertising over the next decade or so, frankly, is going to be education. I think we have world-class ad units. They are delivering ROI. We've done a lot of work this year to build out the measurement side of the business. And so I think now really it's an education process and I think early adopters are seeing great results. And so we've just got to keep showing people how Snap can really work for them and drive ROI.
Company detractors, including Seeking Alpha contributors that recommend that the stock should be shorted point to flattening user growth, competitive pressure from Facebook's (NASDAQ:FB) Instagram and a high price-to-sales ratio. To best determine which camp is right, it is necessary to decide where revenue growth is going. However, there is a large amount of noise in the revenue numbers such as the Olympics in Q3'16, the general seasonality of advertising businesses and the acceleration and cementing of the sales plan. Following the Q2 conference call, likely held in August, one can better evaluate if revenue growth is accelerating. Waiting through August also offers insight into how the stock will trade as the majority of the lock-ups end.
-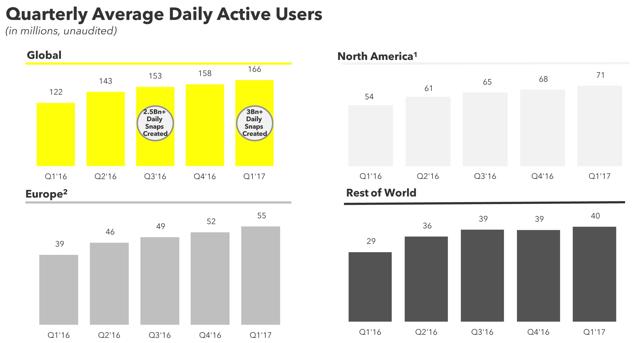 Source: Q1 2017 Earnings Report
Revenues
While useful to look at average revenue per user data, one must recall that these statistics are primarily a function of total sales. Growth in revenues and average revenues are driven by sales rather user growth or ad load limits. Consider the following definitions from Snap:
A Daily Active User is defined as a registered Snapchat user who opens the Snapchat application at least once during a defined 24-hour period.
We define ARPU as quarterly revenue divided by the average Daily Active Users.
In fact, ad service against engagement is likely low, especially outside the U.S. On the Q1 earnings call Imran Khan, Chief Strategy Officer forwarded the following:
With regards to ad load, look, we're very, very early days. If you look at, as Evan mentioned, we now have more than 3 billion Snaps get created on our platform. I talked about how we have our average users are spending 30 minutes, more than 30 minutes on our platform. So we're just scratching the surface in terms of ad load.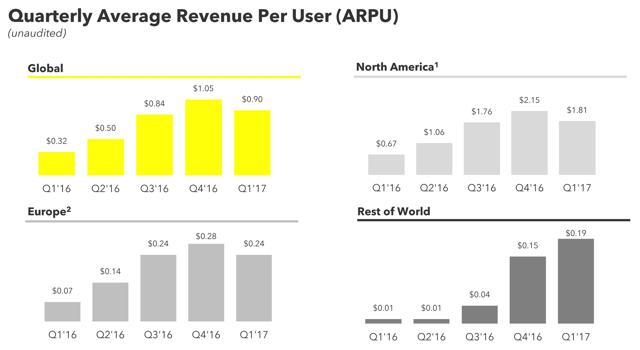 Source: Q1 2017 Earnings Report
So with engagement high and ad load low, the prime revenue factor is the quality of the ad products and how well Snap can measure and market a differentiated advertiser ROI. For those who have not used Snapchat or purchased advertising, the following links provide an interesting introduction to basic product offerings and measurement tools: Snapchat.com/ads & Snapchat.com/ads/measurement.
If one attempts to remove the Q3 Olympics bump and fourth quarter seasonality, a $25-$30 million quarterly increase in revenues appears average. Extrapolating would put Q2 revenues at $177 million. And additional gains should come from three factors:
Leveraging the switch of some partners from revenue sharing to licensing.
Broad availability of the self-service application programming interface [API] the first week of June.
The acceleration and cementing of the sales plan.
Note that analyst revenue predictions range from $154 to $216 million with a $193 million average.
Quick Word On Costs
Headlines following the Q1 earnings report focused the company's $2.2 billion loss. Though only included in unadjusted earnings, about $2.0 billion of the headline loss came from recognition of stock-based compensation. CFO Drew Vollero outlined the large reduction in SBC expenses going forward:
Total unrecognized compensation cost related to the 2017 RSUs at the end of Q1 is $1.3 billion, expected to be recognized over a period of slightly more than three years, of which about half of that expense we expect to recognize during the remainder of 2017. RSUs granted during 2017 will be an additional expense.
Takeaway
Snapchat displays robust engagement and relatively low ad load. If Snap does have a better mousetrap, we will begin to see advertisers follow a clearer path in the August report. For the growth story to remain intact, revenues should reach a quarterly record near $185 million with approximately 173 million DAU yielding a $1.07 ARPU.
Disclosure: I/we have no positions in any stocks mentioned, and no plans to initiate any positions within the next 72 hours. I wrote this article myself, and it expresses my own opinions. I am not receiving compensation for it (other than from Seeking Alpha). I have no business relationship with any company whose stock is mentioned in this article.