I recently sold my position in Cardinal Resources (OTC:CRDNF)(CDV on the ASX). While the Namdini project has great potential, the FD market cap is too high considering the early stage of the development and all the possible pitfalls they might encounter during the design and engineering process.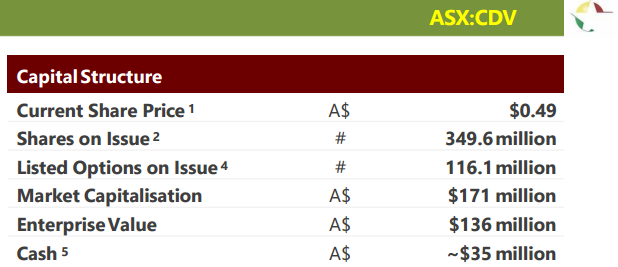 From the company's latest corporate presentation
With 350M shares outstanding and 115M warrants that are deep in the money, Cardinal commands a market cap close to AUD$300M. With producing mid-size mines being valued from AUD$600M-AUD$1B, there isn't too much room to the upside even if everything goes according to plan.
Development at Namdini has moved at breakneck speed. From initial drilling in H2 2014 to a 4M ounce resource estimate in H2 2016 and a PFS to be completed in H2 2017, things are moving forward perhaps too quickly. There has already been one major hiccup along the way, when the company released disappointing metallurgical test results and the share price fell more than 60%. Investors were putting the cart before the horse with an elevated valuation despite the early stage, and panicked when they realized that without decent recoveries it might not be an economic deposit.

I think something similar might happen now. Despite the unproven economics of the project, the share price is rising strongly, and the market cap is approaching the level of companies that are already successfully in production. While exploration drilling has continued to pleasantly surprise investors, any number of problems could be discovered in the PFS that disappoint investors.
I'm personally concerned about power, considering the location in a relatively remote area of Ghana. Ghana has had problems with power outages over the past few years, and while the worst is over, there is still some inconsistency in power distribution through the national grid. Cardinal will most certainly have to build a power plant or some power generators in addition to a power line connecting the project to the national grid, which could increase the initial capex considerably. Asanko Gold (NYSEMKT:AKG) had to commission a private power company to build a power plant before they were able to get their project to production, and that was in a less remote region. While Cardinal's management have proven themselves to be great explorers (Cardinal CEO Archie Koimtsidis found Asanko's deposit, in fact), I wonder if they've considered everything that will be required to engineer and build a mine.
Another concern I have is that 3.9M of the 4.2M ounces discovered are in the inferred category, with the rest being indicated and none measured.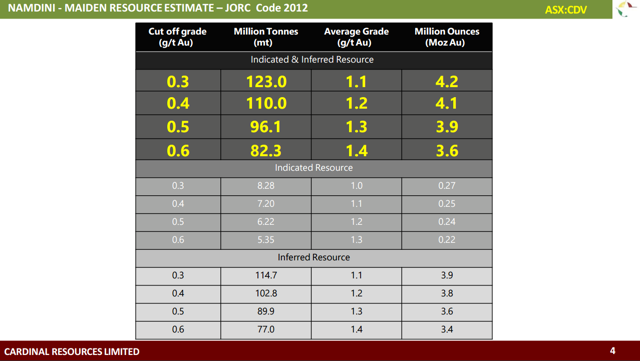 To rush a deposit to the PFS stage without much confidence in the resource might lead to undesirable results. Perhaps they've done enough drilling to support the PFS, but I have my doubts.
That being said, I believe this is a spectacular discovery with lots of growth potential ahead. Drilling has continued to impress, with more mineralization found both at depth and along strike. I think the deposit will continue to grow over the next few months and quarters. In addition, Cardinal has enough cash to bring the project through feasibility and to a construction decision in H2 2018.
As a result, Cardinal deserves a high valuation, but perhaps not this high considering the early stage, rushed development, and management with experience in exploration but not so much in mine engineering and construction. I think a fair share price is around AUD$0.45. Nonetheless, Cardinal no longer meets my criteria as a good investment, with less upside potential and real downside risk. I might take another look if shares correct again and start closing in on the AUD$0.30 level.
Disclosure: I/we have no positions in any stocks mentioned, but may initiate a long position in AKG over the next 72 hours.
I wrote this article myself, and it expresses my own opinions. I am not receiving compensation for it (other than from Seeking Alpha). I have no business relationship with any company whose stock is mentioned in this article.