Crude oil (USO) is heading to the downside again. Oil is off around 3% this morning, and has dropped sharply over the past week: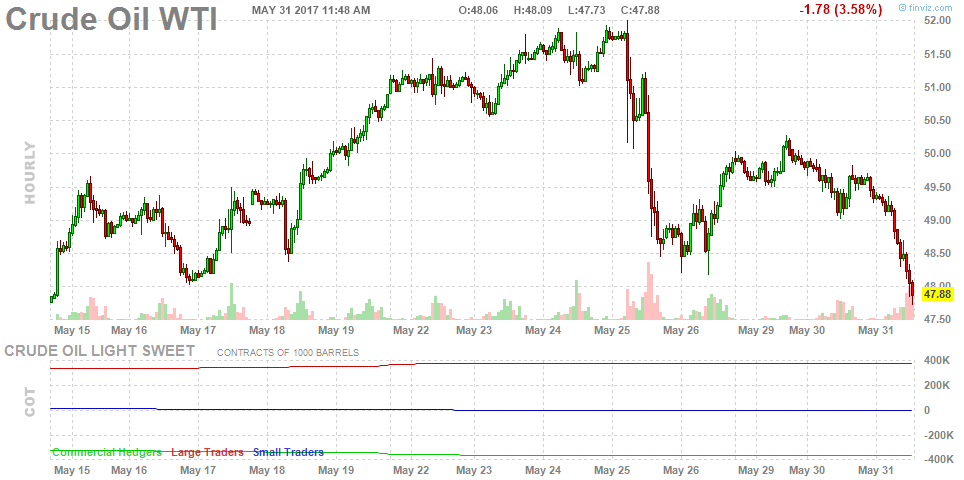 Before getting into discussion of the recent move, as a reminder, I'm a long-term bull on oil. See previous articles such as $10 Oil: Forget About It, and 2 Views On Crude - Why Oil Will Power Past $100. However, no one said the road back to 2013-era prices would be easy or short. So far, the arguments from the "lower for longer" crowd have been right, and 2017's developments continue to - on net - seem bearish.
Today's sell-off comes following news that Libyan oil production has rebounded sharply. While OPEC members that agreed to cuts seem to be abiding by their deal, Libya and Nigeria are exempt and seem to be taking advantage of that flexibility.
The broader story is that the OPEC excitement appears to be fully gone. The latest meeting brought few noteworthy developments, generating a sell the news reaction. The production glut simply isn't going away as quickly as experts had forecast, and OPEC's move hasn't resolved the underlying problem.
Two Troubling Signs For Oil This Year
The first problem for oil comes with the US Dollar (UUP). Since oil is priced in dollars globally, in general, oil should be inversely correlated to the direction of the dollar. A cheaper dollar makes oil more affordable in other currencies, and thus should help drive demand and raise the price in dollar terms.
Yet, the correlation isn't working at the moment. The euro has made a sizable move upward in recent weeks, and the dollar index has slumped: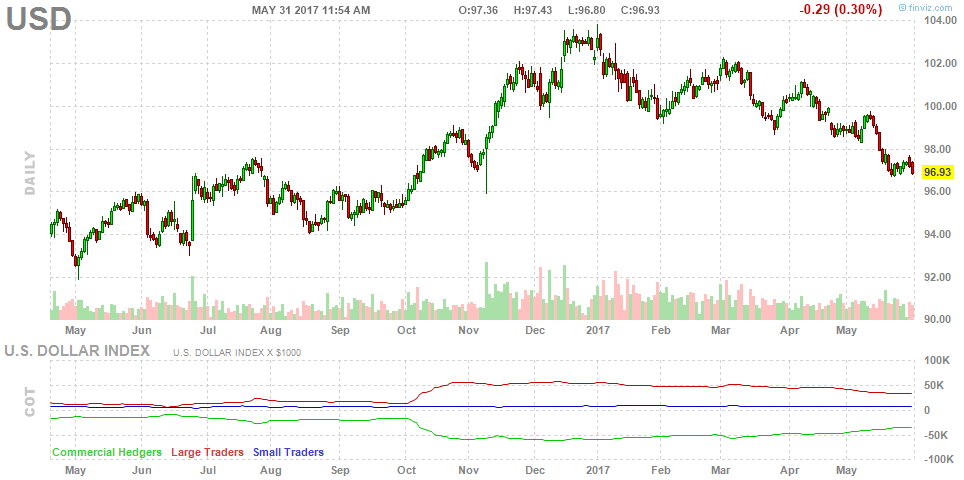 All the US Dollar's gains since the election have now been erased. With that, you'd expect commodities generally to be getting a boost. However, the reversal of the Trump inflation trade appears to have offset any gains from the weaker dollar. In any case, if oil can't find traction with the dollar on the slide, look for oil to really struggle once the dollar catches a bid.
Secondly, contrary to recent years, energy stocks are massively underperforming oil. See this:
Now to be sure, the Energy Select Sector ETF (XLE) isn't down that much, but it is heavily weighted to dividend giants like Exxon Mobil (XOM) whose shares retain a bid simply due to the yield. The S&P Oil & Gas Exploration & Production ETF (XOP) has reflected 2017's problems much more sharply:
Even with oil still well off 52-week lows, XOP has already busted support. And that chart since December just looks hideous, straight from 52-week highs to 52-week lows with hardly a single meaningful bounce along the way.
Now, there is a silver lining in the destruction of these stocks. As prices plunge, producers will have less access to capital, and thus drill fewer new wells. Given that the problem now is a glut of oil, the faster producers can be motivated to cut capex, the better for the long-term oil price outlook. Simply put, US production came back too quickly, largely negating any benefits from OPEC or other producers cutting back. US shale production is heading to new record highs, even despite the price getting chopped in half since 2014: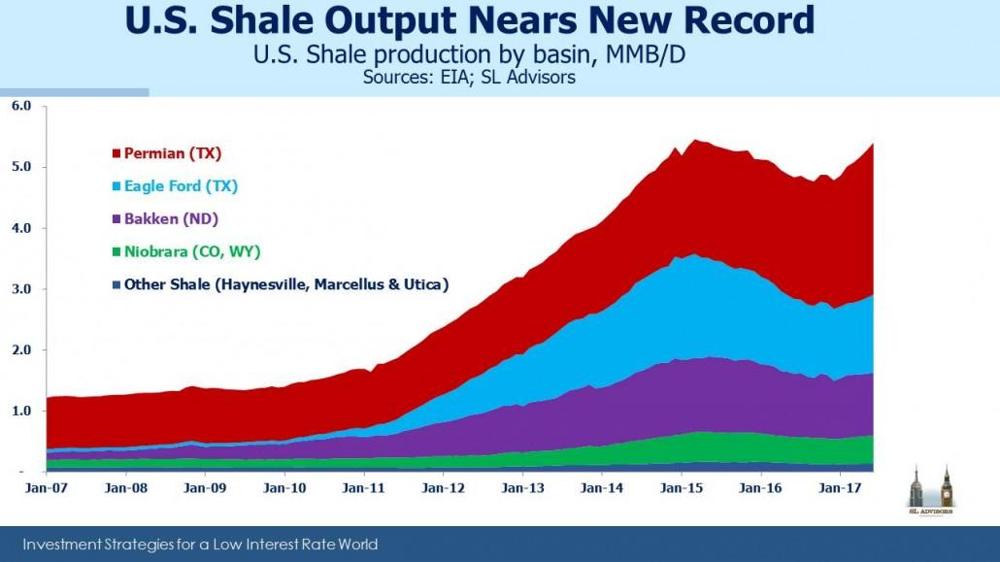 And it's not just shale production that is problematic. Offshore drilling, which was thought to be mostly dead at $50/barrel, seems to still be attracting capital regardless. Look at the surge in Gulf of Mexico production for one example: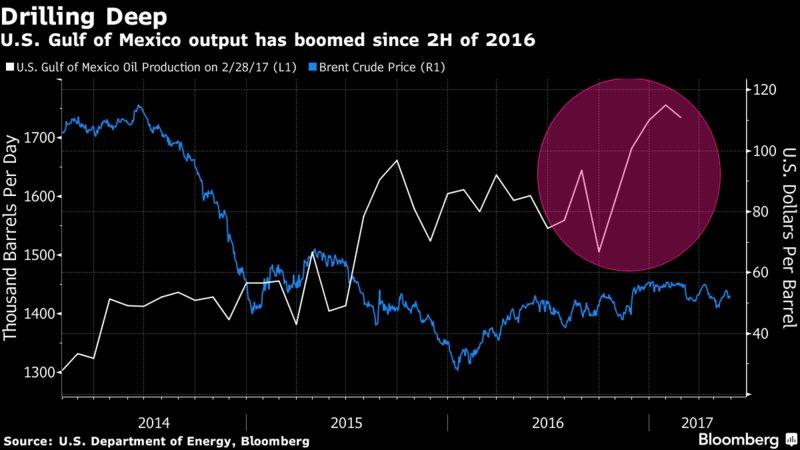 I believe in the long-run fundamentals for oil. But the market risks allowing the supply glut to drag on much longer by providing too much capital to these firms that are producing at breakeven or even a net loss.
As for how to play oil (if you're bullish), I continue to view adjacent stocks as the better solution rather than piling heavily into energy names themselves. Take emerging market countries that are significantly dependent on oil - something like Colombia (GXG) for example. Their currency devalued 50% in 2014-15 as oil collapsed, and it has hardly bounced yet. You can buy major banks that trade around 10-11x earnings there and pay solid 3%+ dividends. An investment like that can compound your capital while you wait for oil to turn, whereas throwing money at a breakeven no-dividend E&P play comes with a far higher opportunity cost.
Back To Oil: $40 On Deck?
That digression aside, let's focus on oil's technicals for a minute. The commodity keeps making lower highs and lower lows from February onward, a widely accepted bearish indicator. (Chart of USO)
Unlike the oil stocks, oil itself hasn't broken key support levels yet, but the uptrend from 2016 is gone. And oil has been stuck in range-bound trading for quite awhile now. We're either going to see sub-$40 or over-$60 pretty soon - explosive moves happen after long periods of range trading. And since a falling dollar and OPEC cuts couldn't make $60+ happen, the bears are picking up momentum here.
For the time being, I don't see a compelling reason to try to buy the slide in oil or energy stocks here. Yes, they're down, but the case is building for a much larger washout. If you do want to make a trade here, I'd stick to oil-related equities, such as select emerging market stocks or perhaps consider dollar-cost-averaging into some of the cheaper large yield-y oil companies such as BP (BP) - the US dividend ones remain overpriced.
Another option are the oil-related shipping companies. J Mintzmyer's Value Investor's Edge is the best place to learn how to take advantage of the opportunities that oil's volatility is creating in these stocks. VIE also includes some of my work, including first-looks at my upcoming top ideas.
Disclosure: I am/we are long BP.
I wrote this article myself, and it expresses my own opinions. I am not receiving compensation for it (other than from Seeking Alpha). I have no business relationship with any company whose stock is mentioned in this article.