On May 18, 2017, Activision (NASDAQ:ATVI) and Bungie revealed more information regarding Destiny 2. While it was anticipated the game would be released for PC, still one thing came unexpectedly. In the announcement that surprised everybody, Bungie revealed the second chapter of the bestseller would be exclusively available via Battle.net on Windows PC. The implications of this fact will be discussed in this article.
Battle.net or Blizzard Launcher
Battle.net is a digital platform developed by Blizzard which is used primarily to manage the digital distribution of content. Blizzard uses the platform to sell its games, like Diablo, Overwatch, or Starcraft, therefore not publishing on similar platforms like Steam or GOG.
In March, the company began a transitioning from the old name Battle.net to Blizzard Launcher. However, it is interesting to note that during the actual presentation, Blizzard Entertainment president called the service its old name. Later, the company claimed they made "an exception" only for the Destiny event, thus showing they want to play on gamers' associations with the old and familiar service.
Publishing Destiny 2 on Battle.net
So, what does publishing on Battle.net mean for Destiny 2 and its publisher Activision? The first thing is the fact, that Destiny 2 will be the first non-Blizzard game released on Battle.net-Blizzard Launcher. This should make a precedent for the future partnerships between Activision and Blizzard, thus creating a promising synergy.
Secondly, Destiny 2 players will have access to all the functionality of Battle.net, like chatting with friends, streaming to Facebook (NASDAQ:FB), and seeing if their friends from this long-established platform are online in the game or playing any other Blizzard game.
The most important fact, however is that Activision Blizzard, as a corporation, will profit significantly from this partnership in terms of publishing fees. Hence, the platforms like Steam take around 30% from all PC games sold through the platform. This pricing is similar across other platforms like PS Store or GOG.
Therefore, by publishing on Battle.net, Activision retains this 30% of PC sales inside the corporation, albeit probably paying this fee to Blizzard. For the games of Destiny's scale, this percentage makes a significant difference in terms of profitability. Thus, one year after the release, Activision reported 20 million players characters were registered in the game. In Q1 2015, Destiny and Hearthstone combined provided more than $1 billion in revenue, according to the company's press release.
As a result, assuming Destiny 2 will be as successful as the predecessor, Activision will retain a substantial amount of earnings inside the corporation while profiting even more from the gaming synergies created by Blizzard's platform.
Destiny 2 - a better game?
The question arises: Is Destiny 2 a better game, and will old players go and buy the sequel? It is likely, yes. Bungie added a lot of new content to the game, changing settings and perception of the gameplay. Moreover, the developer enhanced the campaign story, claiming more cinematic storytelling will be provided, responding to the criticism of the first game's campaign. Additionally, PC version will most likely attract many players who had no ability to play the prequel.
Therefore, I believe Destiny 2 sales will likely be impressive when the game is released in September.
Invest in ATVI?
If the game is promising for Activision, and the corporation will make even more money on it by publishing on Blizzard's platform, does it mean it is time to invest in ATVI stock? I do not believe so.
First of all, the stock has already increased by more than 60% year-to-date. Secondly, it trades at a hefty P/E of 43.3, which is 7 points higher than Electronic Arts (NASDAQ:EA), its main competitor, even after EA soared 30% in 3 months.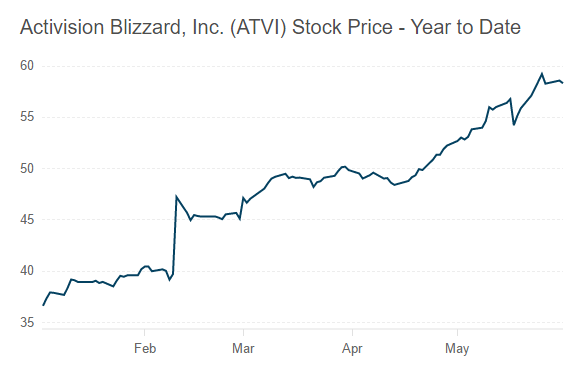 (Source: Graphiq.com)
Additionally, Activision's ROA, ROE and net margin have not been very impressive over the last years. This is likely to change in the near future, but investors should be cautious.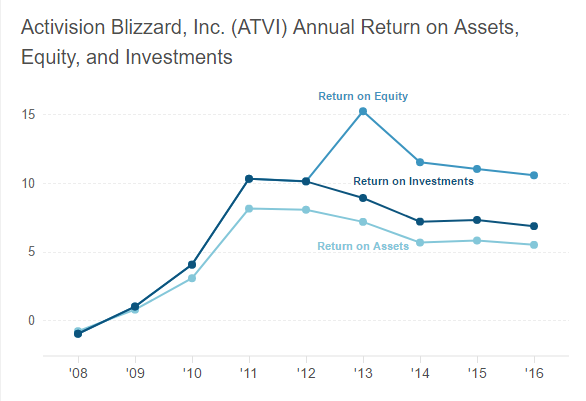 (Source: Graphic.com)
To find a reasonable price for making an investment, I use DCF model to value the stock.
The analysis is based on certain assumptions.
1. The average annual revenue growth rate over the horizon period of 5 years is estimated to be around 16%, with a 20% increase in 2017. This complies with the results of Q1 2017, and will be achieved primarily by the success of Destiny 2.
2. The average EBITDA margin will be around 36%, which is a conservative assumption, taking into consideration higher returns will be achieved by retaining platform fees in the future.
3. The after-tax cost of debt is 1.6%. The cost of equity capital (14.2%) is computed using CAPM, with 0.94 beta, a 2.3% risk-free rate, and 15% market return. The WACC is, therefore, 13.01%.
Under the base scenario, which assumes 13x EBITDA terminal value, the fair share price is $55.2. The sensitivity analysis shows a range of possible outcomes that will be driven by actual results of the corporation.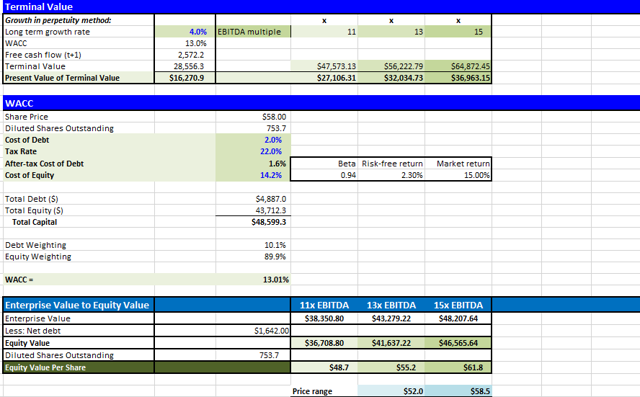 Therefore, the fair price range is $52-58.5. Currently, the stock trades at the level of $58.3, which does not provide a sound margin of safety for making an investment.
Conclusion
Activision Blizzard chose a very beneficial strategy for distributing Destiny 2, one of the most anticipated games of the year. The sequel is likely to provide a significant profit for the corporation, as the game seems to be promising, and 30% platform fees will be retained in the company.
However, I find the current price level of ATVI stock to be too high to warrant an investment. A drop below $52 would provide a margin of safety for investors.
Disclosure: I/we have no positions in any stocks mentioned, and no plans to initiate any positions within the next 72 hours.
I wrote this article myself, and it expresses my own opinions. I am not receiving compensation for it (other than from Seeking Alpha). I have no business relationship with any company whose stock is mentioned in this article.