The U.S. stock market seems ripe for a fall, as 0 per cent dollars (courtesy of the Federal Reserve) has forced more money into the stock market-to seek better returns than money market or savings account. Even the smallest interest rate rise, will cause a market sell off to raise cash. The Fed created this debt bubble through Quantitative easing and near 0 per cent interest rates. We will have to suffer the consequences of much too easy money, and faltering confidence three months in a row.
"With total U.S. non-financial credit now standing at $47 trillion, every 1% increase in market rates causes total interest charges in the U.S. to soar $470 billion, or over 2.5% of GDP." (Trey Reik-Sprott Gold Report-January 2017).
I cannot fathom how the Federal Reserve plans to raise interest rates, which threatens to trigger numerous defaults, and asset sales would certainly be initiated to cover this transfer of payments. If our economy was growing at 5% per year, maybe it would be hypothetically plausible, but did we not just see First Quarter GDP revised to .7%? That is closer to a recession than a growing economy and where will strapped consumers find the money to pay the service on their growing monthly credit charges?
If we do see another financial crisis occur-will the Fed play the Quantitative easing game again and add more debt and lecture us on how we had to save the financial system (Wall Street and foreign banks). China recently had their debt downgraded by Moody's and the European Union is a train wreck with the United Kingdom preparing to exit, and Greece in deep financial distress. I am not buying "the economy is growing stronger" line being spouted by certain Fed Governors and financial cable media reporters. The labor force participation rate is an inconvenient but powerful reflection of our economic distress.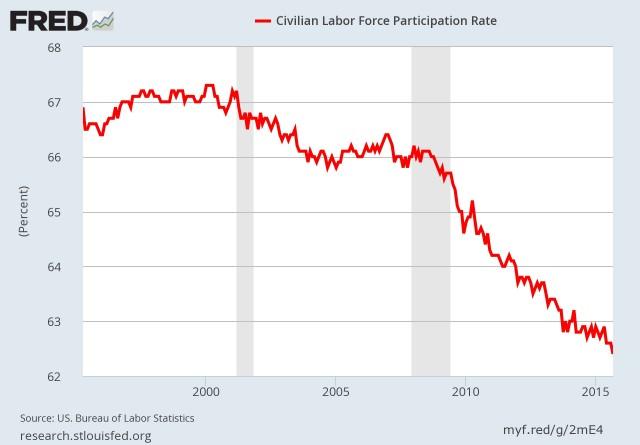 China has been recently selling U.S. dollars from their currency reserves, as their central bank has been supporting a strengthening of the renminbi, partly in an effort to stem the outflow of their currency.
It appears that international "money" is looking for somewhere to go and while the U.S. stock market has been an attractive destination the last few years, many doubt that our equity prices will remain levitated. It certainly feels like we have forced money into the stock market, partly due to the zero yield in money markets and savings accounts. Everyone desires an adequate return on their investment, and 0 is not attractive.
Interest rates simply cannot rise much without a counter effect to the negative side of the ledger. If individuals and households are forced to pry more cash free to satisfy growing credit payments-they will be forced to sell out from some of their stock assets. That will trigger a market decline, and with the major currencies all under pressure, I see a move into hard assets. Silver and gold would be two of the most precious of hard assets and Pan American Silver (NASDAQ:PAAS) is a silver & gold miner destined to rise during a race to secure safe haven assets.
Disclosure: I am/we are long PAAS.
I wrote this article myself, and it expresses my own opinions. I am not receiving compensation for it (other than from Seeking Alpha). I have no business relationship with any company whose stock is mentioned in this article.
Additional disclosure: I sourced quote from Sprott Gold report January 2017, but could not find the direct link. I saved the PDF and dropped in above box.