If you've been following bank stocks lately, you've seen their stock prices trend lower along with Treasury yields as hopes of Trump's agenda passing this year fades. Whether we agree with the market's assessment of future conditions or not, we have to expect pullbacks and possibly corrections to the Trump bank rally.
As a result, focusing on the fundamentals such as economic growth, loan growth, and the Fed are just a few of the factors that will be imperative for investors to consider before going long financials.
In this analysis, we'll analyze Bank of America (NYSE:BAC) as it relates to JPMorgan Chase & Co. (NYSE:JPM), and Wells Fargo & Co. (NYSE:WFC).
This is an update to my prior article in March of these three banks before the Q1 earnings releases.
In this analysis, we'll be focusing on comparing P/E and Forward P/E ratios for our three banks.
In full disclosure, this article is not a comprehensive analysis of Bank of America or bank stocks. I am not a financial advisor, and we will only be analyzing a few of the many fundamental and economic factors that go into driving the stock price and profitability of BAC. Before making any investment decision, please contact your financial advisor. And of course, any analysis of past performance does not guarantee future results.
P/E Ratio Analysis: (price versus historical earnings)
Below is the P/E ratio growth percentages over the past year with BofA surging the most out of our three banks. However, P/Es have corrected substantially from their highs with BofA taking the brunt of the P/E correction.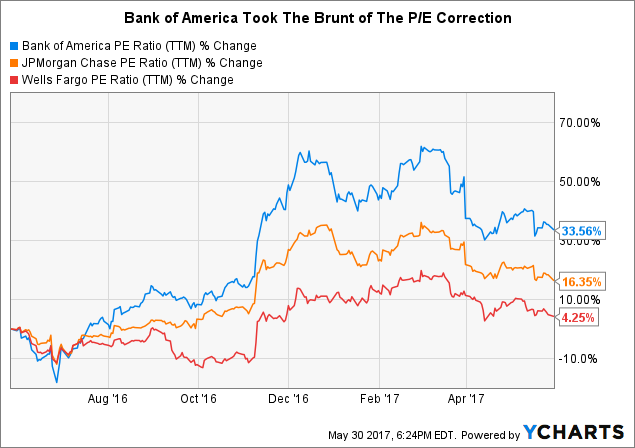 The large correction in P/E for BofA makes sense given it had the largest price move over the same period or 54%.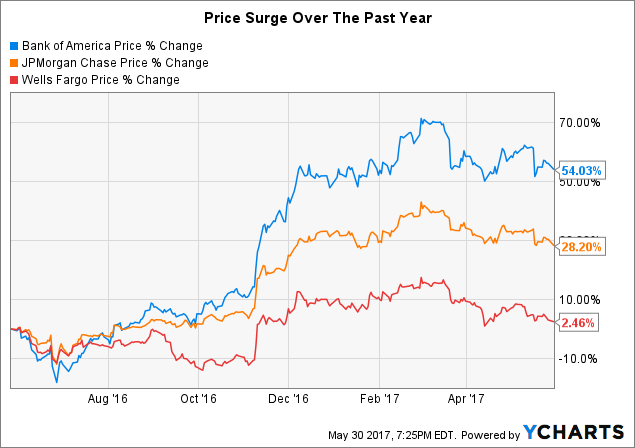 YTD P/E ratios have fallen back to Earth as Treasury yields have retraced and growth expectations have waned.
The fall in yields comes despite the market seeing a very high probability of a rate hike from the Fed in June.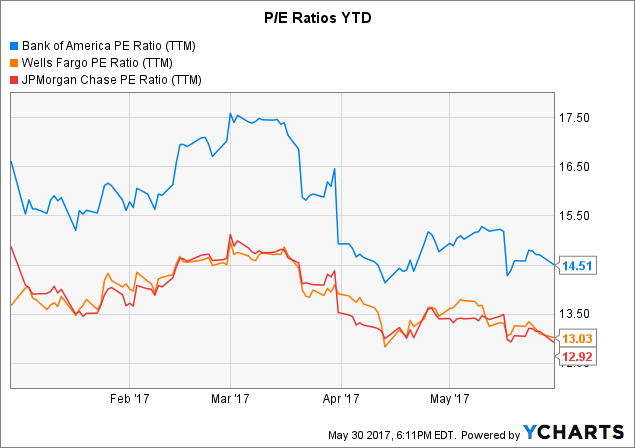 BAC PE Ratio (TTM) data by YCharts
YTD percentage change in P/Es:
So far this year, both JPMorgan and BofA have had their P/Es fall by roughly 13%.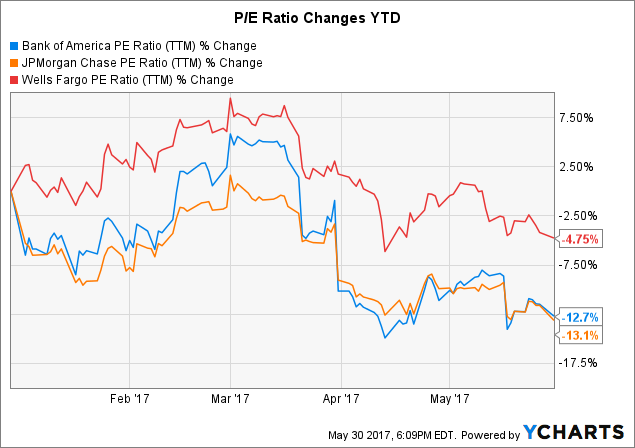 BAC PE Ratio (TTM) data by YCharts
To put these numbers into perspective, as recently as March 1st, and prior to the Fed hike, BofA's P/E was over 17 as illustrated in the chart below.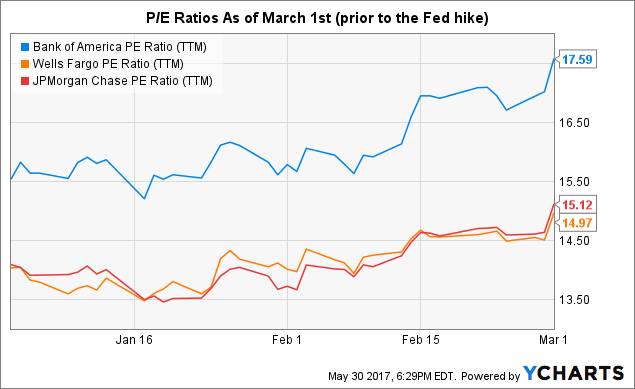 BAC PE Ratio (TTM) data by YCharts
The YTD percentage change in bank stock prices shows a less dramatic fall given the pullbacks in P/E ratios. In fairness, the prices are off quite substantially from their highs in March.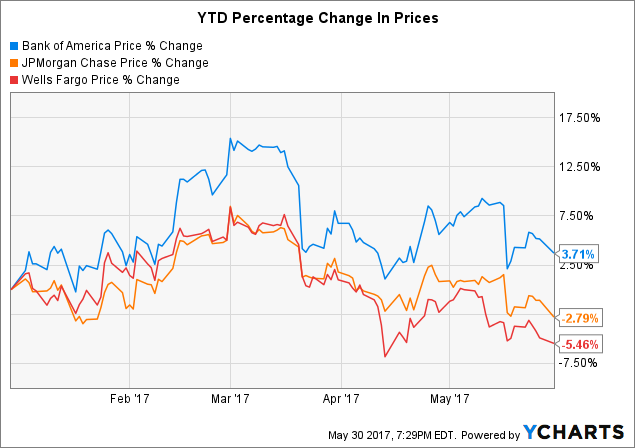 However, if you had invested in our three banks at the start of this year, your investment would be roughly flat for Bank of America and negative for JPMorgan and Wells Fargo.
When comparing the YTD price retracements to the pullbacks in P/E ratios for our three banks, the market may be indicating that the "E" is correcting more than the "P".
The quarter-to-quarter differences in earnings performance results are becoming less dramatic as banks have finally emerged from the doldrums of the financial crisis. In other words, we're no longer comparing the current quarter or year to a disastrous prior quarter or prior year. And that's a good sign for the economy.
Forward P/E Ratio Analysis: (Price versus expected future earnings)
The forward P/E for BofA is now in line with JPMorgan and Wells Fargo perhaps indicating the market has finally begun to adjust future growth expectations lower and also may indicate the frothy bank surge might give way to a more healthy and steady long-term upward trend.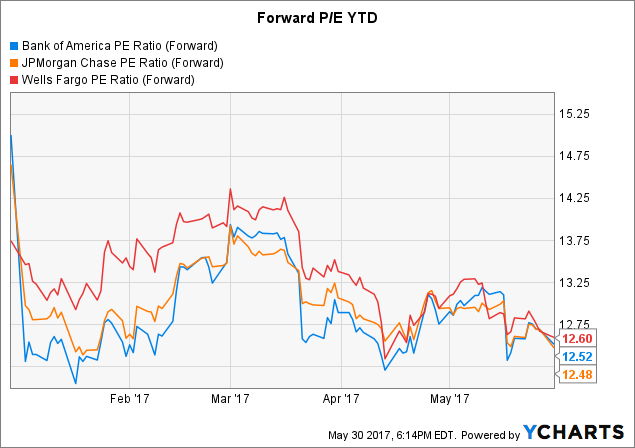 BAC PE Ratio (Forward) data by YCharts
Key Takeaways:
The P/Es and Forward P/E ratios outlined here make a good case that BofA is now valued in line with its peers; at least strictly from a P/E ratio standpoint. There are many factors that go into valuing a bank and its stock price. This article is by no means, an exhaustive analysis.
Going forward, we must adjust to the likelihood that quarter-to-quarter performance differences for our three banks, may be less dramatic. In other words, fewer blowout numbers when compared to prior quarters. This is especially true for Bank of America since it has now fully emerged from the depths of the lows from the financial crisis.
Steady economic growth and subsequently rising Treasury yields should put Bank of America in a great position to rise in the long-term. Bank of America's business loan portfolio tends to favor variable rate loans called commercial and industrial loans or C&I loans. As a result, BofA stands to benefit the most out of our three banks from a jump in yields. JPMorgan would likely do well too, although the move might be less dramatic.
For long-term investors, if economic growth and yields firm up and begin an upward trajectory, the key will be spotting attractive entry points on any dips. It's human nature to want to get in early while the rally is young, but if we have patience, we can ease into multiple positions over time on dips, when we're sure the fundamentals have aligned in our favor.
A final risk management note:
BofA's P/E may correct lower bringing it inline with its peers. P/E is a widely followed metric for investors, and if the P/E of BofA remains at a premium to its peers (currently 14.5 vs 13 for JPM & Wells), the result may be a lack of follow-through buying on rallies.
As a result, your stop loss orders might get triggered more often as sellers unwind long positions if the P/E differences outlined in this article become too dramatic.
As stated earlier, a surge in yields should bolster BofA's stock, but the opposite can be true as well. If geopolitical concerns mount and risk-aversion takes over the markets, a flight-to-safety might ensue. As a result, investors may pour money into Treasuries sending bond prices higher and yields lower, which would likely put pressure on the stock price of Bank of America.
More articles to follow analyzing Bank of America, financials, the Fed, and Treasury yields in the coming days and weeks.
Good luck.
Author's note: If you like this article and would like to receive email alerts stay up to date on Bank of America, please click my profile page, and click the "Follow" button next to my name, and check "Get email alerts" to receive these articles sent via email to your inbox. You can also find the "Follow" button at the top of this article next to my name. And of course, feel free to comment below if you have any questions, or send me a private message by clicking the "send a message" link on my profile page.