This article is the third in a series on the Canadian banks. If you missed the first 2 on the Canadian Imperial Bank of Commerce (NYSE:CM) or Toronto-Dominion Bank (NYSE:TD), you can find them here and here.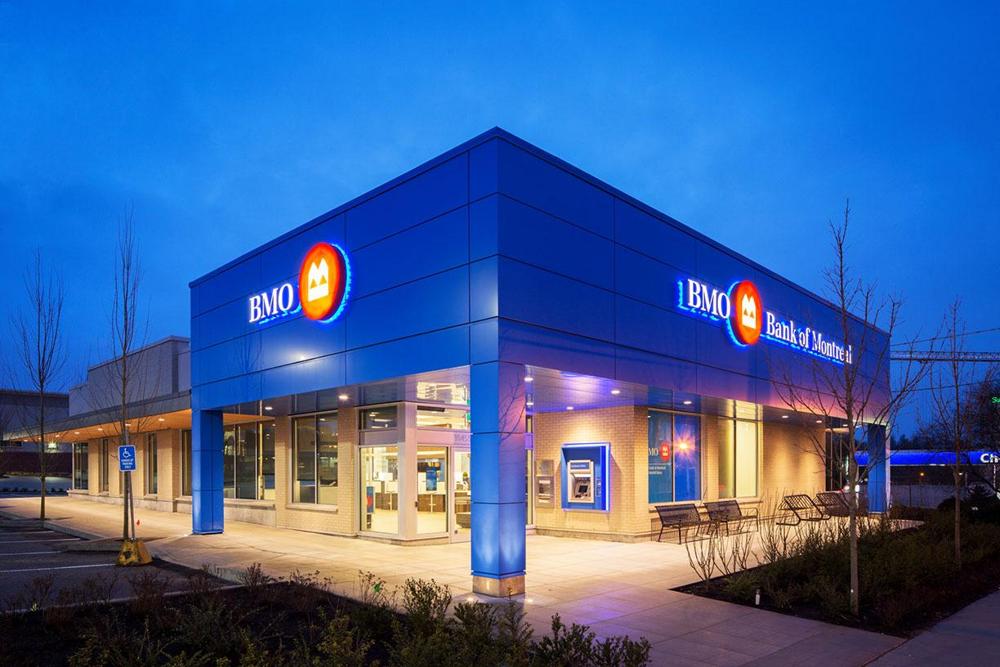 The Bank of Montreal (NYSE:NYSE:BMO) has an impressive record with the longest streak of consecutive dividend payments among any Canadian company, at 188 years. BMO has seen slowing growth in some segments, but the bank maintains the strongest position in ETF's and investment vehicles among the Canadian banks, and the lowest exposure to the housing market. Although other banks offer either better value or stronger growth, BMO is a strong choice for those investors nervous of housing prices in Canada.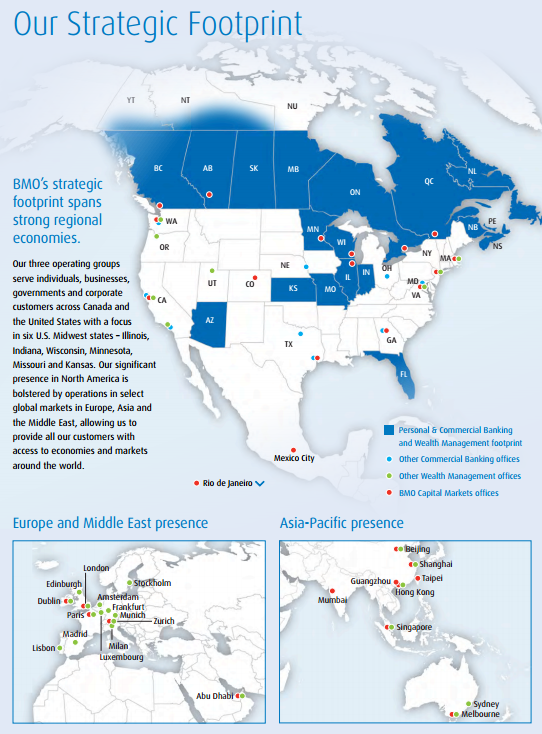 The most recent quarter saw strong net income growth of 12%, adjusted down from 28% reported, and adjusted EPS growth of 11% (27% reported). The bank's net income is well diversified, with 60% coming from P&C banking and 40% from wealth management and capital markets. Additionally, BMO has strong operations in America, notably in the midwest, and a small presence internationally.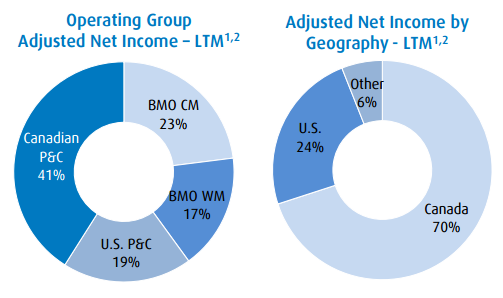 BMO's Canadian banking segment saw a 1% gain in net income, with a 3% revenue boost yoy. Loans grew 5% and deposits grew 8%, which is short of Toronto-Dominion Bank (NYSE:TD)'s 11% deposit growth, but strong nonetheless. The big story in Canadian banking has been the introduction of new technological offerings which has created a very competitive landscape. Expenses have been rising as the big 5 banks have pushed to be the first to market on new offerings that improve the customer experience. Some of these are basic, like mobile app functionality and fee reductions. This last quarter, BMO launched free unlimited e-transfers, and the bank was recognized by research and advisory firm Celent with the 2017 Model Bank Award for their improvements in technology. Over 50% of the Canadian banking customers now engage with the bank digitally in some way, and over 30 million mobile transactions have been conducted so far this year. Sales via digital channels now account for around 16% of product sales, which shows the payoff for investing so heavily into the segment. Canadian P&C Group Head Cam Fowler had this to say on the earnings call:
A couple of them are digital penetration, which for us is really important, right about 50% right now and we would like to get 70%; we're up from 30% just a couple of years ago. And then digital sales is another one, 16% now; I expect we will be at 18% to 19% digital sales by the end of the year which is up from 12% two years ago and we're travelling to 30%. So, we need to spend that money to hit those numbers., hitting those numbers gets our multichannel engagement up, and when our multichannel engagement is up, our loyalty is up…
With the rise in digital penetration, expenses rose 5% for the bank. This is mostly in-line with expectations, and it continues to be important for the bank to invest to maintain market share.
The American P&C segment wasn't quite as positive. Deposits were flat YOY, with personal deposits growing 6% and commercial loan growth of 5%. The easy comparison is to the leading Canadian bank in America, TD. TD saw 9% deposit growth in its American segment. This comparison is tough, and Royal Bank of Canada's (NYSE:RY) American segment through City National Bank saw double-digit deposit growth.
BMO drove 3% deposit growth and 6% loan growth in its American segment last quarter, so I wouldn't call it a trend just yet, but investors should be wary of this under performance. All of the Canadian banks save The Bank of Nova Scotia (NYSE:BNS) derive a strong amount of their growth from America, and to see that segment performing poorly can be a cause for concern.
Wealth Management
∙ Net revenue up 17% Y/Y reflecting a prior year investment write-down, underlying business growth and the impact of improved markets
∙ AUM/AUA up 13% Y/Y due to improved equity markets and underlying business growth
Our traditional wealth business had good AUM, AUA growth of 13%. This quarter, we added four global sector ETFs for a total of 90 listings since first launching ETFs in 2009, BMO Asset Management has captured the most inflows in the Canadian ETF industry for the past six years.
Where BMO generally shines is in its investment offerings. The bank saw 12% net income growth in its Capital Markets business and its Wealth Management business drove AUM/AUA growth of 13%. The success of the push into robo-advising and a wide selection of ETF's set BMO apart. The continuing trend towards passive and lower fee investing will be a tailwind for the bank, but it also leads to more competition. Canada's product offerings are not as diverse as America's, which will insulate BMO from some of the worst pricing competition felt south of the border.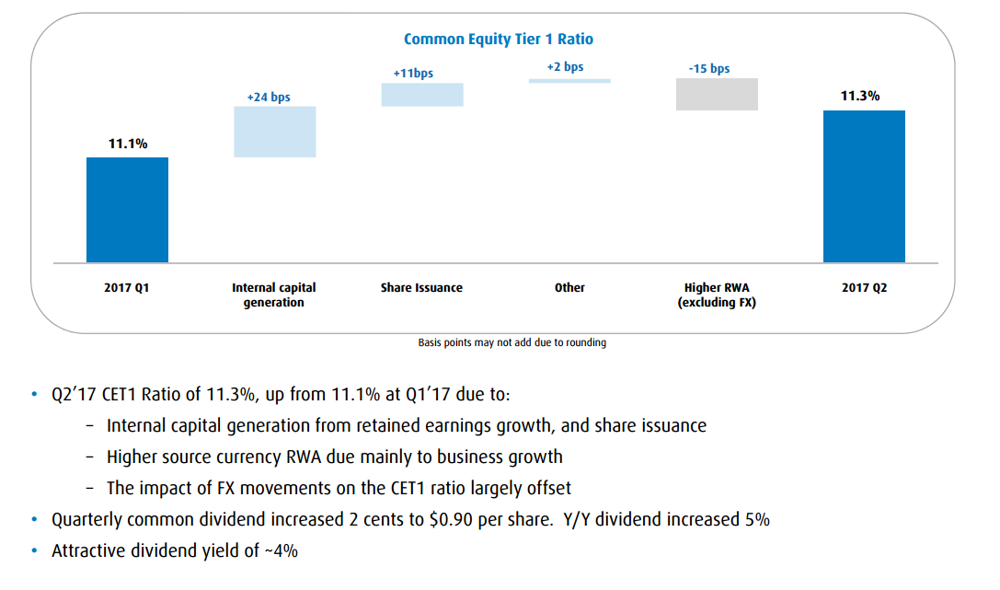 The CET1 ratio is a Basel III mandated measure indicating the financial strength of a bank. Strong internal capital generation led to BMO expanding its ratio from 11.1% to 11.3% sequentially, and this figure remains significantly higher than the required 6%. All of the big 5 have maintained excellent CET1 ratios over time, and it's a testament to their size and financial stability.
BMO's provision for credit loss ratio went up YOY, ending at 28 bp's. The PCL ratio is the amount of debt that is considered bad or unlikely to be recouped to the total loan portfolio. 0.28% is not a dangerous level, but the trend is important to watch for any bank to maybe see an issue before it becomes bigger.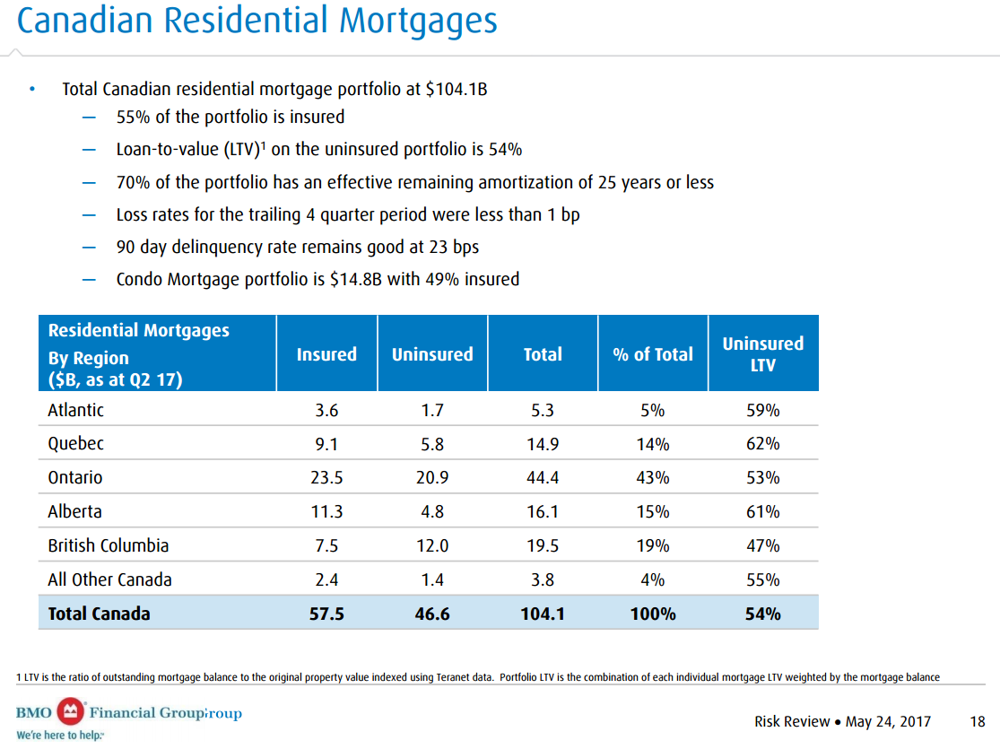 I continue to feel that the Canadian housing market does not pose a significant risk to the banks at this time. The pockets of inflated housing prices in Toronto and Vancouver (although Vancouver's prices have been curbed by governmental legislation recently) are concerning, but they don't represent a systemic problem with the Canadian housing market. I don't base this on a gut feeling. Mortgage insurance is required for houses with a down payment less than 20% through the CMHC, and the loan-to-value ratios are significantly higher in Canada than those in America. The average Canadian has more equity in their home, and delinquencies have consistently remained lower. With the higher loan-to-value ratios, housing prices are less likely to cause a homeowner to sell their house.
With all that being said, BMO is the least exposed of the big 5 banks. If you wanted to add exposure to the Canadian banks, but you still harbor fears over the housing market, BMO is likely a strong choice. Residential mortgages only make up 29% of the bank's total loan portfolio, with consumer overall making up about half.
Management sees the Toronto and Vancouver areas as having no issues, with better loan-to-value ratios, delinquency ratios, and credit scores than the national average which is consistent with the other banks. Cam Fowler had this to say on the call:
First, I'd just reiterate the point that Bill made off the top, which is against the back drop of the broader industry, our book is smaller relative to peers, nationally; it's true in Toronto in particular. It's difficult to judge right now what the impact of the various changes that have been announced will be, but I will say much like we experienced in Vancouver where we were growing at marketish, changes happen in the market; we felt that in our pipeline and in our growth we follow. And we are starting to see signs of that in Toronto here where you'll have seen the news that sales are down in the mid-teens, listings are up 45%, 46%, prices are growing at a rate half of what they were; that's a couple of weeks of data, not a month. But early indicators are that we will start to see some softening. And from my own perspective that is good, softening in the Toronto market is a good thing and looks like that may be where we're headed.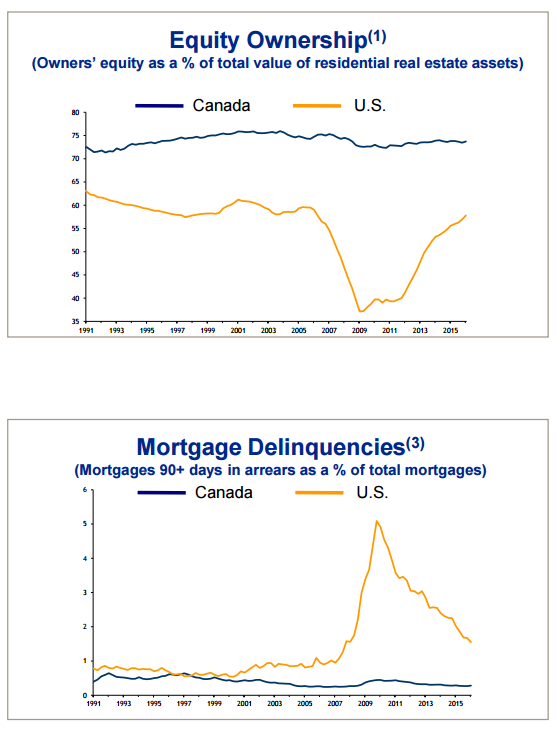 BMO achieved a return on equity of 12.6%, down from 13.8% in this quarter last year and 14.9% sequentially. The Canadian banks tend to have stronger returns on equity, with CM generally having the highest (least diversified) and RY coming in second. Return on equity is a good metric to look at to see how well a bank is driving profitability. BMO's was low this last quarter, and it is typically among the lowest of its peers.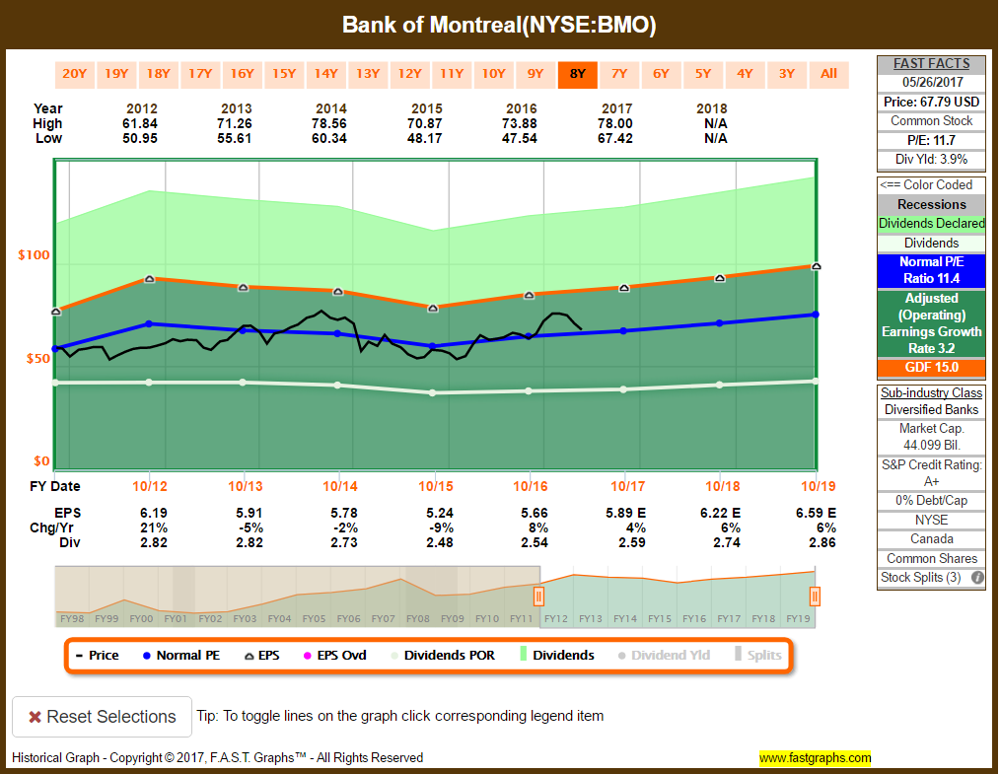 BMO is trading around its average long-term valuation today, between 11 and 12X earnings. The bank is trading around its long-term dividend yield, or slightly below it. Based off of this alone, I would consider the bank to be trading around fair value today.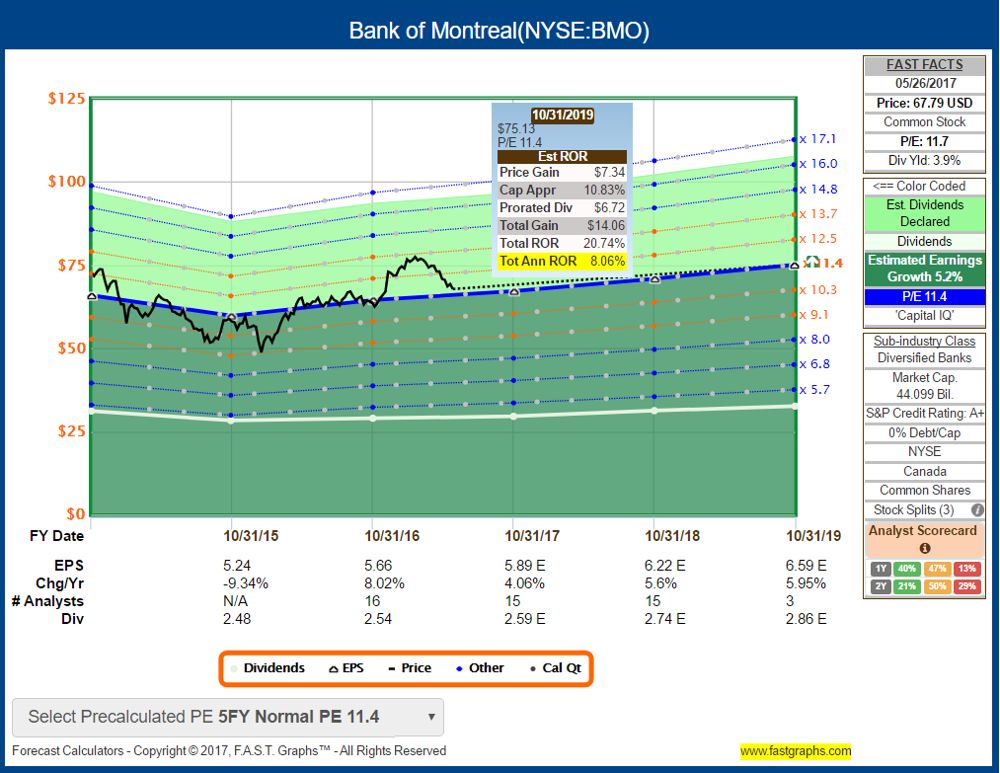 Looking at analyst estimates from this level, an investment in BMO today would yield around 8% annualized. The bank's lower exposure to the Canadian housing market may be an attractive feature for some investors. BMO is well-run and should continue to grow well, especially in its ETF's and robo-advisory services. However, weak results in American banking, lower returns on equity, and a lower yield all combine to make me think that there are better options.
If you liked this article and would like to read more covering the Canadian banks, please click the "Follow" button next to my picture at the top and select Real-time alerts. Thanks for reading and please leave a comment below.
Financial statistics were sourced from Morningstar, with the charts and tables created by the author, unless otherwise stated. This article is for informational purposes only and represents the author's own opinions. It is not a formal recommendation to buy or sell any stock, as the author is not a registered investment advisor. Please do your own due diligence and/or consult a financial professional prior to making investment decisions. All investments carry risk, including loss of principal