First quarter GDP growth was revised upward in the United States to 1.2% versus the first look of 0.7%. Economists expected a print of only 0.9%. While although this was better-than-expected, this may very well be our "sweet spot" for economic growth rates. This economy is over 70% driven by the consumer. When you consider personal income growth rate, and you look at the contraction in lending for homes, autos and credit cards, I do not see a higher growth rate in the economy; GDP growth rates will be stuck in low gear for some time.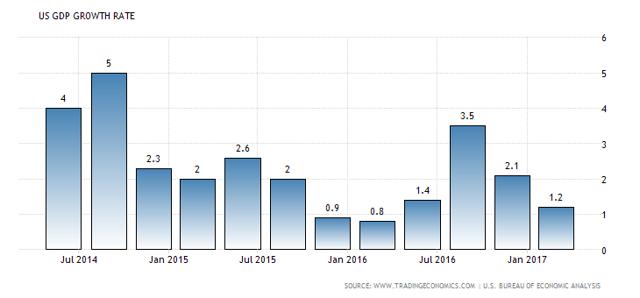 Personal Incomes
Personal incomes have mellowed over the past several months. Our economy is driven primarily by consumers. Since Americans largely spend all of their incomes, if you look at the rate of growth in personal incomes you can see the rate of growth in expenditures. As the chart blow shows (My Chart), both are moderating considerably (Blue line: Incomes, Red line: Expenditures; Data via BEA.gov):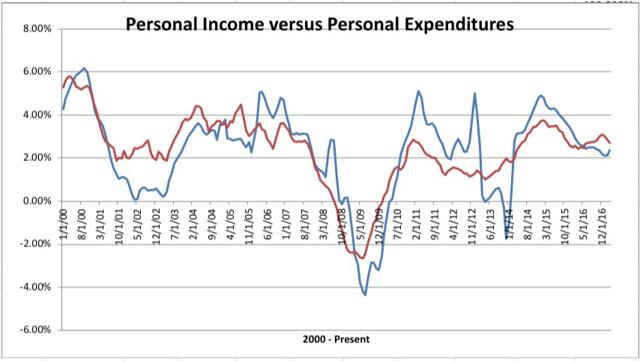 This chart is the first chart I look towards to sort out the trend in the economy. My sentiments are that the economy is neither booming nor busting but instead growing at a sub-par level and will continue to do so. The rate of growth in incomes is not enough to push the rate of growth in expenditures higher. There is growth in incomes it is just that the growth rates are on the lower end of this chart. If the rate of growth in incomes were upwards of 5.00%, I would be more bullish on this economy. The numbers comes in slightly above 2.00%.
What is more, there is nothing in the pipeline to artificially push the growth rate higher. The Fed is tapering out its hyper-accommodative policies. The federal government does not look like it will put together tax cuts, infrastructure spending or anything else that might propel the economy forward.
Consumer confidence
Confidence is one of the more important aspects of the economy. Currently, confidence is suggesting that the economy is improving. However, this is soft data. There has not been an in-kind move higher in consumer spending. A comparison of both shows how confidence has advanced beyond the growth of retail sales. It seems odd that consumers would feel confident but not act on that confidence with purchases.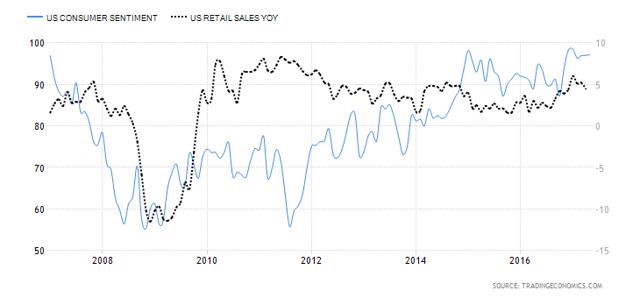 In fact, retail sales have been declining: Confidence is up around levels we usually see when the economy is in a boom cycle. This economy is far from booming nor is there an impetus to push this economy into that type of cycle. Retail Sales year-over-year expenditures are currently below 5% and I believe that this will drop downward over time. We have been seeing negative numbers month-over-month.
Federal Reserve balance sheet
The Federal Reserve has let us know that they are going to be shrinking their balance sheet. This process is going to remove liquidity from the system. With this, the federal government is going to lose their biggest customer, the Federal Reserve. This will push the long end of the yield curve higher.
The Federal Reserve had one intention in mind when they purchased these bonds: push interest rates as low as they can. Now, the opposite is going to happen. Interest rates on the short end are going up - I do not believe we will see large increases going forward but are likely to have to pause around 1.50%. I do not see the economy sustaining large rises in interest rates. This process of normalizing interest rates is likely to take a long time.
But, with the long end of the curve heading higher I see this as restricting an economy that is already expanding at a below average rate. Mortgage rates are already heading higher. This has already begun to limit home purchases. We have seen a small decline in the past few months with existing home sales and new home sales.
Mortgage rates and everything else that goes off of the long end of the curve will rise. Less homes will be purchased. Less mortgages will be refinanced as the cost of these mortgages goes higher. Right now, the 30-year mortgage rate is sitting at about 4.163%. If the mortgage rate moved up to 5.50% that would mean a 16% increase in the monthly mortgage payment of the median home cost in America. Incomes are not rising that fast so I have a tough time seeing how Americans can increase their expenses that much.
Lending
Lenders are tightening their criteria. Towards the end of 2016, there was a great deal of borrowing for autos and via credit cards. Now, however, the 90-day delinquency rate is increasing. It seems the lenders were lending to sub-prime individuals when they did these auto loans. Now, these creditors are starting to feel the increases in the delinquency rates. They are having to set aside extra money for loan loss provisions. This will restrict their future lending capabilities. Loans to the economy are what tend to be the thing that pushes an economy forward. Instead, there is a tightening of standards and a restricting in lending. The economy could really use more of this to push for a larger expansion. Instead, the economy is getting less.
Inflation
The big crux for inflation is the Fed's balance sheet. At this point, I see any potential from the excessive balance sheet adding more to inflation than anything else. And, considering the amount of the balance sheet the levels of inflation could be massive. Many believed that Greenspan left interest rates too low for too long after the 2001 Dot Com recession. Back then, interest rates were a mere 1% and only at those levels for what feels more like a weekend compared to what we are seeing now.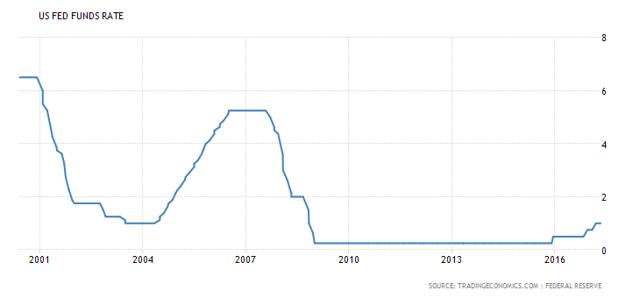 The Fed stepped in to the bond market and pushed interest rates down well below where Greenspan had rates back in 2003. An, the length of time is far, far greater than how long interest rates were as low as they were.
Let me be fair, however, the two economies were considerably different; the Dot Com era recession was slight, at best, compared to the what has been called The Great Recession.
Plus, there were no bond purchases along with the interest rate moves. However, it is difficult to compare the two economies, if not outright impossible. There are some who argue that this was one of the steps that created the 2008 economic bubble. If that was too low for too long, what potential could interest rates at these levels along with all of the bond purchases have in store for the economy?
Personally, I think the Fed is going to be forced to move quickly as asset prices get out of hand. Consumers may not see gas prices head higher, or food, clothing, or, any other traditional sign of inflation. Instead, asset prices are likely to be disproportionately higher.
Because the Fed has to move as they will I think the long end of the curve is going to move up sharply while the Fed shrinks its balance sheet. That will mean less homes purchased. The real estate industry is likely to be restrained from that.
Overall
More and more, we are getting economic data that is suggesting this economy is less and less robust that we thought. I got sucked into the hype of a new presidency with increasing consumer confidence. That confidence is still high, but is not translating into any real economic growth. Eventually, without real income growth, and then coincidental expenditures to drive the economy, our economy will get stuck right here in a lower-than-potential growth rate.
The Federal Reserve is still going to push short term interest rates up higher. While the economy may not be steamrolling ahead, having excessive policy accommodation would be, well, excessive. That would not necessarily stimulate the economy as much as it would affect inflation.
I do not see anything with regard to increases in incomes that would push them higher. In fact, Non-Farm Payrolls are due for the month of May this week and I think this number will be low. If the economy produces less and less new jobs it will be more and more difficult for a consumer to demand a higher wage.
With incomes being benign, inflation's rate of growth slowing, lending becoming more restrictive and consumers reigning in spending, I see it being nearly impossible for this economy to all of a sudden expand at impressive and significant rates. I do not necessarily see a recession, but, instead, a very low-growth economy.
This economy could really use a shot-isn't-the-arm with stimulus of some kind, but, regrettably, that won't happen from the current administration. Instead, we are likely to just meander very slowly forward economically.
Disclosure: I/we have no positions in any stocks mentioned, and no plans to initiate any positions within the next 72 hours.
I wrote this article myself, and it expresses my own opinions. I am not receiving compensation for it (other than from Seeking Alpha). I have no business relationship with any company whose stock is mentioned in this article.