As I recently wrote about Tencent (OTCPK:TCEHY) and Weibo (NASDAQ: WB) in What you should know about Tencent and Weibo, A Winner In China's Internet Celebrity Economy, I am positive on both of them.
The social platforms of the two companies are considered core assets for both of them, i.e. WeChat and Weibo, respectively. As the monetization of their social platforms are undoubtedly key value drivers, I would like to provide a brief analysis on the key differences between WeChat and Weibo.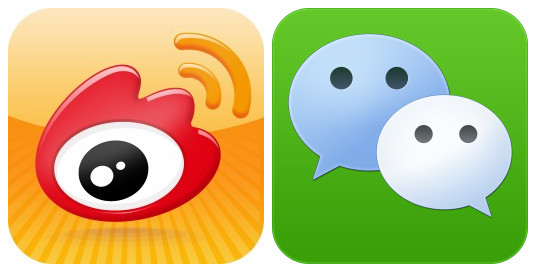 Source: Internet
Basic data points
Mobile native WeChat was launched in 2011. Web version is available as well.
Weibo was launched in 2010, initially on PC and mobile app was available.
WeChat: 938 million MAUs (Monthly Active Users), ad load 1%.
Weibo: 340 million MAUs and 154 million DAUs (Daily Active Users), ad load 4.1%.
Product
WeChat is a closed social communication platform that inherits its gene of "communication" from Tencent. The use of WeChat is considered "rigid demand" just like we need mobile phones. WeChat is a social tool with certain media features.
WeChat relies on strong and two-way connections. The speed of information dissemination is relatively low but consumption rate is high.
Weibo is an open social media platform that reflects the "media" nature of Sina.com (Weibo's parent company). Weibo is not as "rigid demand" as WeChat, instead it is driven by the desire of information sharing or information gathering. Weibo is a media tool with certain social features.
Weibo instead is based on weak and one-way relationship. The speed of information dissemination is extremely high and broad.
User demographics and geographic distribution
WeChat has a higher penetration in 1st tier and 2nd tier cities, as those users have well established and broad social relationships. Users enjoy the closed network. WeChat users are relatively mature compared with Weibo's users. WeChat favors ordinary people.
Weibo has a higher penetration in 3rd and 4th tier cities, as those users have relatively simplified social relationships that diminish the value of WeChat. In contrast, users are keen to know what is going on in the world, and Weibo is a unique fit as it offers a breadth of information. Weibo users are the younger generation who are willing to express themselves and hungry for hot topics. Weibo favors celebrities and Internet celebrities.
Content
Text and pictures are the dominant format on WeChat. Although video form is supported on WeChat, restrictions of 20M size and 30 second length make WeChat not so video friendly.
Weibo supports a richer format of content, such as long text (up to 10,000 words) and videos.
Weibo is considered a more powerful platform for content production. Comprehensive V accounts across 45 verticals and multimedia support make Weibo an ideal platform for original content. Weibo has 340,000 orange V accounts and 15,000 golden V accounts.
WeChat supports self-media, and so far, there are 10 million individual users who have created official accounts on WeChat.
From marketer's perspective
WeChat and Weibo are very complementary to each other in this regard.
WeChat binds with mobile phone numbers, and its QR code works like a unique identity on mobile Internet. Therefore, WeChat is an ideal CRM channel for businesses. According to the WeChat User Report 2016, 560,000 companies have created official accounts on WeChat, and this is now considered an important customer service channel.
Weibo is a 1-to-n information dissemination, thus it is an effective platform for companies to build brand awareness and launch marketing campaign.
Monetization
WeChat's monetization pace is relatively moderate. Rmb6.5 billion revenue in 2016 (based on the estimated ARPU $7 and MAU of $938 million) was generated from Wexin Moments.
Weibo's monetization is faster and annual ad revenue reached $57 billion in 2016. Weibo adopted some creative ways to monetize, such as Weibo Q&A.
Summary
WeChat and Weibo are both great social media platforms that are very well positioned for secular growth in China's mobile first economy and Internet celebrity economy, respectively. They differ from each other in each aspect and they complement each other in driving the growth of digital marketing in China.
Disclosure: I/we have no positions in any stocks mentioned, and no plans to initiate any positions within the next 72 hours.
I wrote this article myself, and it expresses my own opinions. I am not receiving compensation for it (other than from Seeking Alpha). I have no business relationship with any company whose stock is mentioned in this article.
Editor's Note: This article discusses one or more securities that do not trade on a major U.S. exchange. Please be aware of the risks associated with these stocks.