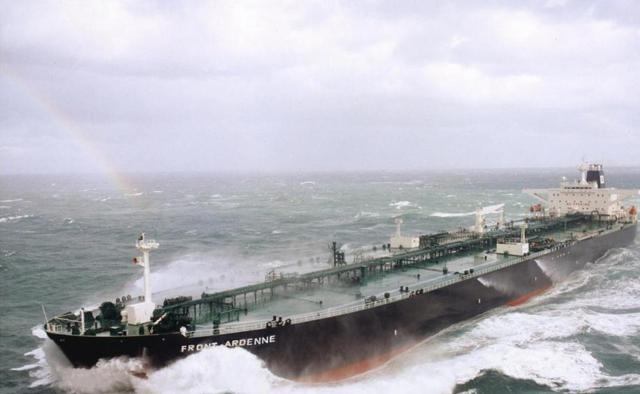 Source: World Maritime News
Ship Finance International (NYSE:NYSE:SFL)
This article is an update of my preceding article on SFL published on March 6, 2017, about the 4Q'16 results.
You can also read the complete and most recent fleet analysis as of May 2017.
For SFL's first-quarter presentation, please click here.
Backlog: ~$3.9 billion in 1Q'17.
M. Harald Gurvin, CFO, said in the conference call:
Looking at our liquidity and capital expenditure, the Company had total available liquidity of approximately $254 million at the end of the quarter which includes approximately $192 million freely available under revolving credit lines. Available for sale securities of $125 million includes divestments in senior secured bonds and other securities with a fair value of $51 million at quarter end and also our 11 million shares in Frontline with a market value of approximately $62 million based on the closing share price Friday.
First-quarter 2017 results snapshot
For the 1Q'17 conference call transcript from Seeking Alpha, click here.
Q1'17
Q4'16
Q3'16
Q2'16
Q1'16
Q4'15
Q3'15
Q2'15
Q1'15
Q4'14

Charter Operating revenues

in $ million

96.88
97.85
93.53
103.99
117.58
113.91
110.71
92.03
90.09
88.66
83.17

Adjusted EBITDA

in $ million

118.68
120.60
114.62
128.05
139.47
141.97
135.51
125.0
127.14
148.8
146.0

Net income

in $ million

32.28
28.53
32.27
38.81
46.80
54.29
45.49
67.94
33.11
45.486
34.59

EPS

in $

0.35
0.31
0.35
0.42
0.50
0.58
0.49
0.73
0.35
0.27
0.37

Long-term debt (interest-bearing)

Total debt

in $ billion

1.177

1.538

1.378

1.553

1.480

1.559

1.547

1.617

1.506

-

1.458

-

1.562

-

1.259

-

1.331

-

1.550

-

1.46

-

Dividend per share

$

0.45
0.45
0.45
0.45
0.45
0.45
0.45
0.44
0.43
0.42
0.41

Cash on hand

$ million

61.55
62.38
63.42
82.02
84.43
70.18
60.28
61.57
49.73
50.82
32.62

Shares outstanding

in million

93.51
93.51
93.51
93.51
93.51
93.47
93.47
93.47
93.41
93.40
93.39
Highlights 1Q'17
Quarterly dividend of $0.45 per share.
13.8% dividend yield(1) Net income of $32 million ($0.35/share) for the quarter.
Aggregate charter revenue of $152 million ($1.63/share).
Adjusted EBITDA(3) of $119 million ($1.27/share). Delivery of second ultra-large 19,200 TEU container vessel in March.
15-year bareboat charter to MSC with full cash flow effect in Q2 2017.
First vessel delivered in December 2016, and total EBITDA contribution from the two vessels estimated to ~$31 million per year. 2 x 114,000 dwt LR2 product tankers to be delivered from shipyard in Q3 2017.
Minimum 7-year fixed time charters to Phillips 66 plus options.
Total EBITDA contribution estimated to ~$11 million per year.
Strong liquidity position
$254 million in total available liquidity at quarter end

> $62 million cash and cash equivalents

> $192 million freely available under revolving credit facilities
$125 million in available for sale securities(1)

> Mainly tradeable shares and senior secured bonds
Commentary and conclusion
Ship Finance International released its 1Q'17 results on May 30, 2017, and it was a solid quarter as usual with total revenues similar to the preceding quarter. The company also declared $0.45 per share in dividend, which represents 13.3% annually based on the close yesterday. M. Ole Hjertaker, CEO, said:
The Board has declared a quarterly dividend of $0.45 per share. The dividend represents $1.80 per share in an annualized basis or nearly 13.8% dividend yield based on closing price of $13.05 on Friday. This is our 53rd consecutive dividend and we are now paid nearly $23 per share in dividends or more than $1.8 billion in aggregate since 2004.
One important topic is the Seadrill (SDRL) restructuring under way, whether it is under a pre-packaged bankruptcy, ordinary bankruptcy or an out-of-court deal. I expect the Seadril's restructuring will have a negative impact on SFL, of course, which gets about one-third of its revenues from the offshore drilling segment, mainly from Seadrill.
The question is: What will the impact on SFL be in term of revenues and debt?
Our guarantee exposure you could say that the Ship Financial exposure is in a worst case scenario is limited to $240 million reducing to $235 million in June. So this is all factors that we will take into any discussion or consideration when we look at what solution could come out.
Unlike many other authors who comment continuously about this totally futile guessing exercise, mainly to aggravate the situation, I will avoid to make assumptions at this stage of the game. At this present time, I see a very limited risk for a lower dividend payout, whereas it is still a possible event that cannot be eliminated. The first-quarter results gave me a comfortable feeling of certainty, and this is the main concern for long shareholders as myself.
While the outcome of these discussions and the negotiations is unknown, Seadrill has never missed a charter hire payment and it is continuing to pay us the full charter rate as per contract. According to the company, their business operations remain unaffected during this period and they expect to continue to meet their ongoing customer and business counterparty obligations.
Yes, the deal between SFL and NADL/SDRL will be renegotiated, and it may involve some revenues changes, debt reshuffling and, potentially, some form of compensation in SDRL shares.
In the meantime, Ship Finance continues its steep scheduled repayment profile on our loans associated with these drilling rigs. We believe it will be in all stakeholders interest to have a financially stronger counterparty and has engage in constructive dialog with Seadrill to find a sustainable path going forward. This will in due course also include discussions with the banks that are financing the three rigs in order to find a balanced solution.
However, the impact will be limited enough to allow the company to pay the current dividend as it is, in my opinion.
In the conference call, M. Hjertaker said:
Switching back to Seadrill, we have three drilling rigs chartered to fully guaranteed subsidiaries Seadrill. Together, the three [rigs] contributed $0.50 per share in quarterly distributable cash flow in the first quarter which is equivalent to about a third of our annual announced quarterly dividend of $0.45 per share. One of these rigs, the West Linus is sub charter to ConocoPhillips on a charter originally set to expire in May 2019 but which was recently extended until 2028 adding significant backlog for Seadrill.
I like the SFL business model, which is very versatile in nature and is run by a pro-active professional management. I do not say the business model is perfect - of course not. Risks of hiccup are always present, and the company is well aware of this fact.
SFL revenues come from four main segments:
1 - Modern liner vessels (Backlog $954 million)
2 - Tankers (Backlog $652 million)
10 x vessels to Frontline (FRO) after recent sales:
9 x VLCCs: $20,000 base rate
1 x Suezmax: $15,000 base rate
50% profit share above daily base rates, paid quarterly 2 x Suezmax tankers
2009/2010 built vessels with eco upgrade
Trading in pool with sister vessels owned by Frontline and significant charter coverage in 2017
3 - Dry bulk (Backlog $567 million)
Significant upside optionality from larger Capesize vessels. 7.2 average length of current charters in years. Other dry bulk vessels with long-term contracts:
8 x Capesize vessels delivered in Q3 2015
10-year charters with Golden Ocean
33% profit share above daily base rates, paid quarterly
4 - Offshore drilling

M. Ole Hjertaker said:
we also see a good investment opportunities or call it project opportunities in our other segments, so we're looking at deals potentially in the tanker side. We're looking at deals on the drybulk side and also in the gas carrier business there could be opportunities.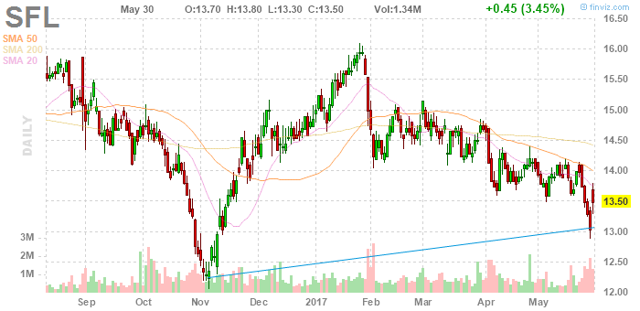 SFL is showing a symmetrical triangle pattern. A symmetrical triangle is generally regarded as a period of consolidation, and it is more difficult to interpret correctly. It would be smart to take some profit off the table at $14.25; however, we may experience a positive breakout to $15-16. On the negative side, we have a strong support just above $13, with a potential low around $12.25.
In my preceding article, I was spot on and I added just below $13. I said:
Technically, SFL is trading in a rising wedge pattern. The Rising Wedge is a bearish pattern that begins wide at the bottom and contracts as prices move higher and the trading range narrows. Again, regardless of the type (reversal or continuation), rising wedges are bearish, which means that we should expect a breakout on the negative side (~70%) with a low between $12-$13. Anything at or below $13 should be considered as an opportunity to accumulate.
Important note: Do not forget to follow me on SFL. Thank you for your support.
Additional disclosure: Ship Finance International Limited pays Seeking Alpha a fee to participate in its Corporate Visibility program. This article was submitted independently by Fun Trading and selected by Seeking Alpha's editors for publication. No fee was paid for its publication.
Editor's Note: This article covers one or more microcap stocks. Please be aware of the risks associated with these stocks.