Investment Overview:
We believe IZEA's (NASDAQ:IZEA) Managed Services are poised to drive growth in the short-term and long-term. With the exponential growth of time spent on social media and digital video, from 60 minutes a day in 2012 to an estimated >100 minutes a day in 2017, we see IZEA's platforms well positioned to benefit from 29%/28% growth of video/social advertising in 2017 (Fig. 1). Additionally, with growing top line and attractive margins the company is a prime acquisition target.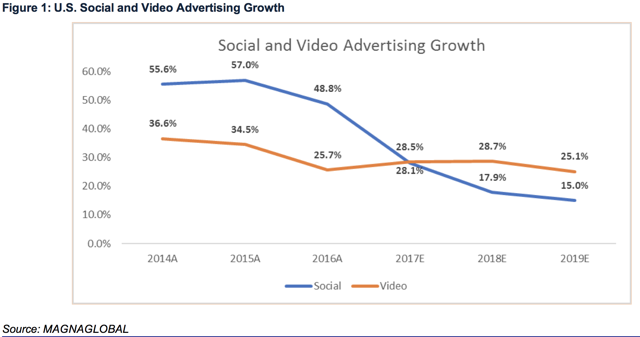 Financial Overview:
While we expect Content Workflow and Service Fees to remain a drag on revenue, Managed Services should more than offset the drag. Managed Services is at ~75% of total revenue (~94% of gross profit) and growing double digits should more than offset the declines in the Content Workflow (~24% of total revenue) resulting from the declining newspaper industry. We expect total revenue to grow by ~10% for FY2017.
While in a high growth phase, management is doing a great job keeping expenses in check with a minimal cash burn. For FY2016, total gross income increased 59% and total expenses increased 33%, however adjusted EBITDA improved by $1.9m. We expect FY2017 gross margin to improve by 100bps to 48.9% and result in -$4.0m in adj. EBITDA compared with -$5.2m in FY2016 driven by strong top-line growth, improved gross margins and better operating expense control.
Bookings are strong: While 1Q17 booking of 5% seems disappointing at first glance, we note that 34% 2-year CAGR in 1Q17 points to upper 50% bookings growth in 2Q17 to 4Q17.
Investment Thesis
While the importance of digital advertising is acknowledged by most marketers, the inefficiencies (e.g. micro transactions with low influence creators) and complications (e.g. FTC regulations) related to advertising with newfound content creators (e.g. bloggers, tweeters etc…) have curbed budget shifts to this special category of advertising within digital advertising. The robust userbase growth of social platforms like Snapchat (14.2%/9.5% in 2017/18) and Instagram (10.6%/7.4% in 2017/18) is an indication of the importance of these channels for marketers to connect with consumers, especially millennials, who refer to these channels every day to find out about new products and services through their favorite online celebrities. This creates an opportunity for platforms like IZEAx, which facilitates the marketer-creator connection process, to take ad budgets from search and display, which combined comprise ~60% of total digital ad market in the U.S. Global content market is projected to grow at 14% CAGR to 2019, per PQ Media. In its most recent State of Creator report, IZEA found that sponsored video experienced 20% jump in usage in 2016 vs. 2015 (44% vs. 24%), ahead of sponsored Facebook's 18% increase (78% vs. 60%) and sponsored photo's 12% increase (41% vs. 29%), further supporting our view of sponsored video growth.
IZEA operates through three platforms. IZEAx, Ebyline (Acquired in Jan 2015) and ZenContent (Acquired in July 2016). IZEAx, as company's primary technology offering, enables transactions to be completed at scale through the management of custom content workflow, creator search and targeting, bidding, analytics, and payment processing. IZEAx is designed to provide a unified ecosystem that enables the creation of multiple types of content including blog posts, status updates, videos and photos through a wide variety of social channels including blogs, Twitter, Facebook, Instagram and Tumblr, among others. While Ebyline was originally intended to transform editorial newsrooms into "Virtual Newsroom", IZEA has evolved the platform to become more of a content creator and intents to incorporates some of its capabilities into its IZEAx platform. ZenContent, a content production platform for e-commerce and brand marketers utilizes a wide range of qualified creators to produce custom content, unlike Ebyline, which only used editorial and expert level creators. We expect ZenContent to improve Managed Service margins through 2Q (ZenContent acquisition cycles in July) due to lower production costs.
Marketers essentially use IZEA platforms in two ways: 1) Influencer Marketing and 2) Custom Content. With Influence Marketing, brands, agencies and publishers connect with online influencers like bloggers and tweeters to market their products by putting them on the creator's weblog or social media content in the form of native advertising. On the other hand, with Custom Content, IZEA also works with marketers to augment or replace their content development efforts. These customers use the platform to connect with creators to produce both editorial and marketing content that can be published both online and offline. IZEA's network of creators includes professional journalists, subject matter experts, bloggers and everyday content creators, allowing our customers to produce content ranging from complex white papers to simple product descriptions. Whether marketers utilize Influencer Marketing or Custom Content, it's important that their message will be conveyed on a custom-made content, where we believe IZEA has an advantage over traditional channels. eMarketer expects native advertising to grow 36%/28% in 2017/2018 (Fig. 2) giving us further confident with IZEAx future growth potential.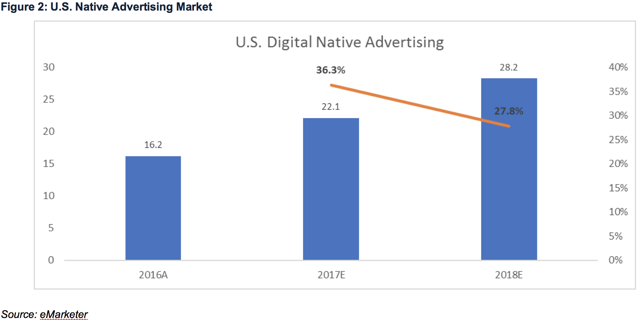 We look at IZEA Exchange as a programmatic ad exchange for content creators. Just like Rocket Fuel's DSP connects publishers and marketers, IZEAx connects content creators with marketers. Competition in the space is not as strong at the moment but low barriers to entry could be a problem, although we consider IZEA's firsthand advantage in pioneering sponsored social sponsorship along with a massive talent network major plus points for the firm and its future success in maintaining and gaining market share.
While acquisitions have been a major contributor to the top-line growth, it's important to point out that the organic growth has also been very strong. For FY2016, IZEA grew 33% on a reported basis but even excluding ZenContent, the growth would have been 29% and FY2015 reported growth of 146% would have been 50% excluding Ebyline. Strong organic growth, robust platforms, strong client portfolio, effective cost control and macro tailwinds should keep IZEA on track to profitability.
Trading at its 52-week low and ~0.5x EV/sales, IZEA is a great way for investors to play the fast growing digital advertising and sponsorship content creator market. While content revenue, mainly produced by Ebyline, is a declining business, the strength in sponsored revenue and margins along with management's efforts to curbe costs should keep cash burn in check to profitability. While barriers to entry remains low in the industry, we point to the IZEA's strong and long client relationships with some of the top marketers in the world and a massive pool of content creators as hard to replicate. We also see IZEA as a great take-over candidate at this levels. As more DSPs adapt to native advertising, we think IZEA massive talent network will look very attractive to competition.
Company Description
IZEA Inc is an online marketing company which provides online marketplace services such as producing and distributing text, videos, and photos for customers through blogs, websites and other media channels. IZEA helps customer improve branding, targeting, bidding, analytics and payment processing. The main customers are marketers of brands, agencies, and publishers who have two primary purposes; "Influencer Marketing" and "Custom Content."
Industry Overview
While sponsored content industry has become a hot topic, there has not been a proportional shift of budgets to the sector due to the legal restrictions and limitations. As social media and sponsored content market grow, we expect this underutilized advertising channel to start taking shares from other digital advertising channels like Search and Display which comprise ~50% and ~20% of U.S. digital ad market.
Native advertising market, growing at 36%/28%, is becoming the principal form of display advertising due to its less intrusive and more engaging nature. The value of talent marketing and word of mouth is well known to marketers but the market is still in its primitive stages and marketers who want to get even more engaged with the channel find themselves limited regarding running an effective campaign that is adequately managed. This is where IZEAx comes to play. IZEAx automates the process of connecting talent to marketers and utilizes its native advertising technology to navigate through the complicated landscape to minimize inefficiencies in the market as an exchange that connects marketers to a massive pool of its talent network.
Competition
IZEA Inc's direct and indirect competitors are driven from social sponsorship space and content marketing space. These companies have different advantage in video marketing, text editing, content development and tech consultancy area. Also, competition for advertising placements among current or future suppliers of Internet navigational and informational services, high-traffic websites, social sponsorship providers and other native media firms for marketing promotion. Moreover, we also consider vertical markets including companies with advantage in expertise and brand recognition. The list below includes companies that which come across from these areas and are rapidly growing their market size.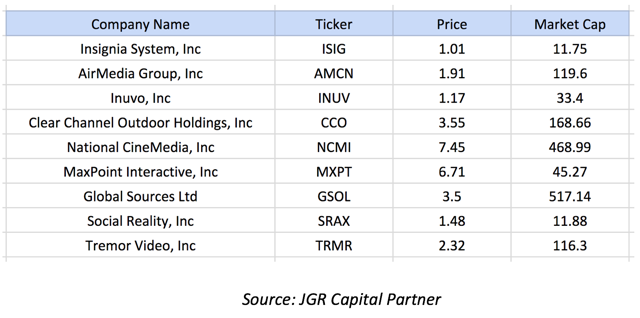 Competitive Advantage
Large Growth Rate in Influencer Marketing and Advertising: According to 2017 "State of the Creator Economy Report," sponsored video usage within influencer marketing grow 20% year to year. Also, usage of sponsored blog posts increased by 16%, and sponsored photos jumped by 12%. The market trend now is expanding the investigation of marketer, creator and consumer perspectives on the effectiveness of influencer and content marketing. According to "Investment in 'Snackable' Visual Content Quickly Increasing" from Business Wire, IZEA Inc focuses more of its services in visual and video marketing strategy, expanding services of the branding of all sizes. JGR Capital foresees IZEA's influencer marketing potential and predicts its platforms will be well positioned to benefit from 29%/28% growth of video/social advertising in 2017.
Strong Management Team: IZEA Inc has a strong management team members who lead IZEA to a fast-growing marketing company. SVP Bill Momary was the CEO of Ebyline who initiated the concept of a content marketplace and attracted customers including E.W. Scripps, Tribune, Dell and Intel. VP of engineering Chris Staymates served as the data scientist at Row Sham Row for games data-driven analysis, delivering insights to production and operation. The executive director in client development Kevin Blazaitis led a Southeast-focused sales team at Carbon Media Group. Right now Kevin leads and develops comprehensive sales strategies for IZEA's +45 member team, analyzing data, and providing support through training and leadership. The director in corporate events and communication Lindsay Broadhurst held a variety of positions in communication and marketing for over ten years at Walt Disney Company. She is now providing strategic direction for IZEA's corporate events and marketing communications and public relations.
Valuation
Comparable Company Analysis: We applied comparable company analysis from five marketing/strategy firms that have the similar stock price and market capital. Since IZEA Inc extends its work in social sponsorship, content, and marketing industry, the five companies selected come across these areas. We collected the five companies' enterprise value, EBIT margin, ROA and revenue in the last two fiscal years as valuation inputs. The tables below are our analysis and result.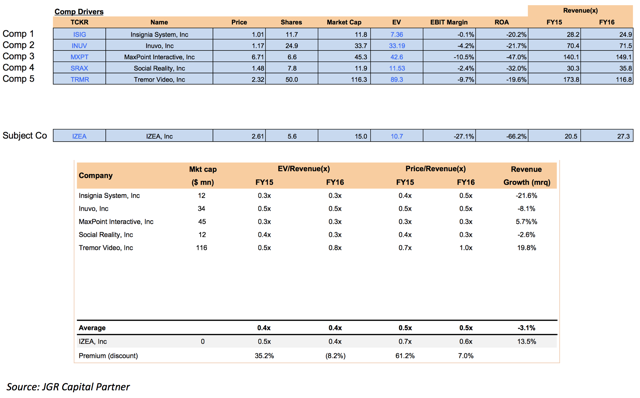 Fair Value Multiple with Greater Growth Rate: The multiple we focused on is EV/Revenue which means what a company is being valued per each dollar of income. This multiple could indicate whether a stock is overvalued or undervalued. In most cases, the lower multiple EV/Revenue is, the better the company value will be. In this case, we see that the average of EV/Revenue from competitive companies is 0.4x, and the EV/Revenue for IZEA Inc is also 0.4x, which indicates IZEA Inc reached the fair value multiple compared with the market. Moreover, we calculated the average revenue growth rate for the five competitors from the most recent fiscal quarter which is -3.1% while IZEA Inc yielded a 13.5% in revenue growth.
Conclusion:
Given the underutilized nature of sponsored content marketing ( due to inefficiencies and limits in the segment), we believe IZEA, is well positioned to take advantage of the sector-specific growth and the total digital market growth. The fast growth of display and social advertising and specifically native advertising should keep IZEA's top-line growth steady while management's expense control efforts keep bottom line in check to profitability. Also, owning a great network of talent and a strong native ad exchange makes IZEA a take-over target, especially at ~0.5x EV/sales and 52-week low.
Disclosure: I/we have no positions in any stocks mentioned, and no plans to initiate any positions within the next 72 hours.
I wrote this article myself, and it expresses my own opinions. I am not receiving compensation for it (other than from Seeking Alpha). I have no business relationship with any company whose stock is mentioned in this article.
Editor's Note: This article covers one or more stocks trading at less than $1 per share and/or with less than a $100 million market cap. Please be aware of the risks associated with these stocks.