Last year, I expanded my coverage of business development companies ("BDCs") to include baby bonds (also known as exchange-traded debt) for investors who would like to limit the amount of pricing volatility and overall risk in exchange for lower yields.
Previously, I purchased the baby bonds of various BDCs for the reasons discussed in "Baby Bonds For BDCs: Set To Rise?" including:
Portfolio diversification.
Minimal price volatility provides me the flexibility to park idle capital at 6.5% to 7.5% yields while waiting for lower stock prices.
Required to maintain 2-to-1 asset coverage ratios (determines a company's ability to cover debt obligations with its assets after all liabilities have been satisfied).
Permanent equity capital (no runs on the bank to force the liquidation of undervalued assets).
No BDC has previously defaulted on a bond obligation.
I have an intimate understanding of the BDC sector and closely watch the actions of management looking for potential issues that might impact BDC equity holders and worst-case scenario, Baby Bond holders.
BDC Stock vs. Bond Pricing Volatility:
Over the last four years, the pricing for the average baby bond has typically ranged from $24.00 to $25.50 after excluding accrued interest (discussed later). Many of these bonds are currently callable and one of the reasons that they are range-bound close to par value of $25.00.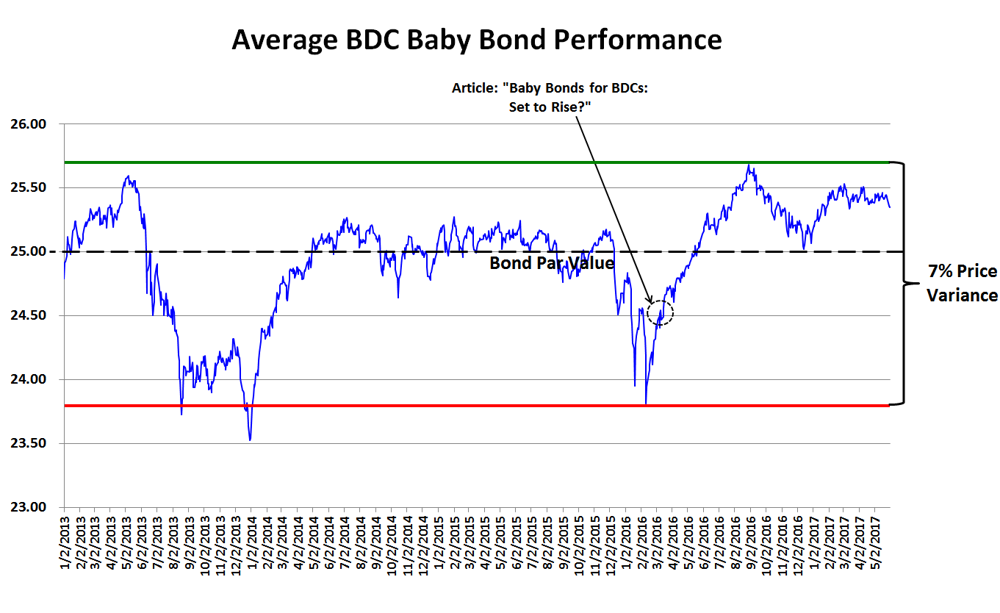 During the same period, the average BDC stock price has fluctuated by almost 50%.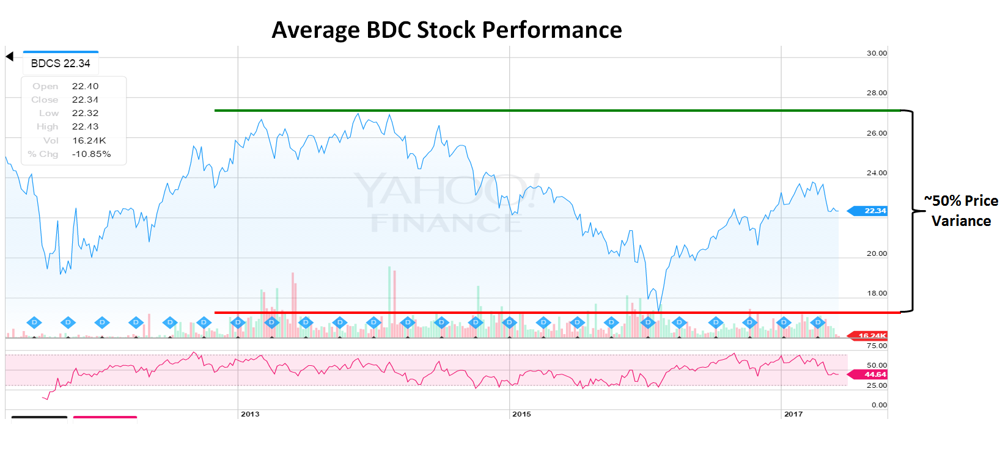 Combining the previous charts shows that baby bonds are relatively stable, even during the market volatility in early 2016.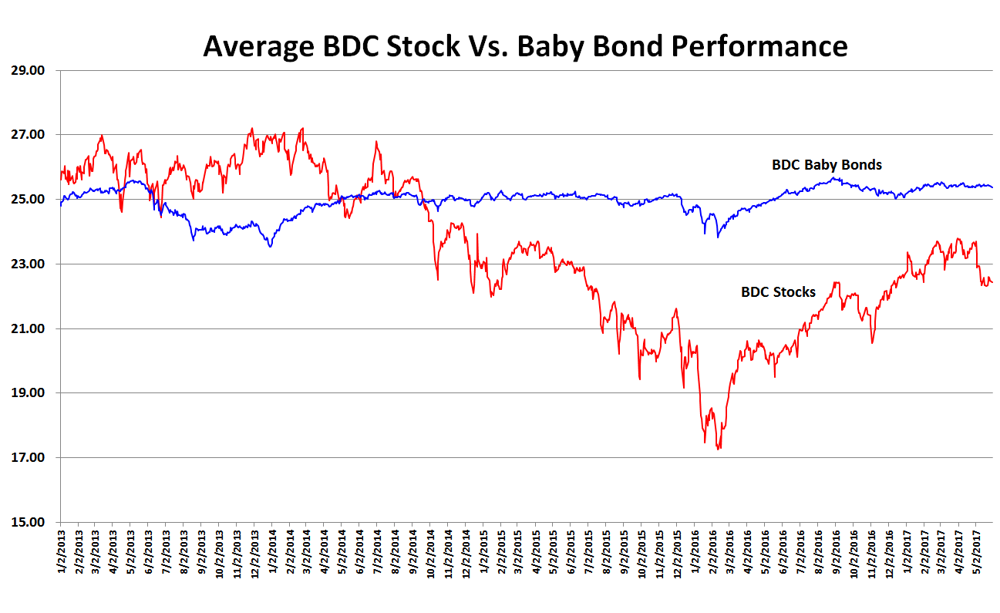 Upcoming Articles
Please see the list of previous articles below and I will be refreshing the following information in upcoming articles:
Baby bond yields - YTM, YTC and effective yields
Callable risk - in case of redemption
Timing of purchases and yield spreads
Overall risk assessment
Sample Preview of BDC Baby Bond Google Sheets
As mentioned in "Building A Higher Yield BDC Portfolio: Part 1," I have built a tool for investors to track real-time changes to BDC stock pricing opportunities and I will be including various sheets to track their baby bonds.
I use real-time pricing driven spreadsheets to take into account the amount of accrued interest on a daily basis, which is included in the market price for BDC bonds. For example, the bonds for Triangle Capital (TCAP), Capitala Finance (CPTA), Horizon Technology Finance (HRZN), and Prospect Capital (PSEC) recently went ex-dividend, meaning that if you owned the bond the day before you receive the full quarter of interest payable. These bonds now have minimal accrued interest priced in and investors should take this into account when purchasing.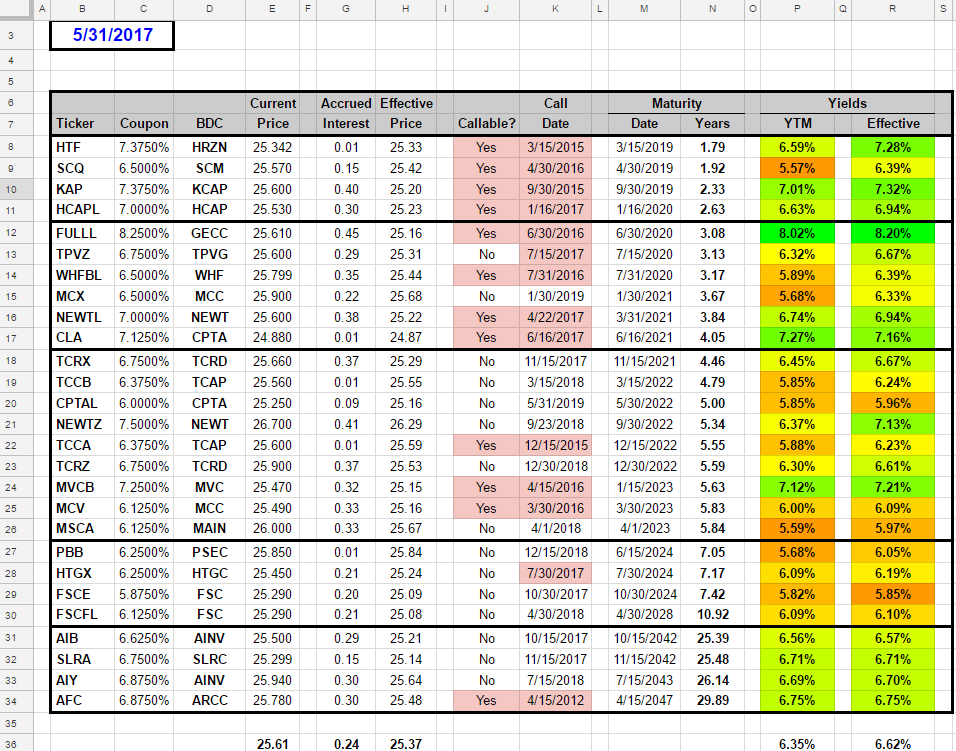 It is important to note that the bonds offered by Apollo Investment (AINV), Solar Capital (SLRC) and Ares Capital (ARCC) (AIB, AIY, AFC and SLRA) have much longer maturities, but also have proper credit ratings and currently have higher-than-average yields.
Previous Baby Bond series articles:
Personal note: I have updated my positions to reflect changes in my holdings, but please keep in mind that this includes stocks and/or Baby Bonds and some are very small (not meaningful positions) for contacting Investor Relations for additional information and honestly disclosing that I am a shareholder.
Disclosure: I am/we are long ABDC, ACSF, AINV, ARCC, BKCC, FDUS, FSFR, FSIC, GAIN, GARS, GBDC, GLAD, GSBD, HCAP, MAIN, MCC, MRCC, MVC, NEWT, NMFC, PFLT, PNNT, PSEC, SAR, SCM, SLRC, SUNS, SVVC, TCAP, TCPC, TPVG, TSLX, WHF.
I wrote this article myself, and it expresses my own opinions. I am not receiving compensation for it (other than from Seeking Alpha). I have no business relationship with any company whose stock is mentioned in this article.