This article is a continuation of the short Australian dollar "AUD" (NYSEARCA:FXA) thesis. For those of you who haven't followed along, please check out our previous posts for a quick primer on this idea chain:
Below is our analysis of a long Euro "EUR" (NYSEARCA:FXE) / short AUD trade idea. We'll jump straight in.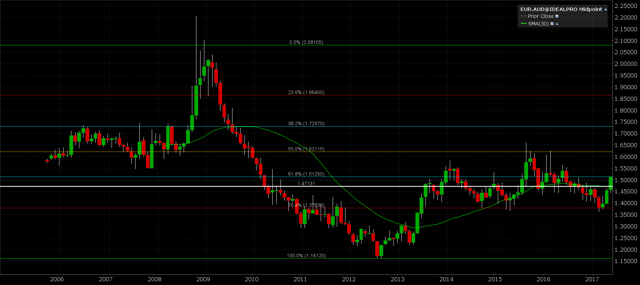 Monthly Chart
On the monthly chart, if you count 2008 high of 2.08 as the high and 1.16 low of late-2012 as the low, then the price action fits the following pattern:
The 'high to low' move was followed by a clean break of the 76.4% retracement level and a successful test of the 61.8% retracement level of that move.
The pair found support at the 76.4% retracement level, broke through the 61.8% level and successfully tested the 50% retracement level.
The pair found support, again, at the 76.4% retracement level and as of this writing is testing the 61.8% retracement level around 1.5125.
A clear close above 1.5125 should open up further possibilities of retesting the 50% retracement level at around 1.62, that's a thousand points if you are a forex trader. The problem, of course is that this currency pair is a cross pair and hence is much more volatile than the standard forex pairs. The stop loss level to rely on would have to be the 1.47 area.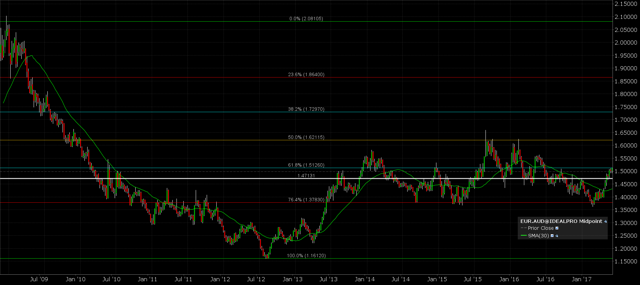 Weekly Chart
On the weekly chart, the ugly risk of this, long EUR / short AUD , trade is highlighted best. There has been speculation recently that the ECB will likely start talking about their tapering process. Judging by Draghi's remarks, he doesn't seem to be in any rush to include that discussion in his forward guidance toolkit. So, there is considerable risk that speculation has already run its course and that this pair might be stuck in its 3 year long range and head back down to the 76.4% retracement levels, around 1.38.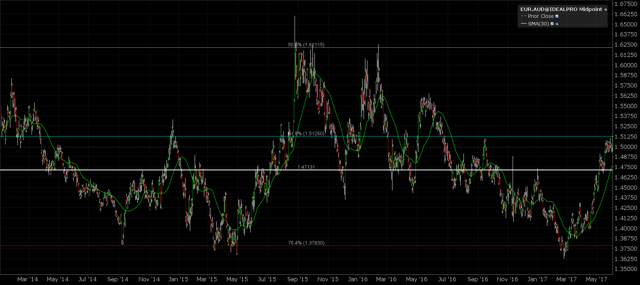 Daily Chart
On the daily chart, however, the downside risk to 1.38 seems completely manageable. The 1.47 level has acted as both support and resistance on multiple occasions, which highlights the importance of that level for this pair. So any move back down to the 1.47 area should attract buyers and offer strong support for this currency pair.
Conclusion
Entering a long position at current levels of around 1.51 (upon a clear close above this level for two consecutive days), aiming for 1.62 while relying on 1.47 as a stop-loss seems plausible but perhaps a better trade structure would be to scale down the trade such that our entry point is around 1.47.
In our view, entering at 1.47 would heavily skew the reward/risk structure in our favor. To elaborate: our preferred entry would be around the 1.47 level, our stop loss level would be around 1.42 (assuming the exact amount of risk) and take profit around the 1.62 level.
Disclaimer: Rigel Mercantile Limited specializes in Macro/Value Research and Systematic Trading. The views expressed above are our discretionary ideas that we have arrived at using discretionary analysis and, therefore, are limited to our discretionary portfolios only. Our systematic strategies may or may not have a position (long or short) in the securities mentioned above. Under no circumstances should the information contained herein be used or considered as an offer to sell, or a solicitation of an offer to purchase, any security or investment service. The information presented herein is presented in summary form and is, therefore, subject to qualification and further explanation.
Disclosure: I/we have no positions in any stocks mentioned, and no plans to initiate any positions within the next 72 hours.
I wrote this article myself, and it expresses my own opinions. I am not receiving compensation for it (other than from Seeking Alpha). I have no business relationship with any company whose stock is mentioned in this article.