The market marched forward in the month of May, and consequently, May was a positive month for my retirement account. However, my two investment goals were not met. My first goal is capital preservation. That goal was met since I didn't lose any money. My second goal is to beat the return of the S&P 500 index. I came up short on this goal. Table 1 below shows my returns for the month of May. You can see that I did not beat the S&P 500 index as measured by the ETF SPY. Table 2 below shows my investment returns for the last 12 months:
Table 1 - Investment Returns for May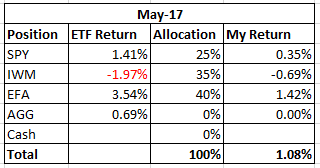 Table 2 - Investment Returns 12 Months
To review, my retirement account only allows me to buy the following four ETFs: iShares Core Total U.S. Bond Market ETF (NYSEARCA:AGG), SPDR S&P 500 ETF, iShares Russell 2000 ETF (NYSEARCA:IWM), and iShares MSCI EAFE ETF (NYSEARCA:EFA). I can also have my money in cash.
I use my moving average crossover system combined with relative strength charts to determine how to allocate my retirement assets. My moving average crossover system uses the 6-month and 10-month exponential moving averages to identify which of the four ETFs are in a position to be bought. If the 6-month moving average is above the 10-month moving average, then the ETF is a buy. I call this setup being in bullish alignment. When the six-month moving average is below the 10-month moving average, the setup is referred to as a bearish alignment. When a bearish alignment happens, I don't want to hold that asset. See Chart 1 below for a long-term look at the S&P 500 index using my moving average crossover system.
Chart 1 - Monthly S&P 500 Index with 6/10 Moving Averages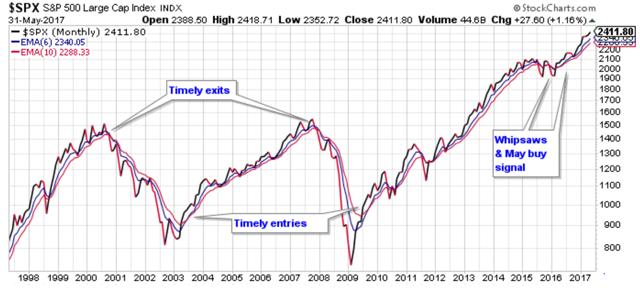 You can see that the moving average crossover system provided some excellent long-term signals that would have allowed investors to capture long-duration moves in the index while avoiding costly drawdowns. Avoiding these costly drawdowns allows me to meet the objective of capital preservation.
The following charts show the current status of the ETFs I am allowed to buy in my retirement account.
Chart 2 - Monthly SPY with 6/10 Moving Averages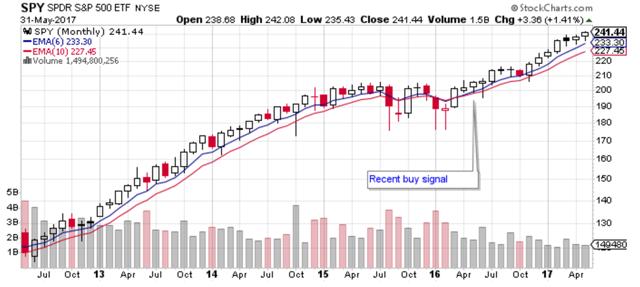 SPY is in a strong bullish uptrend closing at a new monthly high.
Chart 3 - Monthly IWM with 6/10 Moving Averages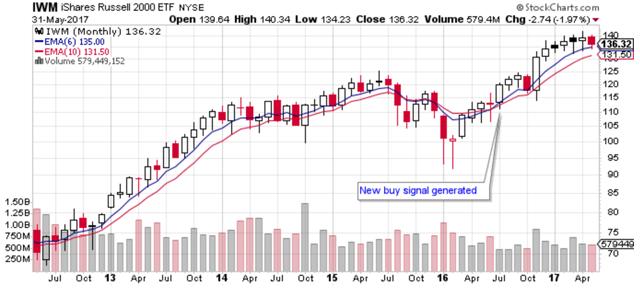 IWM is still in a bullish alignment. However, IWM did correct in May adversely affecting my returns. The negative return this month from IWM is the reason I did not meet my second goal of beating the S&P 500 index.
Chart 4 - Monthly IWM:SPY Relative Strength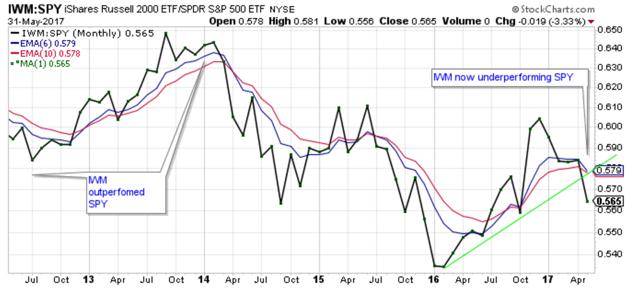 Chart 4 shows the importance of relative strength. Since early 2016, IWM has outperformed SPY, meaning that an investor would have made more money investing in IWM as opposed to investing in SPY since early 2016. However, since the beginning of 2017, IWM has underperformed SPY. In May, IWM underperformed SPY by -3.33%. As previously mentioned, this underperformance is why I did not beat the S&P 500 in May. Also worth noting is that the relative strength line broke below the upward sloping green trend line and the two moving averages are rolling over. It may be time to further reduce my allocation to IWM. More to come on that decision later in this article.
Chart 5 - Monthly EFA with 6/10 Moving Averages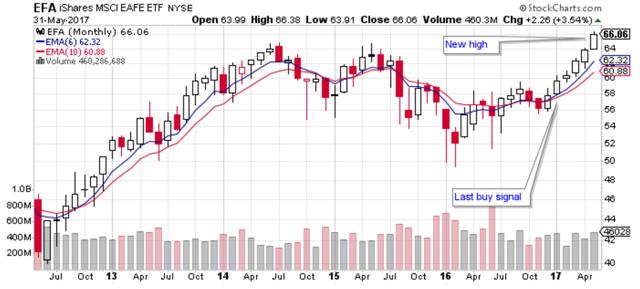 EFA had a strong gain of 3.54% for the month. EFA has now reached a new all-time high.
Chart 6 - Monthly EFA:SPY Relative Strength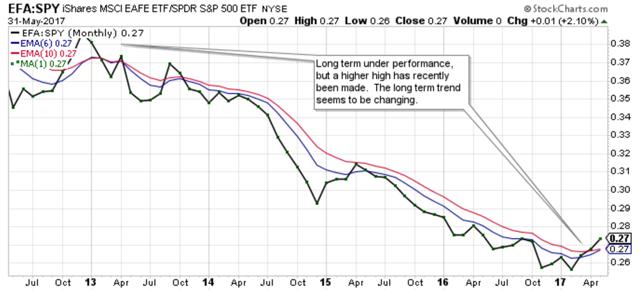 Chart 6 shows that the relative strength of EFA versus SPY continues to strengthen. That is why I increased my allocation to EFA in last month's article. Let's see how EFA is relative to IWM.
Chart 7 - Monthly EFA:IWM Relative Strength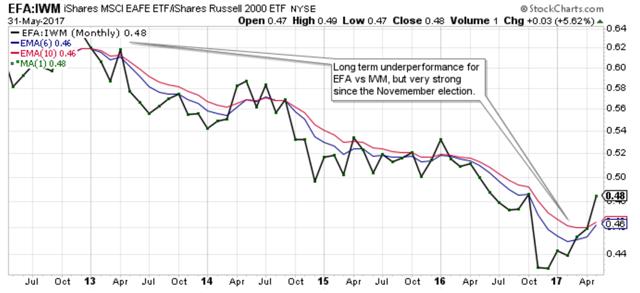 The 5.62% gain of EFA over IWM is what happens when one index advances for the month and the other index declines. The two moving averages are now heading higher, indicating that the trend may continue.
Chart 8 - Monthly AGG with 6/10 Moving Averages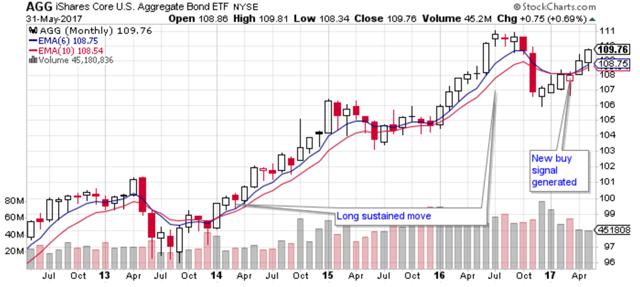 AGG had another solid month moving up 0.69%. Last month's buy signal continues.
Chart 9 - Monthly AGG:SPY Relative Strength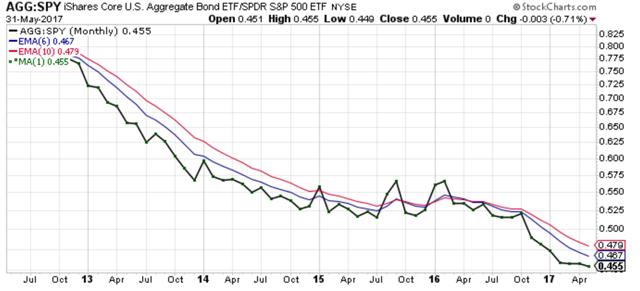 Despite the gain of 0.69%, AGG again was outperformed by SPY. Due to this underperformance, I will not be allocating any of my retirement assets to AGG.
For the month of May, I was allocated 40% EFA, 35% IWM, and 25% SPY. I like what I am seeing in charts 5, 6, and 7. I do not like what I am seeing in charts 3 and 4. I am going to make an allocation change for the month of June. I will allocate my retirement assets in the following manner, 75% EFA and 25% SPY.
Disclosure: I am/we are long EFA, SPY.
I wrote this article myself, and it expresses my own opinions. I am not receiving compensation for it (other than from Seeking Alpha). I have no business relationship with any company whose stock is mentioned in this article.