In this article, I will be covering a new ETF that targets companies with high free cash flow yields. The Pacer US Cash Cows 100 ETF (BATS:COWZ) targets the top 100 companies in terms of free cash flow yield in the Russell 1000 (NYSEARCA:IWB) and weights each holding by free cash flow, up to a 2% cap. The process by which COWZ selects its holdings is detailed in the chart below. While this strategy sounds like a good idea in practice, so far in reality, COWZ has been underperforming the S&P 500 (NYSEARCA:SPY) and the Russell 1000.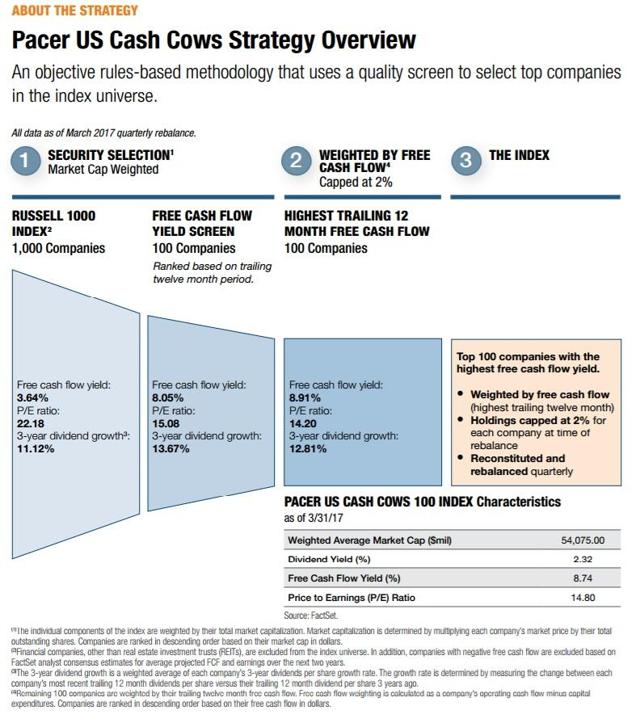 Performance
The following chart shows that since inception in late December, COWZ has underperformed the S&P 500 and the Russell 1000 by a wide margin. I also included the Russell 1000 Value ETF (NYSEARCA:IWD) as well because I believe the majority of investors would classify a large portion of the holdings of COWZ as value stocks. This is confirmed by the above chart, which shows the average PE ratio of the holdings of COWZ at 14.80 as of the end of March. COWZ has been outperforming IWD, but I would hardly count that as a victory given the performance of the S&P 500 and Russell 1000.

Google Finance
ETF Fix
Looking at the holdings of COWZ, it is easy to see why the fund has lagged. It has companies that generate lots of free cash flow, but that free cash flow is declining and/or has declining revenues. Companies like Gilead Sciences (NASDAQ:GILD), Baker Hughes (BHI) and Ralph Lauren (NYSE:RL) are just a few of the companies that are dragging down the performance of COWZ. If it were me in charge of the ETF methodology, there is a simple fix to this problem of underperformance for COWZ. I would suggest simply adding the criteria that revenues need to be increasing. Below is the data I collected, which shows that by simply adding increasing revenue y/y, the return of COWZ could be much higher.
Data
Looking at the data, I found that 60 of the 100 holdings had posted increasing revenues year over year. The data below shows the average and median ytd. returns for the 60 stocks that increased revenues, the stocks that had decreasing revenues, and all the holdings of COWZ. The data clearly shows that those companies that have been increasing revenues have been performing significantly better than those companies included in COWZ that have had decreasing revenues. The holdings of COWZ which have decreasing revenues account for 33.41% of the holdings. If the majority of those holdings were eliminated from the fund and reallocated to the companies that have had increasing revenues, I believe the performance of COWZ would vastly improve.
| | | | |
| --- | --- | --- | --- |
| | Rev Increasing | Rev Decreasing | All Holdings |
| Average | +7.60% | -6.33% | +2.11% |
| Median | +4.18% | -6.61% | +0.41% |
Closing Thoughts
In closing, the premise of targeting those companies with high free cash flow yields is intriguing, however, as my data has shown, this leads to the inclusion of companies with declining free cash flows & revenues, which I showed to be a drag on performance. Until such time as COWZ avoids stocks with those characteristics, it is likely those stocks will continue to drag down the performance of COWZ and I would avoid the fund.
Disclaimer: See here.
Disclosure: I/we have no positions in any stocks mentioned, and no plans to initiate any positions within the next 72 hours. I wrote this article myself, and it expresses my own opinions. I am not receiving compensation for it (other than from Seeking Alpha). I have no business relationship with any company whose stock is mentioned in this article.