Shopify Inc. [TSX:SHOP](NYSE:SHOP) has been on a tear. Year-to-date, alone, the stock has appreciated 114%, which greatly outperformed iShares S&P 500 Growth Index (NYSEARCA:IVW) and SPDR S&P MidCap 400 ETF (NYSEARCA:MDY).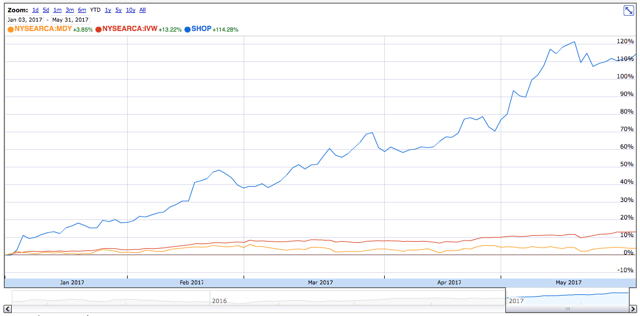 Source: Google Finance
In my last article, along with the comments that followed, we explored whether the growth stock is a good buy today. In this article, I focus on how Shopify is growing in numerous ways.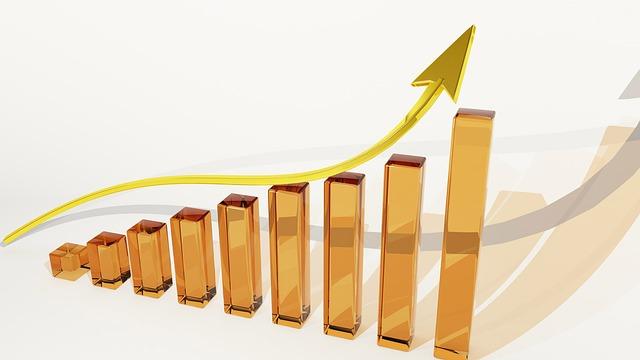 Targeting small and medium-sized businesses
Shopify's target market is small and medium-sized businesses. By getting these smaller merchants to sign on with its platform when they're small, Shopify can grow when these merchants grow bigger.
For example, most of Shopify's merchants are on subscription plans that cost less than $50 per month, but Shopify's advanced plan costs $299 per month.
Generating recurring revenue
Shopify's subscription plans generate recurring revenue. Its monthly recurring revenue ("MRR") in Q1 was $20.7 million, which was 62.2% higher than in Q1 2016.
The MRR is one of the key performance indicators that Shopify tracks. Management believes it correlated with the long-term value of its merchant relationships. As defined by management, it is calculated "at the end of each period by multiplying the number of merchants who have subscription plans with us at the period end date by the average monthly subscription plan fee in effect on the last day of that period, assuming they maintain their subscription plans the following month".
Growing its ecosystem
Shopify's ecosystem consists of app developers, theme designers, and other partners. As of the end of Q1, there were about 1,500 apps available in Shopify's app store. The ecosystem improves the functionality, customizability, and flexibility of the Shopify platform. Ultimately, it helps to drive the growth of Shopify's revenue and merchant base.
Nearly half of Shopify's revenues come from subscription solutions, which is a recurring subscription component. This includes the sale of subscriptions to its platform, and the sale of themes, apps and the registration of domain names.
This component accounted for 48.7% of Shopify's total revenues in the first quarter. Subscription solutions revenues were $62.1 million in Q1 2017, which was 60.4% higher than they were in Q1 2016.
Catering to large merchants
Shopify's highest-end plan, Shopify Plus, starts at a rate that is several times that of its advanced plan. Shopify Plus is designed for merchants with high-volume sales and the need for additional functionality, scalability, and support. Shopify also offers a dedicated Merchant Success Manager for these clients. Its Shopify Plus merchants include multinational brands such as Unilever and Nestlé.
Processing more sales through its system
The other major component of Shopify's revenues is merchant solutions, whose success is reliant on merchants' success. In Q1, this component accounted for 51.3% of total revenues. Shopify principally generates merchant solutions revenues from payment processing services that allow its merchants to accept and process payment cards online and offline.
As a result, the more transactions occur through the platform, the higher this component of revenue will be. The gross merchandise volume ("GMV") is another key performance indicator that Shopify tracks. GMV is defined by the company as "the total dollar value of orders processed directly through its platform in the period, net of refunds, and inclusive of shipping and handling, duty and value-added taxes".
The more sales Shopify's merchants make, the more likely they are to continue using Shopify, and the more revenue is generated for Shopify.
Shopify's Q1 GMV was $4.8 billion, which was 81.2% higher than it was in Q1 2016.
A future revenue generator?
McDusty suggested a potential idea for Shopify's future revenue generator in my previous article:
I believe sooner or later Shopify will invest in Software as a Service ("SaaS") digital marketing tools to build into their existing SaaS platform; ad creative production, ad hosting/serving, demand-side platform ("DSP") and perhaps a data management platform for better ad targeting. This could see them take revenue from Google Adwords, Marketing clouds, DSPs, Media Planning agencies ... or other means by which small, medium and large business currently advertise their products online.
Summary
Shopify is rapidly growing its market share of the e-commerce pie through its focus on targeting small to medium-sized businesses, its ability to cater to enterprises with high-volume sales, its expanding ecosystem, and its recurring revenues.
Share your thoughts in the comments below
Author's note: If you like what you've just read, consider following me. Simply click on the "Follow" link at the top of the page to receive an email notification when I publish a new article.
This article first appeared in my premium service, from which my subscribers get priority attention and gain access to my real-time buys and sales. Feel free to try the service for free for two weeks.
Disclaimer: This article consists of my opinions and is for educational purposes only. Please do your own research and due diligence and consult a financial advisor and or tax professional if necessary before making any investment decisions.
Disclosure: I/we have no positions in any stocks mentioned, and no plans to initiate any positions within the next 72 hours. I wrote this article myself, and it expresses my own opinions. I am not receiving compensation for it (other than from Seeking Alpha). I have no business relationship with any company whose stock is mentioned in this article.