As far as infrastructure projects go, China's "Silk Road" certainly tops the list. In an era where democratic countries have traded significant infrastructure spending for financial magic, China's project stands out. Investor fears of a debt downgrade of China hardly budged copper, an event that I don't see having any real effect on the red metal (COPX, CPER, CU, CUPM, JJC).
Silk Road
China has a debt problem. I know it, you know it, and they know it. And, while the recent downgrade sparks some concerns, it hardly means China's economy is about to stop. It is entirely reasonable for China to have ups and downs - every economy does. Massive growth is nearly always accompanied with leveraging, and as the standard of living in China rose it was inevitable that some manufacturing would move to very high-efficiency plants in the west or even lower cost areas in Africa/Asia. The EU has indeed encouraged manufacturing to the eastern/central European countries where labor is cheap, skilled, and has free access to one of the world's largest markets.
The "One Belt, One Road" project is an effort to do two things:
Sustain the Chinese economic machine while the economy moves from a growth export model, and into a partially services based one.
Export Chinese influence in the region, and weaken regional ties to the West and Russia
In estimating the impact of the project, most pundits underestimate the control with which China exerts over its economy. There have been painful slips, but at the end of the day, the power to reform the market lies with the government. One doesn't need to look hard to see needed reform failing across the globe to see the frustrations that lie in wait for us in the West. China's transition from a goods-led to a services-led economy will be interesting. I also expect it to be a smoother transition than the one of automation we will see at home.
How big is this project? Getting a sense of scale is important, and Citibank words it like this:
China's plan, lauded by President Xi Jinping as a "project of the century," has the potential to generate about 120 million tons of crude steel demand (Source)
Everyone likes big numbers, but what do 120 million tons of steel mean? That is nearly an entire month of world steel demand. A 10% uptick in raw materials consumption for one year could easily put the copper market into a severe deficit.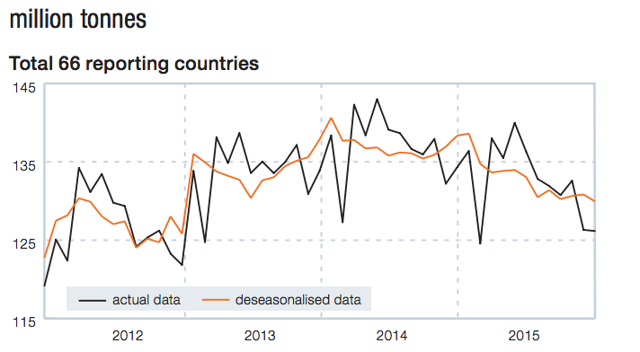 Source: WorldSteel.org
Commitment Of Traders - Money Managers
Money managers saw a slight uptick in long positions and a sharp decrease in short positions. This comes despite the debt downgrade and is a good signal for long positions. I think we are in for a quiet summer for copper but would be happy to be wrong. And, as the Silk Road project comes onto the center stage, some new information could see copper roar ahead.
LME Inventories
Elevated cancellations represent a moving arbitrage from LME toward the SHFE exchange.
Takeaway
The copper bull story continues to receive its fair share of doubt. For now, we saw the price level off, and something we should expect to see through much of the summer. Investors have much to look forward to as the breadth of the Silk Road project starts to wake markets up. Recent turmoil in the U.S. has caused a stutter in many markets, but the Trump administration could hardly derail the momentum building behind the world economy. Copper is a driver of economic growth, and, as wages start to rise and inflation sets in, we could be closer to another surge in the copper price. Companies like BHP (BHP), Southern Copper (SCCO), and Freeport-McMoran (FCX) could soon see their time in the sun.