One of Thursday's biggest winners so far has been BlackBerry (BBRY). Shares of the technology company have rallied more than 10% to a new 52-week high, after a positive note was released by Citron Research. Unfortunately, for investors, this note seems to be almost identical to one the research firm issued nearly three years ago, one that didn't turn out well. Take a look at these key facts:
Citron Research sets a price target of $20 on the stock.

Citron gushes over BlackBerry's potential to provide software and services to help enable the proverbial Internet of Things ("IOT").

Citron notes BlackBerry's Project Ion aims to provide an analytics infrastructure for businesses trying to leverage the data produced by millions of embedded devices, and that its QNX OS already makes it a player in the embedded market. It also sees BlackBerry's security reputation helping its cause.

The firm calls John Chen "one of the strongest and most credible leaders on Wall Street," and thinks a tech giant could be interested in making a bid.
Those arguments sound pretty logical, right? Well, it turns out that the statements provided above are from the report Citron issued on June 20th, 2014! Has Project Ion transformed BlackBerry into a major player? No. Has a tech giant made a bid for the company? No. Has the stock rallied to $20 a share? Definitely not, in fact, it fell to below $6 a share at one point. Remember this famous Yogi Berra quote?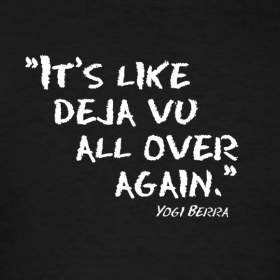 In fact, that Citron note was just after BlackBerry issued fiscal Q1 2015 results. At that time, quarterly revenues were $966 million, and BlackBerry had about $2 billion in net cash. John Chen was looking for ways to invest in growth and return the name to profitability. Nearly three years later, quarterly revenues are forecast to be just $265 million, the company is still not profitable, and the net cash balance is basically flat despite the nearly billion dollar payment from Qualcomm (NASDAQ:QCOM).
So today, Citron put a $20 target on the stock again, called it a buyout target again, and cited the potential of QNX again. In fact, the note misses a key point by fellow SA contributor Paulo Santos that BlackBerry has recently lost Toyota (NYSE:TM) as a QNX customer. QNX is supposed to be a crown jewel for BlackBerry, but it isn't exactly delivering tremendous revenues at the moment. If more automakers dump QNX, BlackBerry's software/service growth will continue to slow, putting the company's future in question.
At Thursday's high, BlackBerry shares were up more than $4, or 52.5%, from the close right before the Qualcomm news was announced back in April. That payment totals less than $2 a share, and we haven't gotten any other major news from the company. Even though the payment wasn't due until May 31st officially, management basically new it was coming, and it still has done nothing with its cash yet. I argued for a major share repurchase plan at $6, and that would have been a smart move now. Investors are waiting for more acquisitions, but they haven't come yet.
BlackBerry's Q1 is now in the books, and unless the company makes some purchases rather soon and completes the acquisition quickly, revenues will continue to go nowhere. Citron's note may have provided a new leg up for shares, but what was really different from the note it released three years ago? Since then, revenues have plunged, a buyout has not come, and Chen's statements about turnarounds, profitability, and the hardware business have been proven false time and time again. Take today's news with a grain of salt.
Disclosure: I/we have no positions in any stocks mentioned, and no plans to initiate any positions within the next 72 hours. I wrote this article myself, and it expresses my own opinions. I am not receiving compensation for it (other than from Seeking Alpha). I have no business relationship with any company whose stock is mentioned in this article.
Additional disclosure: Investors are always reminded that before making any investment, you should do your own proper due diligence on any name directly or indirectly mentioned in this article. Investors should also consider seeking advice from a broker or financial adviser before making any investment decisions. Any material in this article should be considered general information, and not relied on as a formal investment recommendation.