Having been a Yelp (NYSE:YELP) user since 2008, I have seen the rise, maturity, and signs of decline of Yelp in terms of popularity and penetration. Yelp's business model is flawed in a serious way. There is increasing competition from the traditional local search players, local food discovery and delivery startups, Facebook (NASDAQ:FB), Google (NASDAQ:GOOG) (NASDAQ:GOOGL), and Amazon (NASDAQ:AMZN). In this article, I will point out some red flags on Yelp's business model and long-term trends/metrics to watch.
1. Glorified Call Center Business
Yelp has an army of early 20-something, straight-out-of college, bros who like kegs and EDM music. They happen to work at Yelp, for the moment, until they leave after 6 months and are replaced by new graduates. Let's hear these Yelp employees speak for themselves (Glassdoor reviews from 2017):
The Last Yelper Standing: "...hiring classes typically ranging between 20-40 people a pop. My hiring class was in that range and only 10 of us remain. Think about that. The average job length is 6 months here. The turnover rate is insane."

The Social Worker: "It's a boiler room. 80 dials or 2:30 hours talk time a day to prospects that have already been used and abused.

The Non-Conformer: "Lots of frat bros and Forever 21 models here, typically the kind whose parents pay their rent so this job is more like a hobby--and those are usually the kind who perform the best."

The Extinct Account Manager: "The client base is extremely difficult, and combined with the fact that you will have to call them constantly to stop them from cancelling. But you may not really have to worry about getting a job there because Account Managers aren't really being hired anymore, which leads to the next issue."

The Defense Attorney: "The product is flawed and business owners will call you out on it. Expect to have constant debates because most business owners hate Yelp."

Brings Earplugs to Work: "…blasting EDM every single day while trying to make calls...literally had numerous business owners hang up when they hear the music in the background"

The Used And Abused: "Stay here for 6 months, and then leave to somewhere that pays more and doesn't a dish daily abuse."
Yelp has an appalling low revenue per headcount, lower than that of Groupon (NASDAQ:GRPN), which is known in the industry to have a high emphasis on sales and high churn. It will be difficult for this business model to be sustainable without a radical change. On an average annualized basis, Yelp employee produces $180K on average of top line revenue. It's not a great number considering that all-in employee compensation and benefits at tech companies are close to $200K.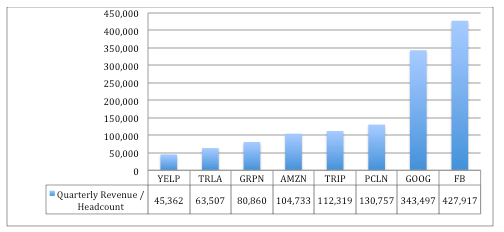 Management says that product is a huge focus at the company, but 59% of the total headcount are in sales. Groupon at the peak had more than half its headcount in salespeople. Taking into account operational departments including HR, accounting, legal, and finance, the percentage of technical engineers at the company is likely less than 10%. Yelp cannot be considered a tech company, and supports the thesis that the business based on the success of a call center.
Yelp received multiple complaints on Glassdoor on low pay for sales positions. At trough unemployment, recent college graduates have many employment options available, especially in the enterprise tech sales. As the Abused Ex-Employee pointed out, they will not stick with Yelp if the company will not raise salaries in line with the local labor market. Thus, it is not a sustainable business model for Yelp to squeeze out profits by underpaying their salespeople over the long term.
2. Low retention rates will continue to plague local revenue
During the 1Q 2017 earnings call, all eyes were on the low retention number in the local advertisers category. Almost every single analyst asked clarifying questions, for which management had a weak answer regarding low retention: They were 'course correcting quickly' and losses were limited to a small subset of local advertisers. In one of the questions, management did admit to the reason behind poor numbers: older established advertisers crowding out new advertisers (an important fact that will shed light on the timing of when lower retention rates will hit). This is an alarming problem.
On search (most common use case for repeating users), the Yelp algorithm will prioritize restaurants advertising with Yelp that have both high stars and a large number of reviews. Because of the way the search results are ranked by number and laid out - the advertisers established on Yelp will always take the top 5 spots. So why would any new businesses advertise with Yelp? Yelp has basically maxed out the number of ad placements they can sell with the top 5 spots.
In addition to maxing out on the number of advertisers, the "unsearchability" of new restaurants also drives away the niche power users - the trendy foodies that are seeking new restaurants (see #3 on users moving to Instagram).
Management asserted that the self-serve platform comprises a double-digit percentage of their local advertisers. They did not specify whether this number was on new advertisers or all advertisers. This will help them in lowering operating expenses, but will take a while before any benefit is seen. On the negative side, it sounds like these self-serve advertisers are the same ones that are being crowded out by the established advertisers.
As long as the self-serve number keeps growing, Yelp will see lower retention numbers for a cycle out. If we heed to the wisdom of The Extinct Account Manager, like advertisers need constant attention and calling prevent cancellations. This does not sound like a light-touch business model, or even a service businesses would want.
3. Instagram, Google, Amazon, and food startups have superior products in food discovery, local search, home services, and food ordering
The majority of Yelp content is generated by a handful of users. According to a Yelp blog post from 2011, only 1% of users create content (write reviews). A Quora user in 2013 did a case study of Yelp on San Francisco (which tends to be more tech savvy and engaged in digital products) revealing that the top 1% of reviewers contributed 25% of reviews and the top 5% of reviewers contributed 50% of reviews. Yelp rewards the top contributors in a program called, "Yelp Elite."
Yelp Elites are predominately women, disproportionately Asian, group of snobby individuals that call themselves foodies and take photos of everything they eat. They aren't necessarily qualified to write restaurant reviews but they will give a restaurant a 1-Star review because the waiter didn't say bye. The reviews are hardly about the restaurant, but rather a humble brag of how amazing their life is for having gone to a Michelin Star restaurant.
There are a few problems with relying on this small subset (dare I say subculture? I call them Basic B****) of individuals for content: 1. They aren't necessarily qualified or a trusted source to judge quality or convey it. 2. People still look to trusted sources (NY Times, LA Times, Eater, Thrillst, even Anthony Bourdain) for food discovery. 3. This small subset of UGC (user generated content) producers is now flocking to Instagram to show off their food photos, where their friends can see the humble bragging. Instagram #foodie search yields 60 million photos and #cronut yields 190K photos, and Dominique Ansel Bakery location search on Instagram has endless stream of content vs. Yelp (6K photos and 2K reviews). Additionally, Instagram is also making a push on the product side in local search through Story Search for Locations.
Amazon is making a big push to upsell local service (for a flat and predetermined fee) after selling a product that requires service. For example, I recently scheduled Amazon home service for TV mount installation after buying a TV mount they delivered the next day. I attempted to ask for quotes on Yelp, but it turned into a back-and-forth conversation on price negotiation, information exchange regarding TV and mount specs, and hours of wasted time for me and the contractor.
Google - which owns search - is only investing more into local search through web search, on Android, on voice products (Home and phone), and on maps. Google Maps launched a search function which helps you look for destinations along your route, which is powerful as these searches have high intent.
On the food ordering side, EAT24 is competing with a handful of well-funded startups (and public companies) that don't mind the high customer acquisition costs to get a new user, including GrubHub (NYSE:GRUB) ($10 off $15 order), Caviar ($10 off first two orders), Uber (Private:UBER) ($10 off, plus an established driver network and user base), and Postmates ($20 off delivery).
4. Transactions volume has low growth and doesn't make sense for Yelp to enter
Management decided to break out transaction revenue, separate from ad revenue. A good reason to do this is because transaction shows an area of promising growth in their already maxed out and broken ad business.
At a pitiful $18M in quarterly revenue (small base), the growth rate is not even double-digit growth quarter over quarter. As for business model for transaction, it does not make sense to order or to book on Yelp. If you look at OpenTable reviews, most restaurants are rated 4-5 stars. OpenTable will delete bad reviews and it is less of a platform for customers to complain about their edge cases. It does not make sense for a restaurant to offer booking on Yelp unless their rating is high - which is only a small subset of restaurants. If all restaurants are highly rated, then Yelp loses its authenticity value.
The messaging functionality is not an efficient way to book a service. Management said it took on average of 4 replies multiplied by a 12-hour message return time; it will take a few days before a soft transaction has finished negotiation. The customer then still needs to take the next step in actually going to the establishment or booking the service. Most of the Yelp messages do not consummate into an actual transaction and anecdotally small business owners have said replying to messages is a waste of time.

Takeaways:
Revenue-per-employee is one of the lowest in the tech industry and likely unsustainable as we previously saw with Groupon. Continue to monitor Glassdoor reviews from Yelp sales people, as they are closest to the ground on the health of the call center, high churn, sales-driven business.
Look at next the percentage of the self-serve advertisers (if disclosed). This will help Yelp lower costs but will take a few quarters to correct for. It will adversely impact their retention numbers due to the attrition of non-established advertisers. Unlike what management said, lower retention rates are likely the new normal, as Yelp has saturated the usefulness of their service.
Watch whether Instagram's move into food discovery and locations gather more ad dollars from local advertisers. Facebook has historically had a strong self-serve platform, the ability to upsell Instagram to local businesses through their existing platform and sales people, and a wide user base.
Amazon home service has great customer reception and an easier conversion stemming from the intrinsic intent of purchasing the product from Amazon.
UGC and democratized restaurant reviews are not necessarily something that is helpful for consumers or business owners as reviewers are either a subset of customers or edge cases (most likely a complaint). People trust established media, expert bloggers, and influencers for reviews, which Yelp does not have. Photos of goods and services are moving over to Instagram as content producers are drawn to a more widely used platform.
Disclosure: I/we have no positions in any stocks mentioned, and no plans to initiate any positions within the next 72 hours.
I wrote this article myself, and it expresses my own opinions. I am not receiving compensation for it (other than from Seeking Alpha). I have no business relationship with any company whose stock is mentioned in this article.