Welcome to the weekly natural gas storage report edition of Natural Gas Daily!
The EIA reported a +81 Bcf change in storage, bringing the total storage number to 2.525 Tcf. This compares to the +80 Bcf change last year and +97 Bcf change for the five-year average.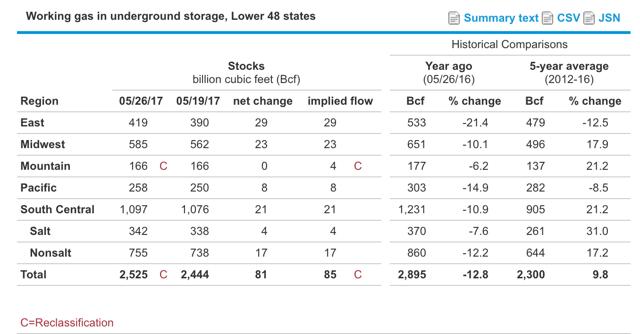 Going into this report, a Reuters survey pegged the average at +78 Bcf, with a range between +73 Bcf and +86 Bcf. We expected 79 Bcf and were 1 Bcf higher than the consensus average. We were off by 2 Bcf on this storage report.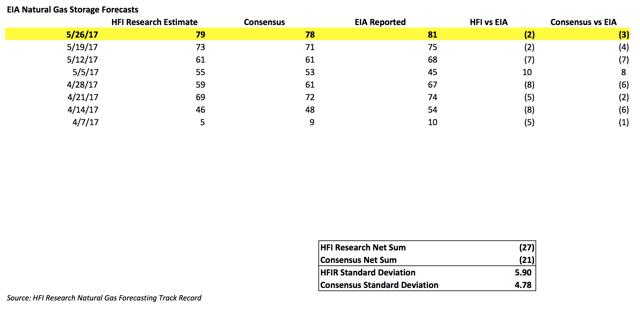 Since we reset our track record at the start of April, we are currently 27 Bcf below EIA's reported 2.525 Tcf storage figure, while consensus is off by 21 Bcf. Estimate for this week was within our range estimate.
This week's report had a reclassification adjustment of 4 Bcf. Implied flow for the week was 85 Bcf. This is how our daily net change in storage has compared to EIA's over the last three months.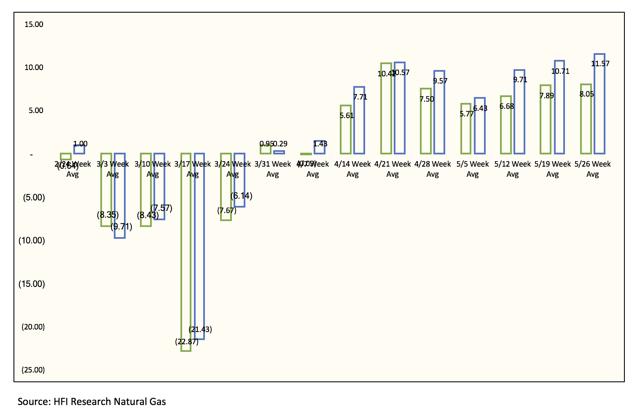 As you can see in the graph above, the blue bar is EIA's reported implied flow of the week, while the green bar is the physical implied flow of the week. Over the last three reports, physical implied flow has underestimated reported implied flow by ~3.2 Bcf/d. This is the widest divergence in the physical flow versus EIA's reported flow since last year July. Are the physical data underestimating supply and overestimating demand, or will EIA's data revert back?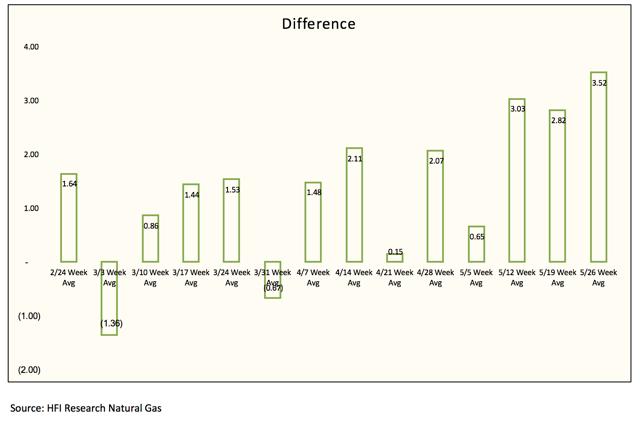 It's something to keep in mind when you look at the data.
As for the drop in natural gas prices again today, traders we speak to have been waiting for a sell-off to this level. Their next moves have been updated to premium subscribers, and if you are interested, you should consider signing up for HFI Research.
Disclosure: I/we have no positions in any stocks mentioned, and no plans to initiate any positions within the next 72 hours. I wrote this article myself, and it expresses my own opinions. I am not receiving compensation for it (other than from Seeking Alpha). I have no business relationship with any company whose stock is mentioned in this article.