Interactive entertainment (video game) stocks have risen substantially in recent years, driven by several factors like a strong console cycle, the building of highly profitable synthetic subscription services around core franchises, digital distribution and mobile gaming. Yet as multiples continue to climb, there are still untapped catalysts on the horizon that have yet to be fully appreciated.
The huge success of the Nintendo (OTCPK:NTDOY) Switch was unforeseen by most observers, and catalysts such as eSports and virtual reality (VR) have yet to be fully realized. While existing tailwinds have been accounted for at these price levels, investors should be mindful that there are more to come which will continue to propel revenue and earnings growth across the industry.
Gaming Stocks Have Risen 95% Since The Start Of 2015, Compared To 17% For The S&P 500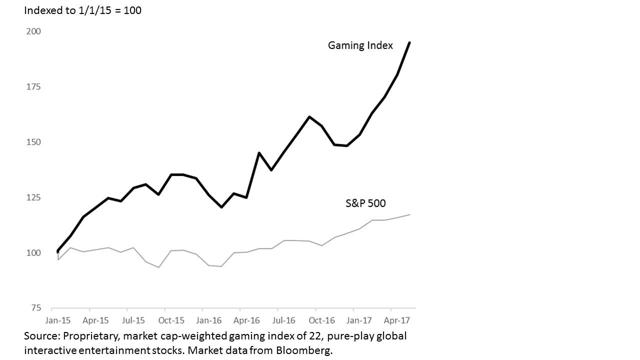 Interactive entertainment stocks have been some of the best performers in the market over the past several years. Electronic Arts (NASDAQ:EA) is up more than 80% in a little more than 1 year. Activision Blizzard (NASDAQ:ATVI) is up >60% YTD. Nintendo has risen nearly 150% since last summer. Overall, my cap-weighted index of 22 pure-play gaming stocks is up 95% since the start of 2015, compared to 17% for the S&P 500.
The index doesn't even include several high-profile stocks highly levered to gaming, such as the recent successes of companies like Nvidia (NASDAQ:NVDA), Sony (NYSE:SNE), Microsoft (NASDAQ:MSFT), or Tencent (OTCPK:TCEHY), which have all significantly outperformed the market as well.
For instance, while not a pure-play gaming stock, more than half of NVDA's revenue still comes from its gaming division; a stock that's risen more than 300% since the start of 2016. Unity, the private company whose engine is widely used by developers for mobile and VR games, has just finished up a $400m round of financing that values the company at $2.8 billion.
The rise in interactive entertainment stocks has been driven by several factors, including:
"Gaming revenue and margin expansion will continue to be driven by the shifts to mobile, growth in consoles, DLC, digital distribution, and microtransactions and a general shift to synthetic subscription services." That's my first bullet point from an article I wrote for Seeking Alpha in April 2016 ("Buy Activision, Hold EA On Continued Gaming Strength, Future Catalysts"). Over the past year+, we've seen these trends drive results, and investors have driven up prices as a result. According to tracking firm SuperData, digital game sales hit a record high of $8 billion in March, and grew 9% y/y in April. ATVI continues to crush earnings, lately on the strength of new releases (Overwatch) and its mobile division (largely its acquisition of KING). EA has seen similar earnings strength as core franchises like Battlefield and FIFA drive results. While these trends still have some juice that can be squeezed out of them, at current multiples, it's hard to see much more upside from these drivers for the stocks; however,
"Catalysts for acceleration exist with eSports, VR and SaaS/cloud services" was my second bullet point from that April 2016 article, and while they've grabbed investors' attention and grown in prominence over the past year, these are still largely future events. VR began to really show up on investors' radar screens after Facebook (NASDAQ:FB) announced it was acquiring Oculus more than 3 years ago. VR holds enormous potential to create an entirely new platform, not just a new device. While its potential uses stretch well beyond gaming, gaming companies are at the vanguard and are well poised to grow their addressable markets with the growth of VR. SNE has reported impressive sales so far, reporting 915,000 PSVR units sold through mid-February. While PSVR is becoming easier to find as production reportedly ramps up and the rush of early adopters are satiated, sales to date have been very strong and beyond the company's expectations. As expected (see my "Facebook's Monetization Engine Just Getting Started" from April 2016), SNE has enjoyed an advantage in the early going, significantly outselling Oculus (375,000 to 64,000 in 1Q17, according to SuperData estimates). I started pointing investors toward the potential of eSports nearly 2 years ago ("Gaming as a Spectator Sport Latest Sign of Growth," August 2015). eSports continues to grow quickly, and holds enormous potential to keep users engaged in franchises and drive revenue. While I've been eyeing both VR and eSports as catalysts for a long time, I've also been urging patience for just as long. My expectations were never that these areas would be immediate successes, yet as we near the second half of 2017, the value of both of these areas still lies almost entirely in "potential" vs. "realized" earnings. We're getting closer to the point where eSports and VR will be driving industry results and early indications of strength are already upon us, but I continue to urge patience. The steady progress toward each makes any uncertainty surrounding them more tied to "when" than "if." Investors should be encouraged that gaming stocks have appreciated to the extent that they have without significantly tapping these catalysts.
The success of the Nintendo Switch has been a pleasant surprise. In a separate Seeking Alpha article ("Strong Gaming Console Generation Getting Even Better For Microsoft and Sony") in July, I pointed to the longevity and strength of this console generation for SNE and MSFT as a driver that still had some legs to it. That remains a driver, but given the secrecy around it, few could have pointed to the Switch as a driver of console growth with any degree of certainty at this time last year. Nintendo had faced years of struggles following the disappointment of the Wii U and the damage smartphones inflicted on its handheld business. After the immense popularity of Pokemon Go last summer, Nintendo has followed that up with very strong early sales of its new console. Switch feels like what Nintendo had wanted to do with Wii U, but fell short through a variety of failures around design, marketing, support, and technology. Switch is a solid device, occupies a niche as a hybrid console (part handheld, part traditional console) that has helped to boost not only Nintendo, but a variety of its partners as well, including NVDA (its chips power the Switch) and retailers like Best Buy (NYSE:BBY) (reported retail sales were boosted by Switch, which boosted the stock past an all-time high set more than a decade prior), and Target (NYSE:TGT). In just 4 weeks, Switch has already sold 20% as many units as Wii U sold in more than 4 years. Launched in March during what is traditionally a seasonally weak 1Q, reports of scarcity and supply constraints suggest that demand has continued to be strong well into 2Q.
Nintendo Switch Boosts A Very Strong Console Cycle, SNE PS4 Enjoys A Large Lead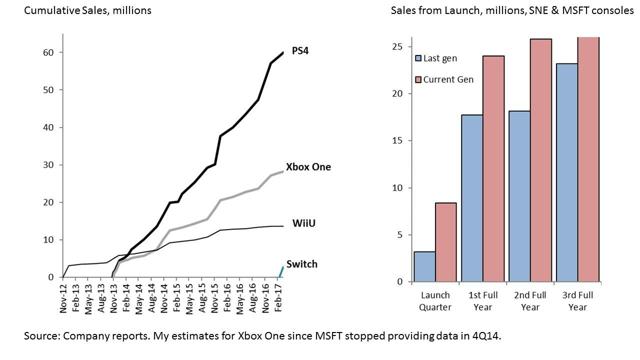 When an industry has bested the S&P 500 by nearly 8,000 bps over a period of less than 2 1/2 years, the inclination of many might be to begin to rotate out of the industry as future gains are already baked into the stocks. Investors should fight that temptation. The stocks have merely woken to the current drivers listed in #1 above. While my research suggests that investors are well aware of both VR and eSports, playing a role in stock outperformance to date, investors should not underestimate the significant potential of catalysts yet to come.
The next 6-12 months will move these catalysts past the product introduction stage and begin to tap into mainstream culture, as the true power and value of VR (in particular) becomes more readily apparent to the casual observer.
Disclosure: I/we have no positions in any stocks mentioned, but may initiate a long position in ATVI, FB, SNE, NVDA over the next 72 hours.
I wrote this article myself, and it expresses my own opinions. I am not receiving compensation for it (other than from Seeking Alpha). I have no business relationship with any company whose stock is mentioned in this article.
Editor's Note: This article discusses one or more securities that do not trade on a major U.S. exchange. Please be aware of the risks associated with these stocks.