Since OPEC started pumping more oil in late 2014, common wisdom has been that was a reaction to shale drillers increasing U.S. oil production. That wisdom is wrong.
Despite U.S. shale production increasing American oil by about 4 million barrels per day the past decade, shale was not and is not the primary target of Saudi Arabia's and OPEC's higher production levels. Rather, offshore oil and oil sands that were experiencing accelerating development in the past decade are the real targets.
Ultimately, the actions by OPEC to add oil to the market from late 2014 to now, has led to a massive reduction in future oil megaproject development by majors and large independents. That canceled development is in the offshore and oil sands megaprojects that have very long production lives. OPEC's goal all along was to dramatically reduce oil megaproject development. They have succeeded.
There are two winners from the dramatic reduction in oil megaprojects. The first is OPEC which will once again become the marginal swing producer. A secondary winner will be a handful of companies tied to U.S. shale, which is once again, in a sweet spot - for the time being.
Killing Oil Megaproject Competition
Saudi Arabia realizes that we are indeed at the beginning of the end of the oil age. They have known this for several years. Their "Vision 2030" economic plan is an acknowledgement that oil will not be their dominant form of income after the 2030s.
In order to wean themselves off of oil, Saudi Arabia has taken the forward looking step of diversifying their economy. That does not mean they do not want to make a lot of money on oil before the oil age ends though.
With or without OPEC raising oil production at the end of 2014, the price of oil had been set to fall. There was a massive increase of offshore oil and Canadian oil sands investment and scheduled project completions from 2012 to 2016. The last of those projects are just coming online.
In an article on MarketWatch in June 2014, I predicted a fall in oil prices and allowed that it might be severe:
In the current short-term window, if there are no international threats to production and distribution, we could approach the lower end of the (oil price) range by year end. Such a drop in oil prices could occur, largely due to increasing U.S. inventories, which reduces our need to import, thus putting downward pressure on prices.

... That's not to say there can't be out of the ordinary price plunges or spikes, however, should those occur, that opens the door for unique leverage opportunities by enterprising investors.
The set-up for lower oil prices in 2014, I thought was easy enough to see. I recommended selling oil stocks that summer in several articles. The downturn was ultimately far more severe than even I expected. That is owing to massive improvements in oil technology and short-term price pressure on services.
What also changed in 2014 is that Saudi Arabia and the Gulf Cooperative nations began to see the development of even more long-term oil supplies as a threat to their well being. That is because the first doubts about oil's demand future had already crept into their collective minds.
Here I would point out that the Saudis and their allies are very savvy. I am constantly amazed by how little credit they get by the media, analysts and various pundits.
OPEC knows that once an oil megaproject comes online, it virtually never goes offline. That is because the bulk of the cost of a megaproject comes up front for development and the cost of operations are relatively low. That is what makes these projects a competitive threat once developed and what makes them a target for OPEC.
At a time when many question the long-term viability of oil as a transportation fuel - about 65% of demand - OPEC decided to take action to curb the development of competitive long-term oil supplies. Continued extensive development of offshore oil and oil sands would have put significant pressure on OPEC oil exports, especially if the decline in oil demand happens faster than expected.
In an updated study by IHS, as well as, information from the IEA, it is observed that offshore oil production decline rates are about 8-10% per year. Deeper water projects decline faster than shallower water and there are differences from project to project. With offshore oil representing about 30% of all global oil production, if new development is restrained, then that is where future supply will fall.
Consider that even with an investment surge after the financial crisis, offshore oil production did not increase market share. That is because the decline rates are significant. Just to maintain market share, offshore oil has to build at a rate that offsets declines and account for any increases in global oil demand. That is a tall order anytime. It is an even taller order when banks and oil companies are not sure that projects will see enough oil demand for long enough to create a return on investment.
The major consideration of financing for a megaproject has led to massive development cancellations. Banks, still stung by a wave of oil bankruptcies, and the oil majors are being extra cautious on new investments in development. An oil megaproject requires a massive up front investment and might not break even for around a decade. That is a tough bet to make if there is concern that oil demand does indeed fall faster than expected or that OPEC might pump you into bankruptcy if they feel so inclined.
Taking all the factors together, it appears that OPEC has indeed won its battle to thwart oil megaproject development. Wood Mackenzie estimates that about a trillion dollars worth of oil megaproject development was canceled in the past two years. Barclays 2017 E&P Spending Survey anticipates offshore spending down another 20-25% this year as global majors continue to be restrained in new development.
The end of the oil megaproject period is upon us. Going forward, only very economic megaproject oil developments will occur. That will create a significant intermediate term opportunity for OPEC and shale.
Shale Was Collateral Damage
While the surge in U.S. shale oil production was certainly a factor in the timing of OPEC's action to increase production, it was not the primary driver. Rather, the desire to reduce long-term competition in the face of an inevitable decline in oil demand was. Shale was collateral damage.
Oil shale is short-cycle oil. That is, it is cheap to buildout and produces over half of its oil in the first few years the well is drilled, followed by a rapid decline and then a low production rate. Improved technology and "refracking" have improved shale wells lives somewhat, but there is no comparison of shale to an offshore development in terms of long-term production.
Rather than thinking OPEC is trying to displace shale, it might be smarter to think that shale has displaced some of the megaproject development. OPEC merely adapted and put the hammer down on the megaprojects to make sure they weren't harmed even more by increasing oil supply. Put another way, OPEC used shale's rise to crush their real competitor.
Here, let me pause to tell you a story about the first time I went to North Dakota's Williston Basin in 2012, it'll be interesting (at least to me) and might be helpful in viewing the developments in the oil markets.
One of the people I talked to (I had been invited out by a mutual fund manager who specialized in North American oil markets) was a farmer. The farmer owned a lot of acreage in the heart of the Bakken play. I asked him how he came to own so much land. His answer was very interesting, I paraphrase:
My grandfather used to farm this land and in the early 1970s a couple of oil companies came out here. They did some test wells. Then as suddenly as they were here, they were gone. They said there was oil, but it was too hard to get to. Grandpa told my dad, 'they'll be back someday.' Grandpa started buying all the land he could as people died or nobody in the farmer's family wanted to take over the land or somebody went belly up when wheat prices were low. He told my dad to do the same. I kept buying too when I took over. A few years ago the oil companies started to come back. And now we drive great pickups and are really rich.
I love the last line because all the hundreds of F-350 and Silverado 3500HD in North Dakota really did amaze me, even more than the lines out the doors of the local McDonald's (MCD).
I tell that story because it reminds me how long it took for shale to suddenly be a big player in oil supply. We should keep that in mind because shale might suddenly not be a big deal a decade or two from now. If the EIA is right, U.S. shale will peak in the 2020s and then face terminal decline. And that's why OPEC is more concerned with megaprojects than shale.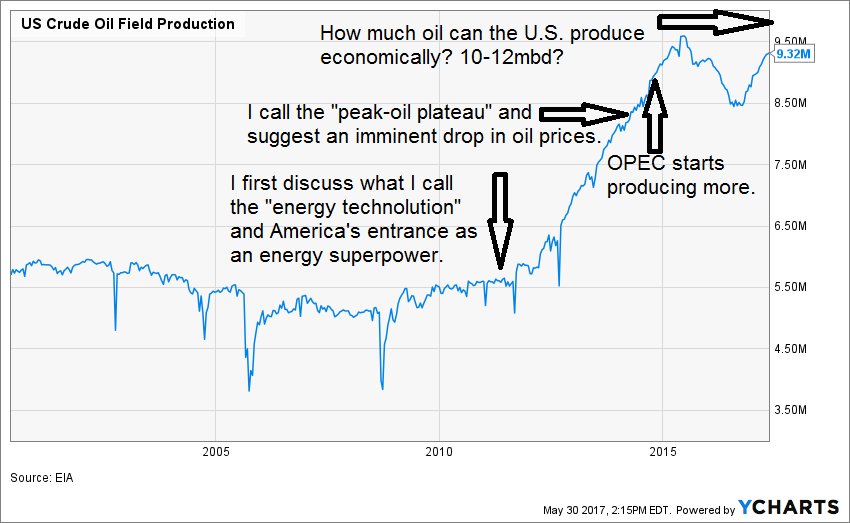 As you see in the chart above, U.S. oil production is nearing its peak of a couple years ago. There are a few things to know about shale's economic limitations.
The most important thing to think through is the idea that the U.S. can ramp up shale production a lot more. It is pure fantasy that the U.S. could pump 20mbd as Harold Hamm of Continental Resources (CLR) suggested could be the case. There are three major limiting factors.
There is a limited amount of economic oil shale. We are already seeing places like the Bakken peak in production and have costs start to rise. Only the Permian really has a large basin that is still seeing flat to falling prices for development. Companies have been exploiting their best acreage and that will lead to more expensive development over time. The companies are counting on technology to keep costs falling, but throughout the industry limits appear to be getting reached.
Oil Services are getting more expensive. During the oil crash, many services companies went under due to a collapse in day rates due to falling demand for services - seen on the chart with the one mbd dip in production. Because many of the people who were in the industry pre-oil crash have transitioned careers and millennials are not entering the field in large numbers, the oil services companies are facing supply constraints and that is raising prices.
Environmental concerns are real even if President Trump and a Republican Congress downplays those concerns. Many U.S. states and corporations are changing the way they conduct themselves and this will continue to put pressure on oil development. Political action by those opposed to fracking will continue. The outcomes are uncertain, but higher costs and slower development than many want are generally accepted.
The Opportunity In Shale For Investors
Most people's focus in the oil patch is on the Exploration & Production companies. There are certainly quite a few that are attractive. The best companies share three characteristics.
Permian acreage. This is the most economic oil play in America. While the STACK/SCOOP in Oklahoma and the Eagle Ford are good plays, the Permian is hands down the best. Companies with early investments in good rock are well positioned.
Solid balance sheets. Because oil isn't forever, companies that are buried in debt without assets to sell and develop are going to run into a buzz saw someday. David Einhorn's presentation at Sohn last year details the thought process.
Management that sells, rather than buys oil assets. There is a bias in the oil industry, and really all industries, to expand. As oil is now facing its likely slow, but possibly fast, demise, management teams that are willing to monetize assets via sale rather than development will be reducing risk and pulling forward profits. Managements that are taking on debt to buy assets will be dooming their shareholders.
There are three companies that I am very interested in and have already invested in. They share all of the above characteristics. I will be doing more full analysis in coming weeks.
The first company is ConocoPhillips (COP) which has been shifting from long cycle oil to short cycle oil. They recently sold off a huge set of Canadian oil sands assets and have exited deep water exploration (though they are still finishing up some development). They have good positions in the Permian and other plays. They have a very strong balance sheet and management is focused on continuing to sell off assets to support the dividend and U.S. development. They also have a very good natural gas business which in my opinion has a longer term future.
I also like Occidental Petroleum (OXY) which also has a solid balance sheet. They are the largest producer in the Permian due to an early entry into the basin. They also have a strong chemical business and midstream assets than can likely be monetized soon. It's current dividend of 4% appears to be very sustainable.
Finally, I like Encana (ECA) which has focused on four core assets, one being the Permian. After cleaning up its balance sheet the past few years, this stock might have the biggest upside and could be a takeover target.
In my opinion, after the recent slide in stock prices, the extension of OPEC's supply freeze and driving season coming, all three stocks listed above are buys right now in my opinion.
The easiest shale investment might not be in E&Ps however. Oil services companies are now lean and mean after a prolonged slump. As I noted above, the day rates for oil services are rising. If production is to climb, then services companies will continue to rebound sharply. According to Ned Davis research, oil services stocks are often more levered to rising oil than the E&Ps.
A few ETFs make it easy to invest in oil services stocks, but one stands out to me. I am a buyer of the SPDR Oil and Gas Services & Equipment ETF (XES). I profiled this ETF in a recent "ETF File" article titled "Funds To Buy For Rising Oil And Gas Prices." In that article I did a detailed analysis of how the holdings in the ETF have made a dramatic change, and upgrade, in recent years.
During the months of June and July I will focus on the oil industry as I believe we are within a year or so of entering the last great bull market in oil stocks. I will also have some exclusive ideas for a new investment letter that I will be launching with Seeking Alpha this month.
Disclosure: I am/we are long COP, OXY, ECA, XES.
I wrote this article myself, and it expresses my own opinions. I am not receiving compensation for it (other than from Seeking Alpha). I have no business relationship with any company whose stock is mentioned in this article.
Additional disclosure: I have recommended that investment letter subscribers buy shares of XES, COP, OXY and ECA. Certain clients of Bluemound Asset Management, LLC, my fee-only Registered Investment Advisor, own shares of XES, COP, OXY and ECA.

Follow me on Seeking Alpha for updates and new investment ideas.