The case for municipal bond ETFs is particularly strong as the market rebounds from the Scylla1 of the post-U.S. presidential election sell-off and enters the potential Charybdis1 of the reinvestment season. Greek mythology sea monsters and whirlpools aside, we believe that investors should look closely at how the muni landscape has changed in our post-election environment.
Six months ago, municipal bonds (along with other fixed income investments) got hammered following the election of Donald Trump as U.S. president. Fears abounded, not just touching, but skewering munis. The greatest post-election fears for the muni market were that: 1) Trump's big plans for infrastructure revival would create a massive amount of new muni issuance; 2) Trump's plans to lower income taxes would weaken the tax-exempt sizzle of munis; and finally, 3) Trump's pro-growth initiatives would light a fire under the country's economic engine, thus forcing the Federal Reserve to speed up its process of raising rates.
Muni funds, both mutual and ETFs, hemorrhaged money as 2016 came to a close. All was doom and gloom.
Munis Rebound After the Year-End Sell-Off
Fast forward six months and the muni market has regained its footing. The contrast between then and now could not be starker. Today, a new sense of reality has entered the market, which appears to have recovered both from its knee jerk reactions to President Trump's bluster and from its lows as 2016 drew to a close. The new reality is characterized by an administration that lurches from crisis to crisis, causing great uncertainty among investors. As a result, inflows into muni bond investments have increased as investors seek out safer assets and yield.
As of May 23, the 37 municipal bond ETFs had, year-to-date, garnered $1.6 billion in net new assets, resulting in total assets under management of $26.0 billion, compared to $21.0 billion approximately a year ago.2
Daily Net Flows in Muni ETFs ($M)
January 1 to May 22, 2017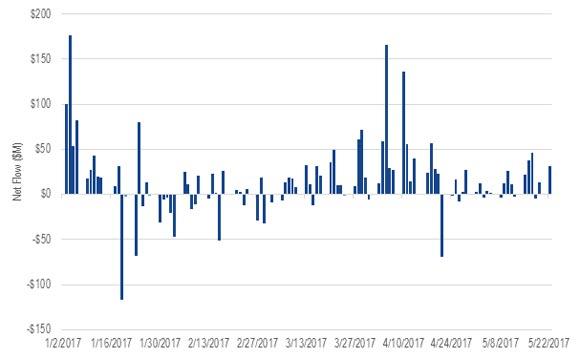 Source: Morningstar. Not intended to be a forecast of future events, a guarantee of future results or investment advice. Current market conditions may not continue.
Muni Reinvestment Season Is Upon Us
With May as the "countdown" month, we are now entering reinvestment season, three consecutive months (June, July, and August) of significant potential reinvestment demand generated by coupons, maturities, and calls. As things currently look, 2017 is going to be historic in terms of just how much cash is going to be returned to investors.
Quoting figures from Citigroup, Bloomberg reports that, over these three months, the state and local government debt market will shrink by $39.5 billion "as bonds mature faster than they are issued".3 In addition, $44 billion in interest payments will be made to investors, resulting in some $84 billion "available to be reinvested".4
In June alone, according to Siebert Cisneros Shank & Co., L.L.C.,5 the U.S. municipal bond market is expected to see the largest amount of debt ever maturing in that month in its history. In addition, if calls come in as projected, then June 2017 will beat July 2012 as being the single largest month ever for money going back to investors.
June Municipal Cash Flows Representing Supply and Reinvestment Demand ($B)
June 2010 to June 2017 (Projected)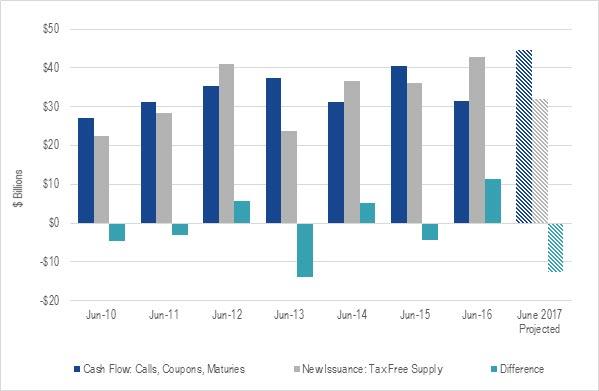 Source: Siebert Cisneros Shank & Co., L.L.C. Projections are not intended to be a forecast of future events, a guarantee of future results or investment advice. Current market conditions may not continue.
A Perfect Storm Created by a Lack of Supply
Taken together, the levels of cash from maturities, coupons, and calls looking for reinvestment, and the levels of "new" money looking for investment, could have all the makings of a perfect storm. Why? Because on the basis of most forecasts, this summer there may not be enough muni bonds around to satisfy the demand created by this "Cash Tsunami".3 Year to date approximately $105 billion of new tax-exempt muni bonds have been issued, down approximately 15%.6
What does this means for investors? When it comes to investing, or reinvesting, in muni bonds this summer, the combination of maturities, coupons, and calls, together with robust demand, may result in prospective candidate bonds being more difficult to find.
But how to participate in the benefits of a market that has repudiated the knee jerk reactions of November 2016 and returned to normality – looking both at the fundamentals and the technicals? We believe that municipal bond ETFs can work well on two fronts.
On the one hand, for those for whom reinvesting (perhaps in individual bonds) in a potentially tighter muni market may pose unwanted challenges, a muni ETF can provide efficient and effective asset class exposure. They also offer the added advantages of both professional stewardship and, equally as important, diversification. On the other hand, for those who have additional resources to put to work, the markets are very favorable to munis right now given their perceived safety relative to other fixed income options, and offer attractive tax-free yields.
IMPORTANT MUNI NATION® DISCLOSURE
This content is published in the United States for residents of specified countries. Investors are subject to securities and tax regulations within their applicable jurisdictions that are not addressed in this content. Nothing in this content should be considered a solicitation to buy or an offer to sell shares of any investment in any jurisdiction where the offer or solicitation would be unlawful under the securities laws of such jurisdiction, nor is it intended as investment, tax, financial, or legal advice. Investors should seek such professional advice for their particular situation and jurisdiction.
VanEck does not provide tax, legal or accounting advice. Investors should discuss their individual circumstances with appropriate professionals before making any decisions. This information should not be construed as sales or marketing material or an offer or solicitation for the purchase or sale of any financial instrument, product or service.
Please note that MUNI NATION® represents the opinions of the author and these opinions may change at any time and from time to time. Not intended to be a forecast of future events, a guarantee of future results or investment advice. Current market conditions may not continue. Non-VanEck proprietary information contained herein has been obtained from sources believed to be reliable, but not guaranteed. No part of this material may be reproduced in any form, or referred to in any other publication, without express written permission of VanEck. MUNI NATION is a trademark of Van Eck Associates Corporation.
All indices listed are unmanaged indices and do not reflect the payment of transaction costs, advisory fees or expenses that are associated with an investment in a fund. An index's performance is not illustrative of a fund's performance. Indices are not securities in which investments can be made.
Municipal bonds are subject to risks related to litigation, legislation, political change, conditions in underlying sectors or in local business communities and economies, bankruptcy or other changes in the issuer's financial condition, and/or the discontinuance of taxes supporting the project or assets or the inability to collect revenues for the project or from the assets. Additional risks include credit, interest rate, call, reinvestment, tax, market and lease obligation risk. High-yield municipal bonds are subject to greater risk of loss of income and principal than higher-rated securities, and are likely to be more sensitive to adverse economic changes or individual municipal developments than those of higher-rated securities. Municipal bonds may be less liquid than taxable bonds.
The income generated from some types of municipal bonds may be subject to state and local taxes as well as to federal taxes on capital gains and may also be subject to alternative minimum tax.
Diversification does not assure a profit or protect against loss.
Investing involves substantial risk and high volatility, including possible loss of principal. Bonds and bond funds will decrease in value as interest rates rise. An investor should consider the investment objective, risks, charges and expenses of a fund carefully before investing. To obtain a prospectus and summary prospectus which contain this and other information, call 800.826.2333 or visit vaneck.com. Please read the prospectus and summary prospectus carefully before investing.