Caterpillar (NYSE:CAT) announced a major restructuring plan back in Q3 2015. The expected tenets of that plan - actions and benefits - are shown below: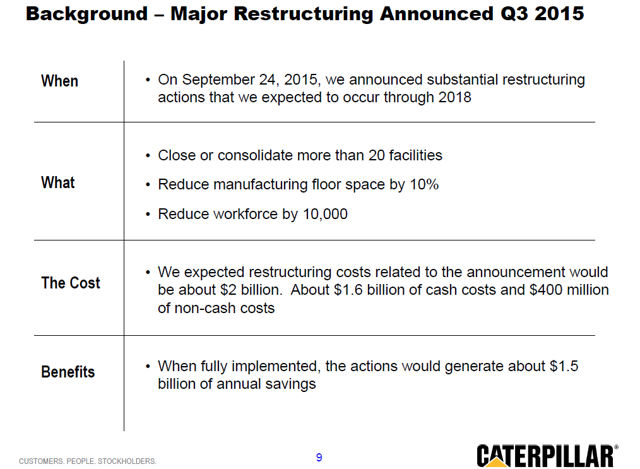 Source: Q4 2016 Presentation (available here)
By year-end 2016, Caterpillar reported it had greatly exceeded the goals of the plan:
The closure or consolidation of 30 facilities (50% more than planned).
Reduced workforce by 16,000 (60% more than planned).
Restructuring costs and savings were in line with expectations.
Let's see how these efforts affected the company's Q1 2017 earnings.
Earnings
The Q1 EPS report was the first yoy rise in sales and revenues in the last 10 quarters - so Caterpillar certainly benefited from a rise in overall global economic activity. But more importantly, the company's efforts to reduce costs and improve efficiencies had a dramatic effect on its bottom line. As shown in the following slide, if we exclude further restructuring charges, yoy profit doubled from $0.64 to $1.28 per share). Note that feat was accomplished with only a $300 million rise in sales and revenues.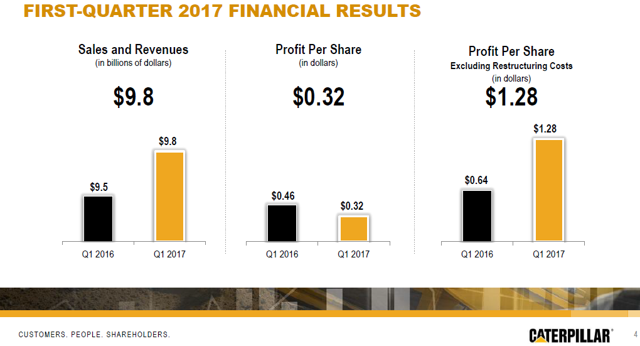 Source: Q1 2017 Presentation (available here)
The company operates in three segments:
Construction
Resource
Energy & Transportation
All three segments delivered improved earnings as a percentage of sales. As a result of the combination of an improvement in sales and earnings, and higher margins, Caterpillar raised guidance for the remainder of 2017. The midpoint of the new sales and revenues range was increased by $2 billion. More importantly, profit per share guidance (excluding restructuring costs) was raised almost 30%: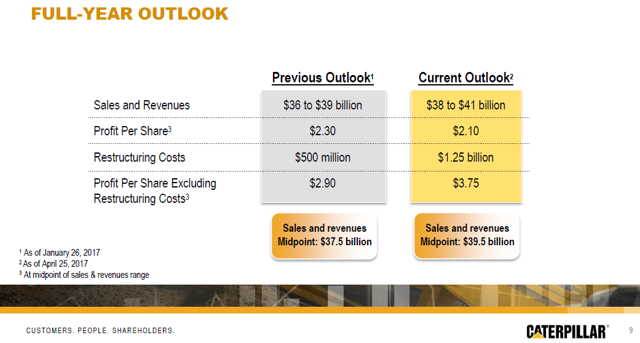 Outlook
Given the $3.75/share EPS guidance for FY17 and yesterday's close at $105.43, CAT appears to be richly valued at a forward P/E of 28. That said, we may have passed through the bottom of the demand cycle and, combined with the cost-cutting measures the company has taken, Q1 may have been an inflection point to the upside. The average earnings estimate for next year is $5.18/share - up an estimated 38% yoy, should FY17 meet the company's current guidance. Its EBITDA margins could improve to near 15% by 2018.
Summary and Conclusion
CAT is the world's largest producer of earthmoving equipment and a major manufacturer of mining equipment as well as engines and electric power generators for the petroleum and energy markets. As such, the company is highly cyclical and dependent on global economic conditions, which seem to be improving. After years of cost-cutting - and it's not done yet - the company is in a excellent position to translate a pick-up in demand into bottom line earnings. That said, shares look fully valued unless a substantial domestic infrastructure plan is signed into law this year. If that happens, the big CAT could run higher by as much as 20% in the following 12 months, as it would be a big beneficiary of a significant infrastructure bill because dealer inventory reduction is likely at or near an end.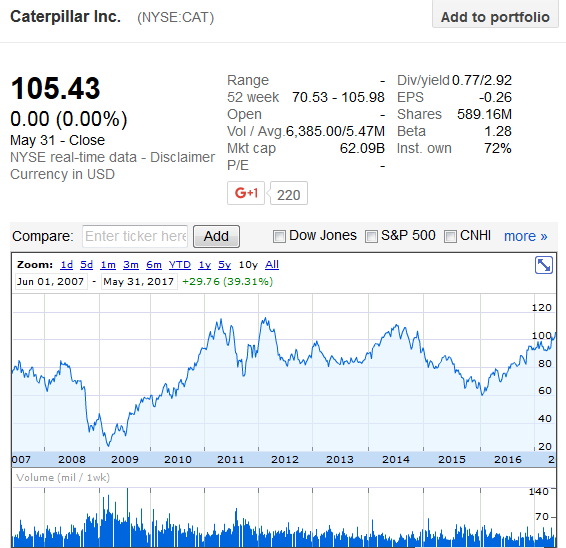 Disclosure: I am/we are long CAT. I wrote this article myself, and it expresses my own opinions. I am not receiving compensation for it (other than from Seeking Alpha). I have no business relationship with any company whose stock is mentioned in this article.
Additional disclosure: I am an engineer, not a CFA. The information and data presented in this article were obtained from company documents and/or sources believed to be reliable, but have not been independently verified. Therefore, the author cannot guarantee their accuracy. Please do your own research and contact a qualified investment advisor. I am not responsible for investment decisions you make.