While the ADP report for May was better than expected, jobless claims saw their largest one-week increase in more than a month. While economists were expecting claims to rise slightly from 235K up to 238K, the actual increase was 10K more at 248K. While this week's level marks a five-week high, it is still the 117th straight week of sub-300K claims. Also, anytime claims are below 250K, it is hard to get too concerned even if the print is higher than expected.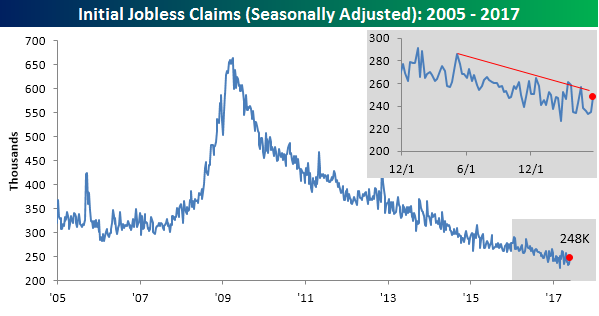 With this week's increase, the four-week moving average increased from its cycle low of 235.5K last week to 238K. Last week, we said that it would take a much larger than expected reading this week in order to not make another cycle low, and unfortunately, that's just what we got this week.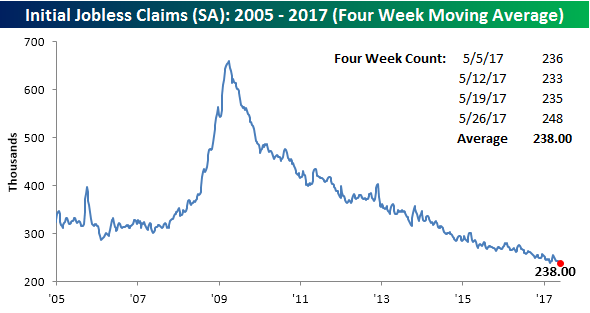 On a non-seasonally adjusted basis (NSA), claims rose from 210.4K up to 225.5K. While that's up from last week, once again it is well below the average of 322K for the current week of the year dating back to 2000 and the lowest reading for the current week of the year since 1973.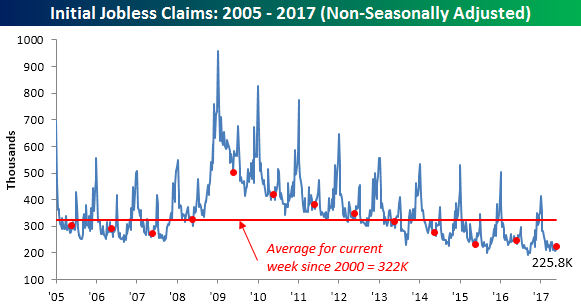 Thanks for reading the article. Follow our account to get our articles as soon as they're posted to Seeking Alpha. To get our full newsletter, sign up for Bespoke Newsletter PRO. Subscribers to that service get access to Bespoke's model stock portfolios, actionable data-driven insights, and in-depth analysis of everything that drives the markets, among other things.