Rethink Technology business briefs for June 1, 2017.
Intel besieged on many fronts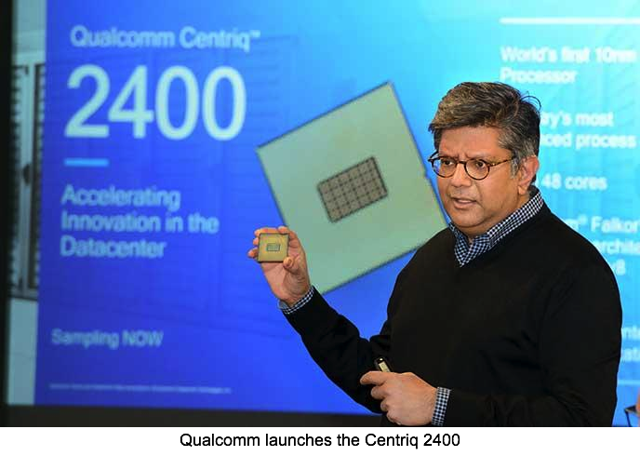 Source: Qualcomm
Never was a technology company more besieged than Intel (NASDAQ:INTC). All of its core businesses are under attack. In the PC market, AMD has launched fresh challenges in high-end desktop systems, and will soon launch Mobile Ryzen chips for notebooks. In addition, Qualcomm (NASDAQ:QCOM) has managed an end run around Intel, forming an alliance with Microsoft (NASDAQ:MSFT) for ultralight notebooks and convertibles that will run Qualcomm's Snapdragon 835 processor.
In the datacenter, those same two opponents are about to tag team Intel with their own server offerings. Soon AMD will begin shipping its 32 core EPIC server processors in a direct challenge to the mainstream dual socket Intel server. Qualcomm's 48 core Centriq 2400 ARM server processor is slated to ship in the second half. Microsoft has already ported Windows Server to the Centriq, and announced its intention to use it in its own datacenters.
Intel is still a strong and immensely profitable company, and it may yet be able to defend itself effectively. What it doesn't seem to be doing effectively is entering the emerging market for autonomous vehicles. The best evidence of this that Intel could have produced is the just released report it commissioned from Strategy Analytics called "Accelerating the Future: The Economic Impact of the Emerging Passenger Economy."
Intel's glowing vision of the autonomous vehicle future
The report is perhaps the clearest expression of a widely held belief that autonomous vehicles will profoundly change the way automobiles are used. It's a vision of an absolute and irrevocable migration to a sharing economy of personal transportation. It's also complete non-sense.
The report is correct that moving to Mobility-as-a-Service (MaaS) would be the economically rational thing to do. But that's always been the case. MaaS exists today, in the various forms of public transportation, taxicabs, and ride-sharing services such as Uber (UBER). Automating MaaS doesn't really change anything in terms of the fundamental reasons for car ownership.
That's because there was never anything rational about car ownership. Car ownership is all about human emotions such as pride and vanity, not to mention thrill seeking and lust for power. Human beings aren't going to become rational about cars just because they can call up a ride-sharing service that doesn't need a human driver.
But I digress. My point wasn't really to challenge the fundamental thesis of the report, but to point out that in this glowing futuristic world of rational mobility, Intel is nowhere to be found. It's kind of remarkable for a marketing exercise such as this report to not feature the company that sponsors it.
Intel's autonomous vehicle initiatives: too little, too late?
In this regard, a quote by CEO Bryan Krzanich in Intel's press release is rather telling:
Companies should start thinking about their autonomous strategy now. Less than a decade ago, no one was talking about the potential of a soon-to-emerge app or sharing economy because no one saw it coming. This is why we started the conversation around the Passenger Economy early, to wake people up to the opportunity streams that will emerge when cars become the most powerful mobile data generating devices we use and people swap driving for riding.
No, Mr. Krzanich. Just. No. The time to start thinking about this was ten years ago, after the DARPA Grand Challenge demonstrated the feasibility of autonomous vehicles. The time to start working on it was five years ago, if not sooner. You see, folks, when Intel issues a marketing statement such as this, it's really a confession of weakness. They talk about the future in vague generalities because they have absolutely no clue how to get there.
But Intel wants to seem like a player. That they know the score. And they're going to clue us in. I have a clue for Intel. Go look at Nvidia's (NASDAQ:NVDA) BB8 autonomous test car.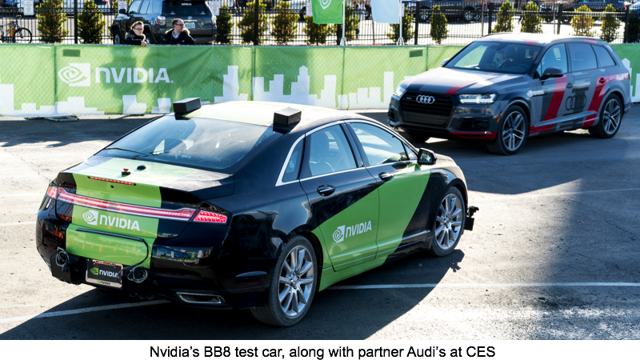 Source: Ars Technica
So far, Intel's activities in autonomous vehicles have been more managerial than technical. Last July Intel formed a partnership with BMW (OTCPK:BMWYY) and Mobileye (NYSE:MBLY). Then Intel bought Mobileye. And Intel has announced that it will have an autonomous test vehicle on public roads by H2. When it finally gets around to it, it will join a throng of almost 30 other companies many of whom already have cars on the road, including Tesla (NASDAQ:TSLA), Nvidia, Apple (NASDAQ:AAPL), and GM (NYSE:GM).
A recent statement by Intel regarding the need for "assorted processors" is, once again, more confessional than informational, as in this paragraph:
Artificial intelligence is much more than computer vision and is, in fact, used throughout the driverless car to do everything from natural language processing to personalization to decision-making. Those are all very different kinds of AI, each with very different and unique computing needs. So instead of choosing one processor for all of the artificial intelligence tasks in the car, you need a processing toolkit with computing elements designed for each of those very different tasks.
You can see where this is going, can't you? Intel's not really sure what the right answer is, so Intel's solution is going to be a little of everything. A whole bunch of processors, a server on wheels. There goes the trunk space.
But this is what researchers have been doing since the earliest days of the Grand Challenge, and while it does work, it's not going to sell to the automobile industry as a production solution.
What is selling is Nvidia's Drive PX 3, which has won over Daimler (OTCPK:DDAIF), Bosch (OTC:BSWQY), and Toyota (NYSE:TM), with I'm sure, many more to follow. The automobile industry is very conservative because the lead time for developing a new vehicle is about 5 years. In order for the industry to field self-driving cars in the early 2020s, decisions have to be made now, based on what's available now or in the very near future. And Drive PX 3 from Nvidia will be available this year.
Nvidia is part of the Rethink Technology portfolio and is a recommended buy.
Disclosure: I am/we are long AAPL, QCOM, NVDA. I wrote this article myself, and it expresses my own opinions. I am not receiving compensation for it (other than from Seeking Alpha). I have no business relationship with any company whose stock is mentioned in this article.