Brian Moynihan, the CEO of Bank of America (NYSE:BAC), fired a warning shot to investors this week when he said that Q2 results might come in lower than expected.
"Bank of America Corp second-quarter earnings will be hurt by a drop in trading revenue, lower-than-expected interest rates and the sale or shuttering of certain assets, according to comments from Chief Executive Brian Moynihan on Wednesday." - Reuters
Mr. Moynihan said net interest income should be lower by $100 to $110 million. He went on to say that "revenues will also be hurt by lower-than-anticipated interest rates."
If you've been following my articles, we've been analyzing the economic factors that impact bank earnings. Some of these factors include Treasury yields, loan growth, the economy and more specifically how they impact net interest income (NII) and the stock price.
The below chart shows where Treasury yields have been trading in Q2 and where we stand as of June 1st. The 10-year yield has come off its highs from this quarter while the 2-year has been mostly quiet.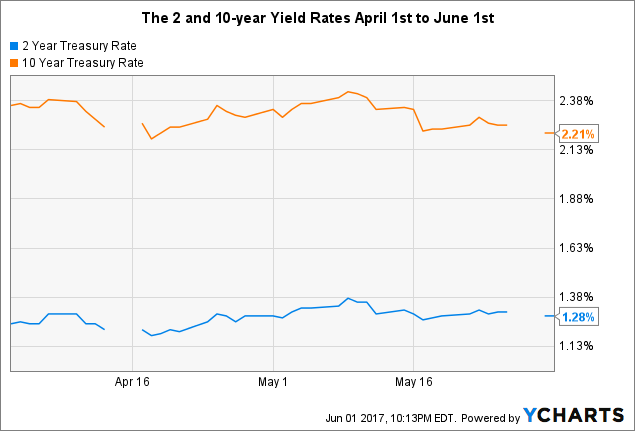 2 Year Treasury Rate data by YCharts
Are yields really that far off from last quarter at this time?
Here's where yields stood at this time last quarter or January 1st to February 28th.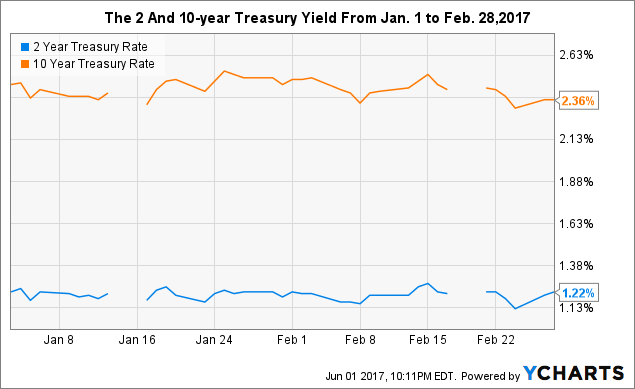 2 Year Treasury Rate data by YCharts
In looking at Q1 yields in the above chart, we can see that the Q1 2-year versus the current 2-year yield (quarter-to-date) is virtually unchanged. The Q2 10-year yield is down slightly from the Q1 yield two months into the first quarter.
So why did Mr. Moynihan warn investors? Sure they had a sale of the U.K. credit card business, but I doubt that sale will have a material effect on the entire bank's revenue stream and net interest income.
Here's what I believe Mr. Moynihan has been watching and why he made his statement that revenues would be down due to lower rates.
From the chart below, we can see both the 2-year and 10-year Treasury yields are in the red this quarter as of June 1st on a percentage basis.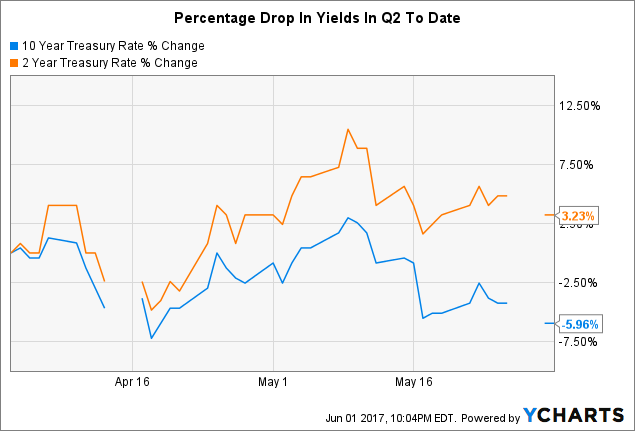 10 Year Treasury Rate data by YCharts
However, the percentage drop in yields from the highs so far in Q2 is much greater. We see roughly a 6% drop in the 2-year and over 8% drop in the 10-year yield off their Q2 highs. At this time in Q1, the 2-year was down roughly 3% and the 10-year down just over 6% from their Q1 highs.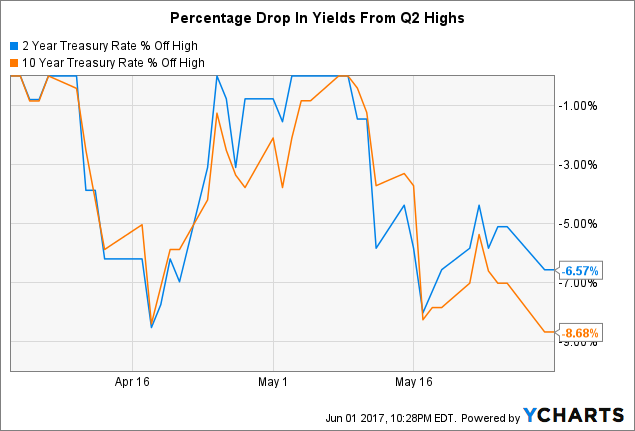 2 Year Treasury Rate data by YCharts
The 2-year yield in Q2 is down over double from its highs compared to this time last quarter which would definitely crimp fixed income trading revenues. And with the 10-year percentage drop of an extra 2% from Q1 at this time, loan spreads are getting squeezed. Lower loan spreads is a key factor in pushing NII lower.
For review, the bank's loan spread is the difference between the interest rate the bank pays depositors versus the rate the bank charges borrowers on their loans. For banks, a loan is an asset that pays the bank a steady income stream.
However, the percentage move in yields only tells part of the story. Another important metric is to watch the average yield for the quarter.
By calculating the average of all the daily close yields, we smooth out the extremes in the market giving us a better sense of where yields have been trading for most of the quarter.
Having worked in banking for many years, I can personally attest that loans take a long time to process before they're booked, and the bank realizes a profit. In other words, if yields surged tomorrow, bankers can't simply call their prospects and book new loans tomorrow thus taking advantage of the higher yield and in turn, boosting the bank's loan spreads.
Yields need to remain elevated for some time to allow the bank's sales and underwriting process to complete in order to capture the higher yields in the form of net interest income.
The long loan closing process is why I believe using an average yield for the quarter can help give us a better sense of whether NII will do well or disappoint. However, please bear in mind, this is only a rough estimate. There are other factors that go into NII.
Analysis of quarterly average Treasury yields:
In Q1 this year, Bank of America earned just over $700mm in NII which was better than their $600mm estimate. In my earlier BofA article at the end of March, we calculated the average 10-year Treasury yield for Q4 2016 and Q1 and surmised that Q1 NII for BofA would likely surprise to the upside in the Q1 earnings report released in April.
With Mr. Moynihan's warning to investors that NII and fixed income trading revenue will likely come in lower in Q2, it makes sense that we calculate the current average 10-year yield quarter to date.
Average Yield Per Quarter for 10-Year Treasury
| | |
| --- | --- |
| Q4 | 2.14% |
| Q1 | 2.45% |
| Q2 (as of 05/31/17) | 2.30% |
| Avg. Daily Yield needed for June to match the average of 2.45% in Q2** | 2.72% |
*Data from Federal Reserve Bank *Table by chrisbmurphy.com
**Based on a 2.72% daily yield close for every day in June.
In Q1, the stability of the 10-year yield throughout the quarter helped to bolster net interest income for BofA and other banks. This was due in part to an expected Fed hike in March and lingering optimism of the Trump pro-growth agenda. Typically, the 10-year yield moves on growth expectations, inflation, and sometimes geopolitical risks.
In nearly half of Q4, the 10-year yield averaged 1.78%. Despite that challenge, banks still increased their net interest income and posted relatively solid financial results.
In Q2 so far, the average 10-year yield is 2.30% which is lower than Q1. However, the market is still faring better than Q4. Since Q2 is not over yet, yields still have time to rise.
In my Q2 projected yield analysis, I recalculated what the daily closing yield would need to be for the remainder of this quarter, in order to bring up the average yield to Q1's 2.45%. It would take the 10-year yield closing at 2.72% every day in June, to push the Q2 average yield high enough to match the Q1 average of 2.45%.
Please bear in mind; this is a very simple calculation for illustrative purposes only. In reality, the 10-year yield will close each day at varying rates.
But it's safe to say, banks like BofA will need yields to rise in the coming month and remain at those elevated levels to give them time for loans to get booked at those elevated rates.
BofA will likely need yields jump and average over 2.70% in June, to finish Q2 at an average yield close to the 2.45% from Q1.
How yields could jump in June:
If the Fed signals an inclination to hiking rates before their meeting in mid-June, we may get a bump in yields. However, any Fed action would predominately impact the shorter-end of the yield curve or the 2-year yield. It's doubtful the 10-year yield will have a large enough surge even with a Fed hike unless the market experiences a significant pro-growth development.
If Washington passed legislation before the end of the month, we might see a surge in optimism for growth, thus boosting the 10-year yield. However, a bill going through Congress that quickly is highly unlikely.
Key takeaways:
With lower yields this quarter, it's likely that net interest income for BofA will be lower than Q1. However if we get a jump in yields and stabilize in the coming weeks, NII may not be that far off.
Lower yields in Q2 so far and the unlikelihood of them rebounding significantly is partly why Mr. Moynihan is warning the market already, despite four weeks remaining in the quarter.
For long-term investors, it's likely Q2 might give back some of the NII and trading income gains from Q1 but it's very unlikely the Q2 numbers will fall off a cliff without other events occurring i.e. a large drop in new loans or bad credit quality.
More articles to follow analyzing Bank of America, financials, the Fed, and Treasury yields in the coming days and weeks.
Good luck.
Author's note: If you like this article and would like to receive email alerts stay up to date on Bank of America, please click my profile page, and click the "Follow" button next to my name, and check "Get email alerts" to receive these articles sent via email to your inbox.
You can also find the "Follow" button at the top of this article next to my name. And of course, feel free to comment below if you have any questions, or send me a private message by clicking the "send a message" link on my profile page.