How could it be that the Canadian stock market delivered one of the strongest gains in estimated earnings growth over the past year but is also one of the performance laggards? Quick answer: valuation.
Estimated 12-month forward earnings per share for Canadian stocks have increased a touch over 20 percent in the past year, reflecting higher oil prices, better economic growth and fewer energy-sector-related write-downs among Canadian banks. This places Canada near the top of the leaderboard for improved profitability (see the chart below). But when it comes to share price performance, the harsh reality is that Canada sits near the bottom of the heap.
Other investment destinations, such as Europe and emerging markets, have seen better total returns over the past year with a somewhat more modest pace of expected earnings improvement. What gives?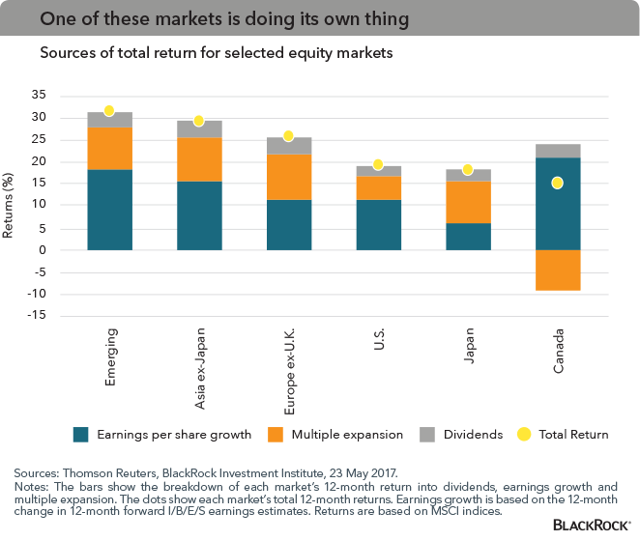 In a word: valuation. Canada's stellar earnings growth story was last year's news, contributing to the country's chart-topping equity market performance in 2016. Earnings growth wasn't a secret and was already being reflected last spring in valuations, which were elevated in both relative and absolute terms (see the chart below). The fact that performance hasn't kept pace with earnings growth over the past year has caused one measure of valuation - price-to-12-month forward earnings (P/E) - to moderate slightly.
One important factor in the multiple compression is lower than expected oil prices. Meanwhile, increases in backward-looking valuation measures like trend earnings, price-to-book and the cyclically adjusted earnings yield have more than offset the decline in the forward P/E in BlackRock's composite valuation gauge.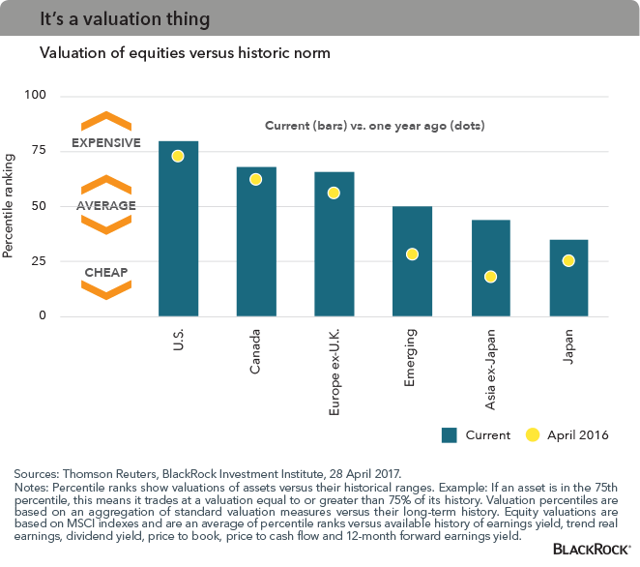 Over the past 12 months, Canadian stocks have underperformed other developed and emerging stock markets where expected earnings growth has been slightly less robust but where valuations were more forgiving. For example, the 18% growth in forward earnings within emerging markets occurred at a time when valuations were unmistakably cheap. After delivering strong performance and a steady valuation rerating, EM equities still appear fairly valued. This is especially true of Asia ex-Japan.
Europe has also delivered stellar performance during the past year on more modest earnings growth and a much higher starting valuation than EM. In fact, the rerating on European stocks pulls the Continent close to Canada in our valuation framework. But it's important to note that Canada faces several macroeconomic risks that could pressure valuations: trade skirmishes over softwood lumber and dairy, renegotiation of NAFTA, an overheated housing market, and further increases in already elevated debt levels.
Another important point: The improvement in Europe won't catch anyone by surprise. Sentiment on European equities, which was decidedly poor in the run-up to the first round of the French presidential election in late April, improved markedly as populist candidates appeared to suffer yet another defeat. Long positions in EM and European equities appear increasingly crowded as investors return to these markets after a long hiatus.
The Canadian equity market is hardly the only one exhibiting stretched valuations. U.S. multiples are even more elevated than Canada's and offer less expected earnings growth over the next year. However, keep in mind that U.S. companies have offered a vastly superior return on equity than most developed and emerging equity markets. We continue to see better potential opportunities outside the U.S. and Canada given these valuation concerns. Our preferences center on Europe, Japan and emerging markets where valuations are cheaper, economic growth is boosting profitability and policy is broadly accommodative.
This post originally appeared on the BlackRock Blog.